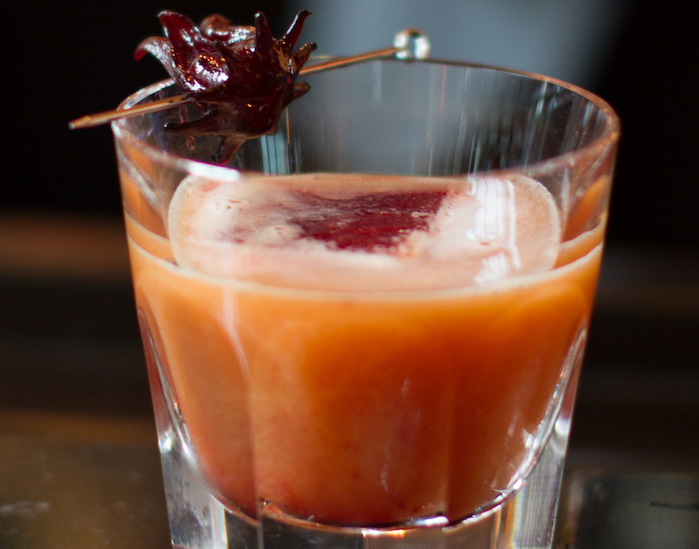 Baccarat Rouge at Baccarat Hotel in New York
2 oz Clase Azul Plata Tequila
1 oz passionfruit juice
.25 oz Allspice Dram
.25 oz lime juice
.25 oz Cardamarao Amaro
To make, add all ingredients to Japanese shaker and shake vigorously. Present cocktail in a shaker with a red ice cube and rocks glass on the side. Garnish with a spiked candied hibiscus flower and serve.
It might be National Margarita Day on February 22, but we suggest whipping up a bit of a fancier cocktail. Enter: the Baccarat Rouge at Baccarat Hotel in New York. This sumptuous cocktail delivers a fruity, yet sweet-and-spicy flavor to your drink, and no one creates a more luxurious experience than the Baccarat Hotel. If you're lucky enough to make it to The Bar, with its jaw-dropping Baccarat crystal chandeliers and high, arched ceiling, enjoy its Versailles-inspired natural-wood walls and French-inspired ballroom-style space. It will take you back to a truly glamorous era, when long bars dominated the social scene in every hotel. Watch in awe as the bartender creates your drink with Baccarat red ice cubes and Instagram-worthy presentations (including a spiked candied hibiscus flower).
[See also: Top Suites in the World – Baccarat Suite, Baccarat Hotel]
Bar and spirits director, Antoine Hodge, makes such delicious drinks, including seasonal cocktails, all served in Baccarat crystal.
If you're staying the weekend, The Bar and its comprehensive cocktail list isn't the only draw. Be sure to visit the La Mer spa for an incredibly indulgent treatment, or if you're in for the weekend, book a beautiful room overlooking New York City. Each room has exquisite Baccarat crystal stemware, chandeliers, objects and more. There's nothing more exceptional than the palatial Baccarat Suite, which features Parisian-inspired decor through its beautiful artwork and furnishings. The one-bedroom 1,740-sq-ft suite has Mascioni linens, floor-to-ceiling windows, a walk-in closet, living room, dining area, butler's pantry and powder room.
For more information, visit baccarathotels.com