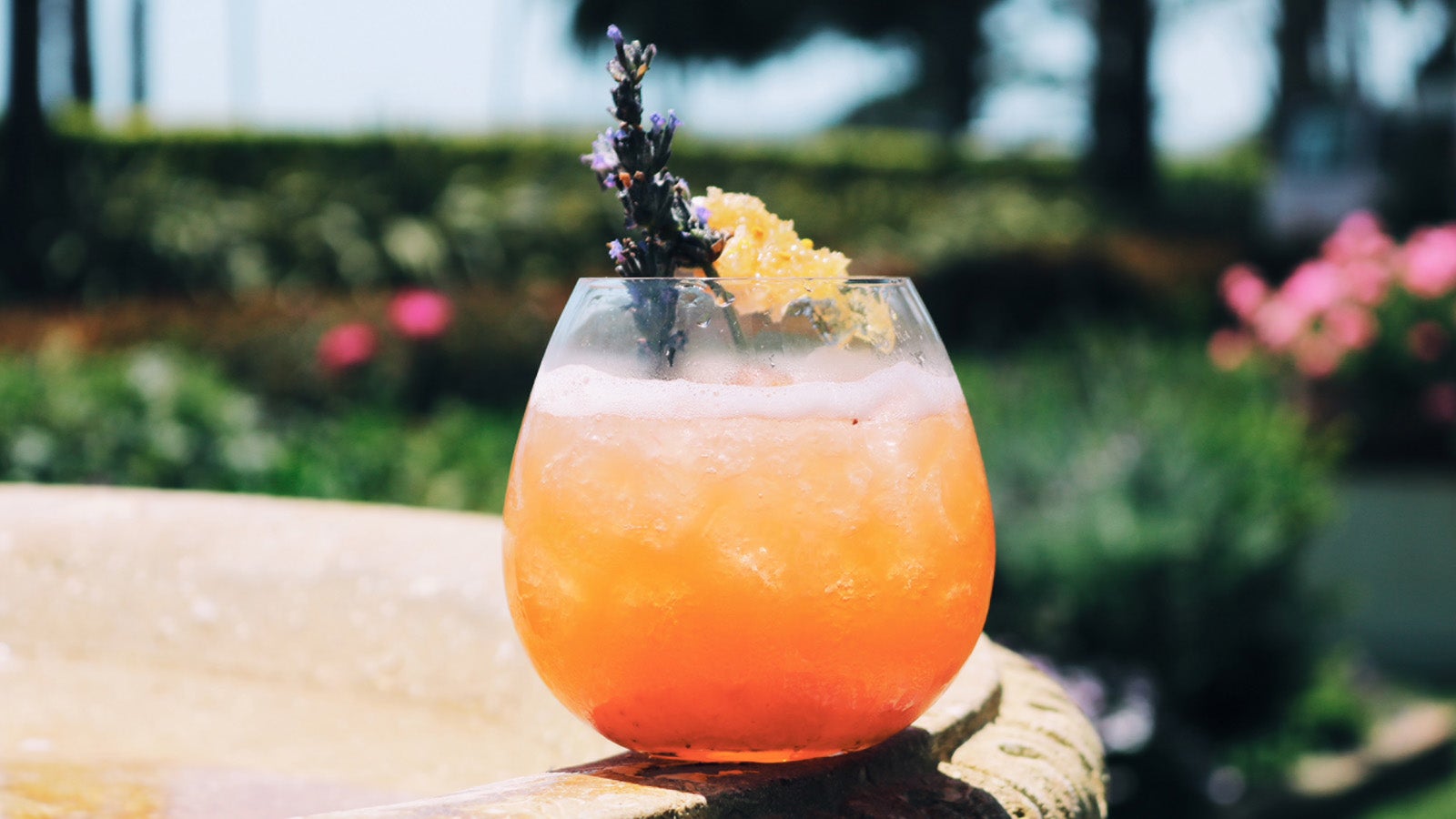 Biltmore Fuerte, Ty Lounge at Four Seasons Resort The Biltmore, Santa Barbara
2 oz Cutler's 33 Bourbon
.5 oz organic lemon juice (from the Four Seasons Chef's Garden lemons)
.75 oz Ebby's Farm Strawberry Purée
Honeycomb
Four Seasons Santa Barbara lavender flowers
To make, combine all ingredients in a cocktail shaker and shake vigorously. Next, pour over ice into a stemless wine glass, and garnish your creation with honeycomb and lavender, picked fresh from the Four Seasons Santa Barbara.
There is nothing that encapsulates the spirit of Santa Barbara quite like the Biltmore Fuerte, a deliciously sweet, yet smokey concoction made with bourbon, tart strawberries, sweet honey and fresh lemons, created by bartender Samantha Graham at the Ty Lounge at Four Seasons Resort The Biltmore, Santa Barbara. Graham created this drink in homage to the devastating Thomas Fire and Montecito Debris Flow in late 2017, which devastated the Santa Barbara region.
When creating this cocktail, Graham reached out to Nick Wigle, owner of Super Bee Rescue, a bee removal and rescue company. Though he and other beekeepers unfortunately lost many hives in the fire, they were able to rescue many bees and their hives. The honey extracted from these hives had a unique smokey flavor due to the fires, which Graham thought would perfectly complement her new cocktail. Deciding to use this honey in the Biltmore Fuerte cocktail, patrons are reminded that through the community's hardships, great things have come from it. In 2018, the Biltmore Fuerte was even awarded as the Official Drink of Santa Barbara Cocktail Contest.
If you find yourself vacationing in this idyllic Southern California town, the Four Seasons Resort, situated near the historic Coral Casino and facing the Pacific Ocean, is not to be missed. We recommend booking the new Ty Warner Villa (which debuted in summer 2019). It is a palatial, one-bedroom standalone accommodation with a private plunge pool; three fireplaces (one outdoor, two indoor); a ping-pong table; private croquet lawn; and plenty of outdoor lounge space. It is completely private, thanks to towering shrubbery to shield away prying eyes, and has a beautiful dining space; lounge space (you can't miss the floor-to-ceiling wall filled with books curated by Ty Warner himself); and an incredible outdoor rain shower.
Though it'll be hard to peel yourself away from this magnificent villa, the rest of the resort is a veritable treasure trove of stunning Spanish colonial architecture and magnificent courtyards. There's an incredible spa (the Sound Mind Sound Body Massage is sublime); experiences, like surfing with a professional; and exclusive access for guests at Tydes, offering panoramic views over the ocean with front-row seats to jumping dolphins at sunset.
Santa Barbara, often called the American Riviera, has so much to offer;  enjoy its Michelin-regarded restaurants, world-famous wine and myriad outdoor activities (everything from surfing to hiking to biking). The serene destination, though most popular in summer, is just as beautiful in January as it is in June. No matter what time of the year you go, the jungle-like fauna, towering palm trees and looming mountains will draw you into its magic.
For more information, visit fourseasons.com/santabarbara