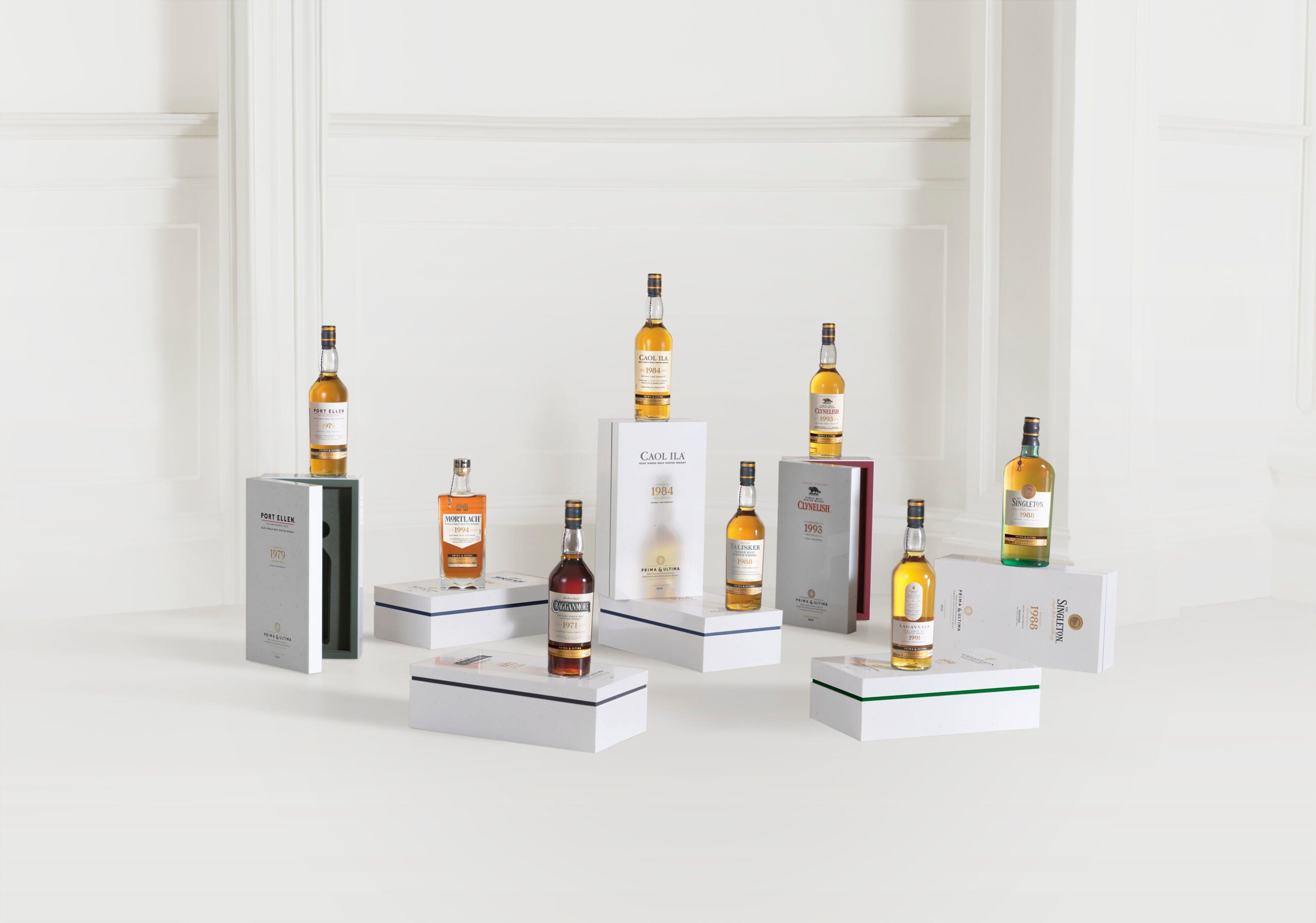 Drinks giant Diageo has released the first set in a new series of incredibly rare and highly collectible single malt Scotch whiskies. Each release in the new Prima & Ultima series is the first and last of its kind; drawn from a finite number of casks from some of Scotland's most cherished distilleries.
The inaugural set is made up of eight single vintage malts ranging from a 26-year-old to a 48-year-old. The releases are so rare that only 238 complete sets will be made available. All were personally selected from Diageo's huge portfolio of distilleries by Dr Jim Beveridge, one of the world's most respected whisky makers who has worked in the industry for four decades.
Dr Beveridge said: "Over the past forty years I have worked intimately with our distilleries across Scotland and I've been fortunate enough to witness great change in the whisky industry. Each of the eight whiskies I've selected for Prima & Ultima tells a tale of heritage and craftsmanship and I've chosen them from distillers of great personal importance to me."
The Prima & Ultima series represents a unique opportunity for whisky connoisseurs to add genuinely historic whiskies to their collection. Each whisky has been chosen based on its significance to both the industry and Dr Beveridge's career. For example, he marks the moment coal-firing of stills ended in 1971 at Cragganmore by including the last cask to be filled with whisky made this way at the distillery. Also included is a prized 1979 whisky from a silenced Port Ellen, which closed in 1983. The liquid has been stoically maturing for 40 years and is made with some of the final remaining casks for this legendary distillery.
It is also no surprise to see a release from the Islay distillery Lagavulin, where Dr Beveridge spent considerable time learning how to refine and perfect the distillery's character. The vintage he selected from this distillery comes from a handful of refill American oak hogshead casks filled right around the time he was working there, in 1991.
The recommended retail price for the full collection, including eight 70cl bottles, is £20,000 ($23,600 approx.), but there will be an opportunity to own the very first set when it goes under the hammer for charity at a Sotheby's online auction. Each bottle is marked as Bottle No 1 and is signed by Dr Beveridge. The auction runs from August 26 to September 2 and all proceeds will be donated to Diageo's charity partner WaterAid.
Sotheby's whisky specialist Jonny Fowle said: "We're delighted to partner with Diageo, in marking the first year of the annual Prima & Ultima release and look forward to offering collectors the only opportunity to own set number 1 of this inaugural collection."
The remaining 237 sets will be made available through appointed agents across the world. Each of the sets of cask strength bottlings is accompanied by a limited-edition book of personal stories from Dr Beveridge and 20ml samples of each whisky so even the most committed of investors can sample the liquid. Interested buyers can register their interest from July 22 at exceptionalwhisky.com.
The Prima & Ultima series
Caol Ila 1984 (35 years old, 50.8% ABV, aged in a refill European oak butt, 499 bottles)
Clynelish 1993 (26 years old, 49.8% ABV, aged in refill American oak casks, 941 bottles)
Cragganmore 1971 (48 years old, 43.7% ABV, aged in a first-fill ex-Sherry butt, 352 bottles)
Lagavulin 1991 (28 years old, 50.1% ABV, aged in refill American oak casks, 1,013 bottles)
Mortlach 1994 (25 years old, 55.1% ABV, aged in a first-fill Pedro Ximénez cask and oloroso-seasoned European oak butt, 389 bottles)
Port Ellen 1979 (40 years old, 51.2% ABV, aged in a refill European oak butt, 436 bottles)
Singleton of Dufftown 1988 (30 years old, 48.8% ABV, aged in refill American oak casks, 469 bottles)
Talisker 1988 (31 years old, 51.4% ABV, aged in refill American oak casks, 721 bottles