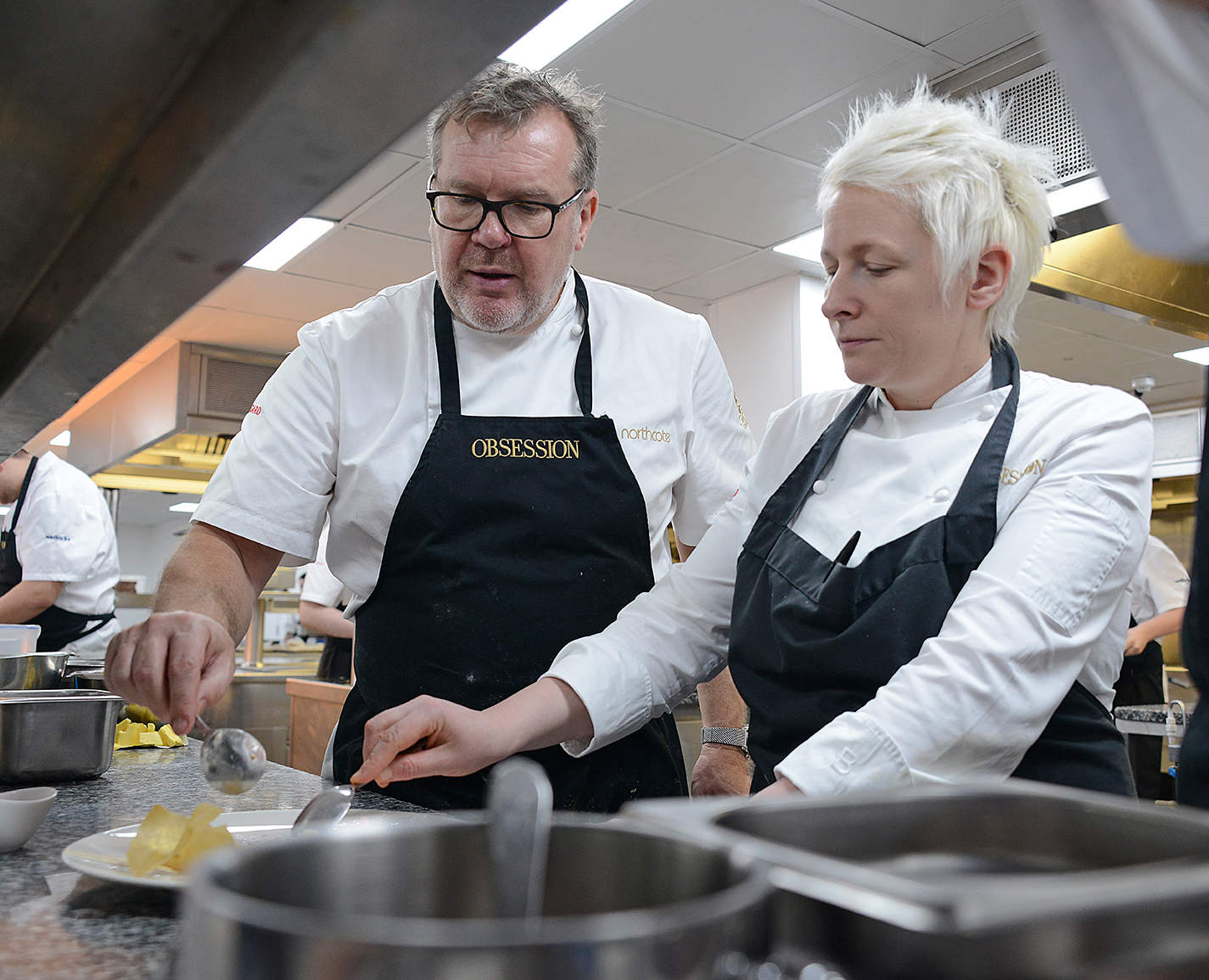 Twenty-four chefs with a combined total of 22 Michelin stars will ensure Obsession celebrates its 20th edition in illustrious style. The full line-up for next year's event at Northcote revealed a mix of culinary legends and up-and-coming starlets.
From January 24 to February 9, a selection of the most renowned chefs in the world will descend upon the Michelin-starred restaurant located in England's scenic northern county of Lancashire.
Each night will see a different chef take over the kitchen at Northcote and produce a dedicated tasting menu that celebrates their style of cooking. Several of the evenings will also see two or three chefs combine for an extra special collaboration.
One such event occurs on January 26 when two of Portugal's most successful chefs – Dieter Koschina (Vila Joya, The Algarve) and Hans Neuner (Vila Vita, Porches) – come together to produce a menu of the highest quality. Koschina and Neuner both hold two Michelin stars.
There is likely to be huge demand for an evening hosted by the iconic British chef Sat Bains. The two-Michelin-starred chef's eponymous Nottingham restaurant is regularly ranked in the Elite Traveler Top 100 Restaurants list. He will collaborate with Paul Cunningham, head chef of Henne Kirkeby Kro in rural Denmark, also with two Michelin stars to his name, on January 27.
Eyes will also be drawn to February 2 when Jacob Jan Boerma (Restaurant De Leest, Vaassen, Netherlands) takes over the kitchen. The Dutchman is the only three-Michelin-starred chef at this year's event.
Nigel Haworth, who along with Craig Bancroft created Obsession in 2001 and has overseen its growth to its current stature, will collaborate with celebrity chefs Rick Stein and Brian Turner on February 5 before bringing the curtain down with his own menu on the event on February 9.
Obsession 2020: The full line-up
Friday January 24:
Lisa Goodwin-Allen, Northcote, Langho, Lancashire (1*)
Saturday January 25
Gareth Ward, Ynyshir, Powys (1*)
Tom Brown, Cornerstone, Hackney, London
Kirk Haworth, Plates, London
Sunday January 26
Dieter Koschina, Vila Joya, the Algarve, Portugal (2*)
Hans Neuner, the Ocean restaurant, Vila Vita Parc Resort & Spa, Porches, Portugal (2*)
Monday January 27
Sat Bains, Restaurant Sat Bains, Nottingham (2*)
Paul Cunningham, Henne Kirkeby Kro, Denmark (2*)
Tuesday January 28
Richard Corrigan, Corrigan's Mayfair, London
Wednesday January 29
Phil Howard, Elystan Street, London (1*)
Ben Marks, Perilla, Newington Green, London
Thursday January 30
Angela Hartnett, Murano, Mayfair, London (1*)
Neil Borthwick, the French House, Soho, London
Friday January 31
Prateek Sadhu, Masque, Mumbai, India
Saturday February 1
Monica Galetti, Mere, Bloomsbury, London
Sunday February 2
Jacob Jan Boerma, Restaurant De Leest, Vaassen, Netherlands (3*)
Monday February 3
James Knappett, Kitchen Table, Bloomsbury, London (2*)
Tuesday February 4
Claude Bosi, Bibendum, Chelsea, London (2*)
Wednesday February 5
Rick Stein, the Seafood Restaurant, Padstow, Cornwall
Brian Turner, consultant and TV celebrity chef, London
Nigel Haworth, Northcote Obsession chef ambassador UK
Thursday February 6
Stephen McLaughlin, Restaurant Andrew Fairlie, Gleneagles, Auchterarder, Perthshire (2*) – a tribute to Andrew Fairlie
Friday February 7
Ken Hom, Mee, Belmond Copacabana Palace, Rio De Janeiro, Brazil (1*)
Saturday February 8
James Martin, celebrity chef and TV presenter
Sunday February 9
Nigel Haworth, Northcote Obsession chef ambassador UK
The Obsession 2020 ticket hotline opens on Sunday October 13 at 9.00am (BST) and the number to call is +44 333 999 7762. For more information visit www.northcote.com/obsession2020