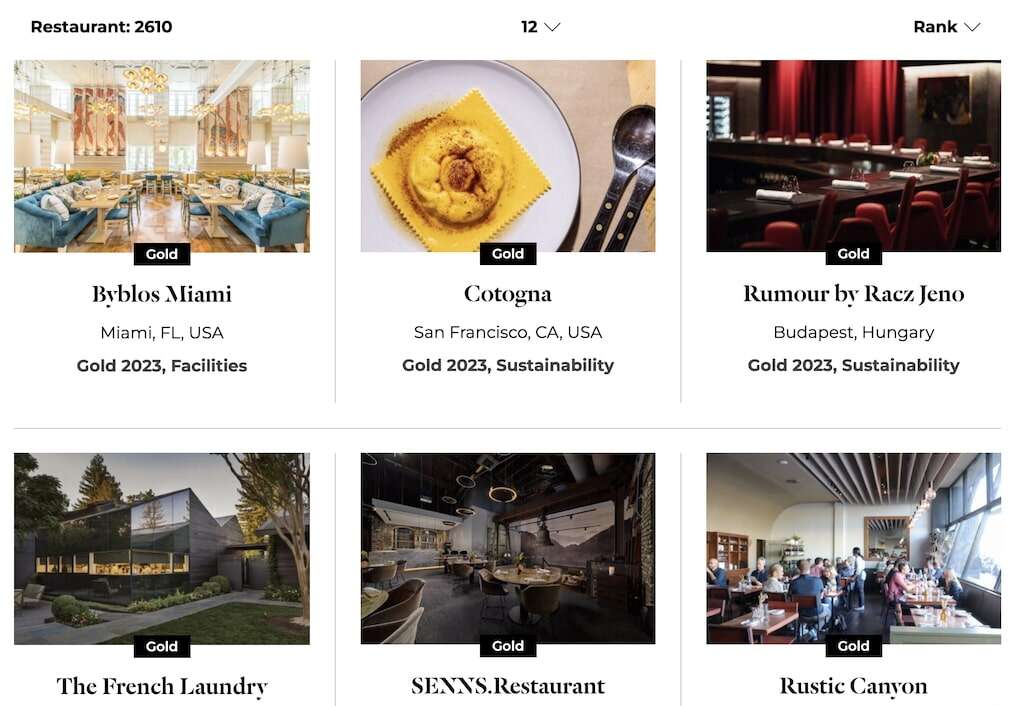 The research for the latest edition of Elite Traveler's Top Restaurants has begun.
Elite Traveler's Top Restaurants is synonymous with the very best in fine dining. As the industry continues its recovery from a tumultuous few years, we've been working on our methodology and data to ensure our audience receives the very latest and greatest information.

Why take part?
The full list of Top Restaurants will be covered online in an intuitive and user-friendly database. Throughout the year we will also be publishing micro lists from the collection including, but not limited to, Top Restaurants for Tasting Menus, Top Restaurants for Family Celebrations and the Top Restaurants with Kitchen Gardens.
Providing us with as much detail as possible will ensure that you appear in these multiple lists, and search results too.
Every eligible restaurant that submits will receive its own profile page including:
– Basic information on the restaurant, price, location, contact info
– All submitted attributes of the restaurant (70+ data points)
– Photos of the restaurant
– Rankings and rosettes
Sustainability
Once again, we are asking restaurants to provide more information about their sustainability and environmental initiatives, everything from recycling and supply chain length to community initiatives and the adoption of renewable energy.
At Elite Traveler, we are increasingly looking to highlight how luxury travel and sustainability can move forward hand in hand, and a key part of that coverage is rewarding – through our rankings and awards – companies and individuals who demonstrate a clear commitment toward sustainability and ethical practices.
We ask that all restaurants that take part in our research to provide as much detail as possible about their sustainability initiatives so they can receive the recognition they deserve.
How to take part
To take part, simply fill out the details of your suite through our online submission form.
The survey asks for the basic information about your restaurant as well as everything it offers in terms of menu options and facilities.
It is important that you fill out the submission as fully as possible so we can accurately rank your restaurant and ensure your web profile is fully populated.
Research calendar
Our research into Top Restaurants is an ongoing process, and restaurants can update their profiles at any point throughout the year; however, we do have a formal research window where we reach out to all eligible restaurants to make submissions for the rankings:
Research begins – March 27
Submission deadline – May 8
Rankings announced – June 8
Our rankings
We recognize restaurants in a variety of ways in order to reward excellence in every field and to guide our readers to enable them to find the right restaurant for them. 
We recognize restaurants in the following ways:
Reader's Choice – Restaurants chosen by our HNW readership
Top Restaurants by Region – The best restaurants in each region
Top Restaurants by Country – The best restaurants in each country
Attribute rankings – Restaurants will also be recognized for excellence in individual attributes and attribute groups, e.g., best menu options, best interior design.
Methodology
Our methodology ensures that the world's top restaurants are recognized for what they offer. As a result, we are introducing a new level of analysis to our research to ensure that our rankings are the most authoritative in the market.
Editorial assessment
We understand that not every aspect of a restaurant's appeal can be easily quantified, so the final decision on a restaurant's ranking and placement in our lists is made by our editorial panel, which considers not only the scores but also a plethora of other factors.
For more information please contact:
Alex Martin
Editor in Chief, Elite Traveler
alex.martin@elitetraveler.com
Katrin Kostadinova
Research & Data Analytics Team Lead, NSMG
katrin.kostadinova@ns-mediagroup.com