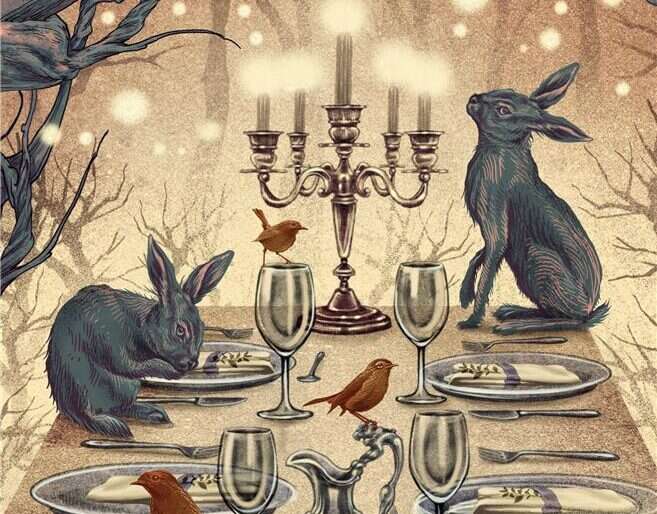 A 'restaurant without walls' where the only boundaries are the stars, Nomadic is an experiential company that creates one-of-a-kind dining extravaganzas in England's remote woodlands.
Nomadic's first fairy-tale feast was born from a desire to create a 'natural alternative' to the traditional dining setup. In May 2018, upon finding an abandoned clearing in a forest, a local craftsman fashioned a dining table from a fallen tree. A local chef foraged in the surroundings for wild, fresh ingredients, which were cooked over a fire constructed from fallen wood.
Since then, Nomadic has created many more imaginative dining experiences for members of the British royal family, World Cup winners and some of the most well-known names in Hollywood. The traditional feast is set in a hidden, ancient woodland not far from London and begins with a guided tour of the estate, where you and your guests (along with the odd rabbit, deer or badger) will forage for wild ingredients.
[See also: A First Look at The Milestone's New Urban Foraging Experience]
Using the branches and wood you've collected as fuel, your meal is cooked on an open flame in the glade, just like at Nomadic's first dinner. Gather around a table carved from a birch tree and dine with your companions as the sun sets overhead. Or, go the whole hog and rent the entire venue.
Dine by flickering candlelight with a multicourse seasonal menu — which changes each month based on what is growing on-site. Your private chef will cook your feast over the fire, with the bespoke menu telling the story of the forest. You'll have an expert wine pairing with dinner and wild cocktails created by Nomadic's own mixologist, using local botanicals. And when night falls, marvel at your own fireworks display and enjoy live music.
From $5,400 for exclusive use. Contact enquiries@nomadichotel.org, +44 786 198 8506, experiencenomadic.com
This article appears in the 04 Mar 2022 issue of the New Statesman, Spring 2022