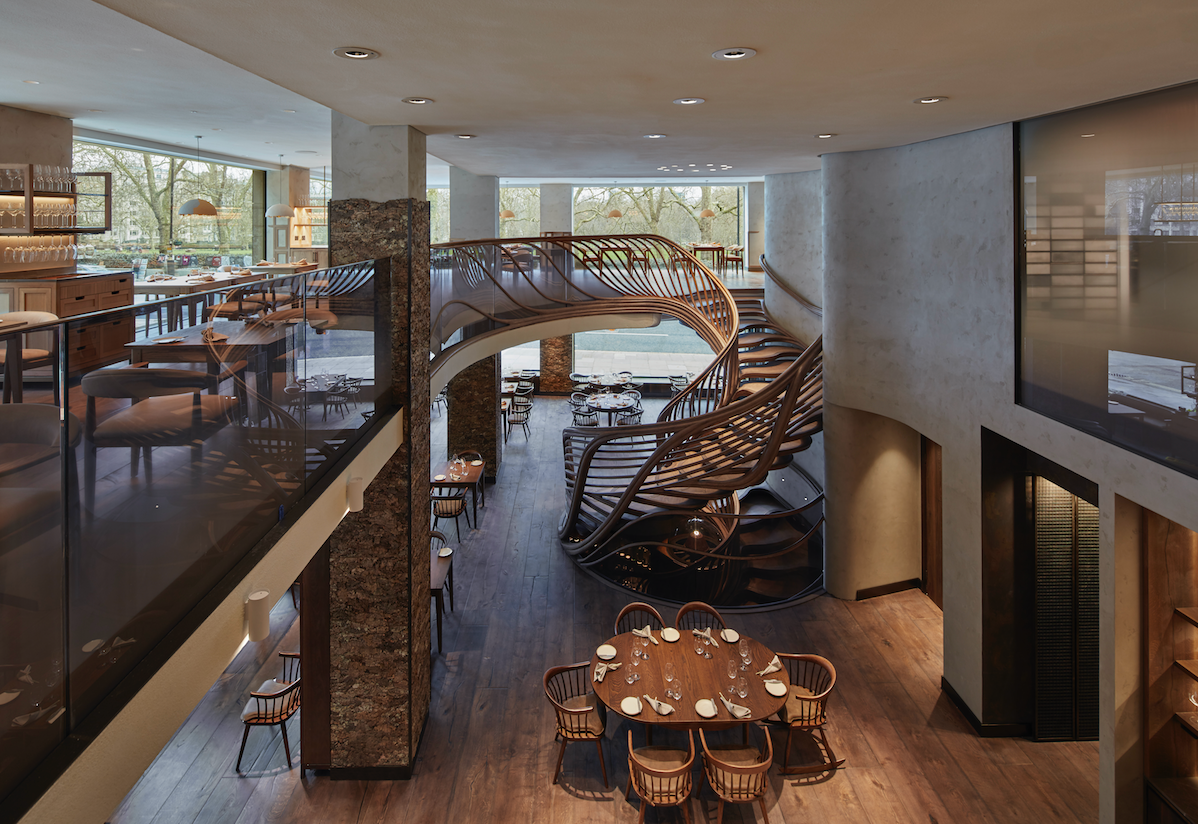 One of London's most popular fine dining restaurants, Hide, has launched a reduced A la Carte menu within its Above space in an attempt to make its Michelin-starred cuisine more accessible.
The imposing Hide Restaurant opened in London's upscale Mayfair last year and has since become one of the hottest fine dining spots in the city. It sealed this reputation when it earned its first Michelin star just six months after opening its doors.
Hide's early success is due to a number of factors, including its incredible wine list, the beautiful Instagram-worthy interiors and the ingenious food from one of Britain's most talented chefs, Ollie Dabbous.
The restaurant is an innovative concept and is split into three distinct areas – Above, Ground and Below – and a selection of stunning private dining rooms. It is at Hide Above that Dabbous displays the pinnacle of his culinary ability but until recently the only way to experience it in the evening was in the form of a five or eight-course tasting menu.
Now, however, diners can choose from his most famous dishes on a refined A la Carte menu. The new menu is designed to be much more conducive to midweek dining, allowing guests to enjoy Above's beautiful views over Green Park in a more casual setting.
Elite Traveler was among the first to sample the new A la Carte menu, which will change frequently according to the ingredients available on any given day. On the night, we were treated to a round of show-stopping canapes, including a basket of freshly baked bread, homemade charcuterie and a warming artichoke broth. It is a spectacular start to any meal and offers a tantalizing glimpse into the creativity that goes into all of Dabbous' dishes.
We opt for the Hand-picked Cornish crab – served chilled – and Dabbous' signature Nest Egg to start. The crab is beautifully fresh and served in a broth made from the shell with a hint of lime leaves. The Nest Egg – an eggshell filled with a concoction of egg yolk, smoked butter, toasted mushrooms and cream – is an ingenious little dish and worthy of its reputation. Both are lifted from the eight-course tasting menu.
There are four main dishes to choose from, including two from the tasting menu and two from the set lunch menu. We opt for one of each with the Wagyu short rib coming from the former and Chilean Seabass the latter. The seabass, cooked over charcoal, is served with a variety of delights including lemon verbena & saffron labne, fennel and pink grapefruit. Everything on the plate works in harmony with a supreme fillet of fish.
The Wagyu short rib is a simple dish in theory, but devilishly difficult to execute in practice. The short rib itself is glazed with a sweet sauce and served with charred spring onion, mustard and molasses. The extraordinary depth of flavor does not correspond with its underwhelming appearance on the plate, which offers a delightful surprise to the tastebuds.
We end the meal with a seasonal dessert – Dark chocolate and burdock root. Served on a bed of bark and a photogenic dead leaf, there is more drama to this dish than necessary, but fortunately it lives up to the hype by offering a finely balanced blend of bittersweetness. It is perfect for this time of year to enjoy such a dish as Green Park paints a fall scene in front of your eyes as you eat.
Of course, this new A la Carte menu is not the full Hide Above experience, but that is exactly the point. Few people have the time, the means and the appetite for an eight or five-course tasting menu in the middle of the week. The movement towards casual fine dining is a natural step that many similar restaurants have taken. Few, however, have executed it to such a high level.