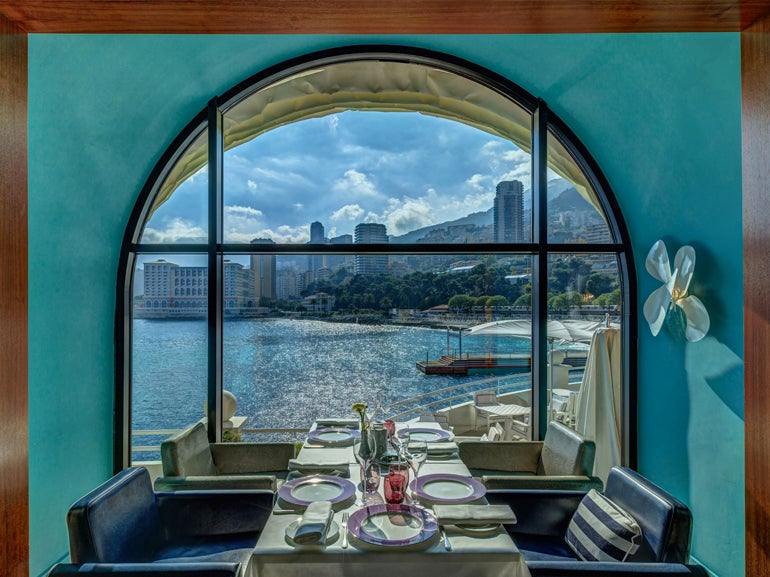 As we continue to adapt to our new lives in lockdown, many have come up with new and novel ways to keep in touch with our friends and family. A virtual dinner party is just one of the ways to socialize safely, but just because you have to stay at home doesn't mean you should settle for less. Why not use it as an opportunity to dust off the dining suit or evening gown for a formal affair?
Few places know fine dining better than Monte-Carlo Société des Bains de Mer. With seven Michelin stars across its portfolio of restaurants and sitting in close proximity to some of the best wine lands in the world, it is a paradise for epicureans.
As the lockdown continues in many of the major economies of the world, there is little prospect of the hotel opening its doors in the near future. Instead, they have garnered advice from their collection of fine dining experts on how to host the perfect virtual evening.
Setting the ambiance
The ambiance is just as important as the food, if not more so. Those wishing to host the perfect fine dining evening should pay equal attention to all of the senses. It's important to get the tone right from the off, even if your guests are arriving via Zoom.
Chef Philippe Joannes, the culinary events director for Monte-Carlo Société des Bains de Mer says: "Be sure to think about where to host your virtual dinner party – an open kitchen is ideal – especially if the lighting is good, to make sure the meal and your table setting look their best on camera. Also, being near the stove means you won't have to keep running off to the kitchen to check on the cooking.
"As far as the food goes, if you are all creating the same menu, it should be something that each "guest" can cope with – avoid anything too complicated (even when it comes to fine dining). As in our restaurants, it is all about the best ingredients – vegetables are in the spotlight at this time of year, think about their colors and how they will look on screen.
"For the table setting, a runner on a beautiful wooden table with stylish plates of food, are always a good combination. If available, now is the time to get out your best tablecloth – plain linen is best – complimented by white candles and white plates, which will serve as the perfect background to the dishes you are serving. You can put flowers on the table, for injecting color – but only if they a discretely scented, you don't want anything too overpowering."
A welcome cocktail
Ease people into an evening with a familiar cocktail that is both easy to create and delicious to drink. The champagne based "Monte-Carlo Bubble Wrap" is one of the most popular choices at the Buddha Bar, one of Monte-Carlo's hottest hangout spots.
Ingredients
– 1cl Belvoir raspberry & rose cordial
– 0.5cl Monin elderflower syrup
– 2cl strawberry purée
– 10cl Brut champagne
– Fresh strawberry for garnish
To make, add Belvoir raspberry & rose cordial, elderflower syrup, strawberry purée and champagne. Stir with a mixing spoon for a few seconds to make sure all the ingredients are properly blended – not too much, otherwise the champagne will go flat. Use a cocktail strainer to pour into a champagne glass, or a wine glass filled with ice during the summer season.
The food
It's important to choose dishes that can be easily recreated at home. Not every guest at your virtual dinner party will have the same skills or equipment as you.
Starter
Monte-Carlo Société des Bains de Mer recommends a Purple Artichoke Salad to start. This recipe is taken from Monte-Carlo Beach ELSA and belongs to chef Benoit Witz. This delicious, seasonally dish is an example of the chef's love for interpreting Southern cuisine with authentic flavors, in an unmistakable Mediterranean style. Focus on using seasonal and local ingredients, even swapping out ingredients for something similar if it can't be found. The recipe can be found here.
Main
For the main course, put your trust in a hearty beef fillet. COYA chef Fabrizzio Fossati recommends his spicy dish Lomo de Res. It is inspired by Peruvian cooking traditions and will transport your guests to the heart of South American cuisine. The dish promises a powerful punch yet retains a lightness that makes it perfect to eat even in the heat Mediterranean summer. The recipe can be found here.
Dessert
For dessert, challenge you and your guests to create a perfect chocolate soufflé. This interpretation of a classic French dish is taken from Le Grill at Hôtel de Paris Monte-Carlo. Diners would usually tuck into a decadent chocolate dessert whilst taking in panoramic views of the Mediterranean. You may not have the views, but this step-by-step guide from chef Olivier Berger will recreate a feather-light soufflé to bring the virtual dinner party to an impressive finale. The recipe can be found here.
https://www.montecarlosbm.com/en