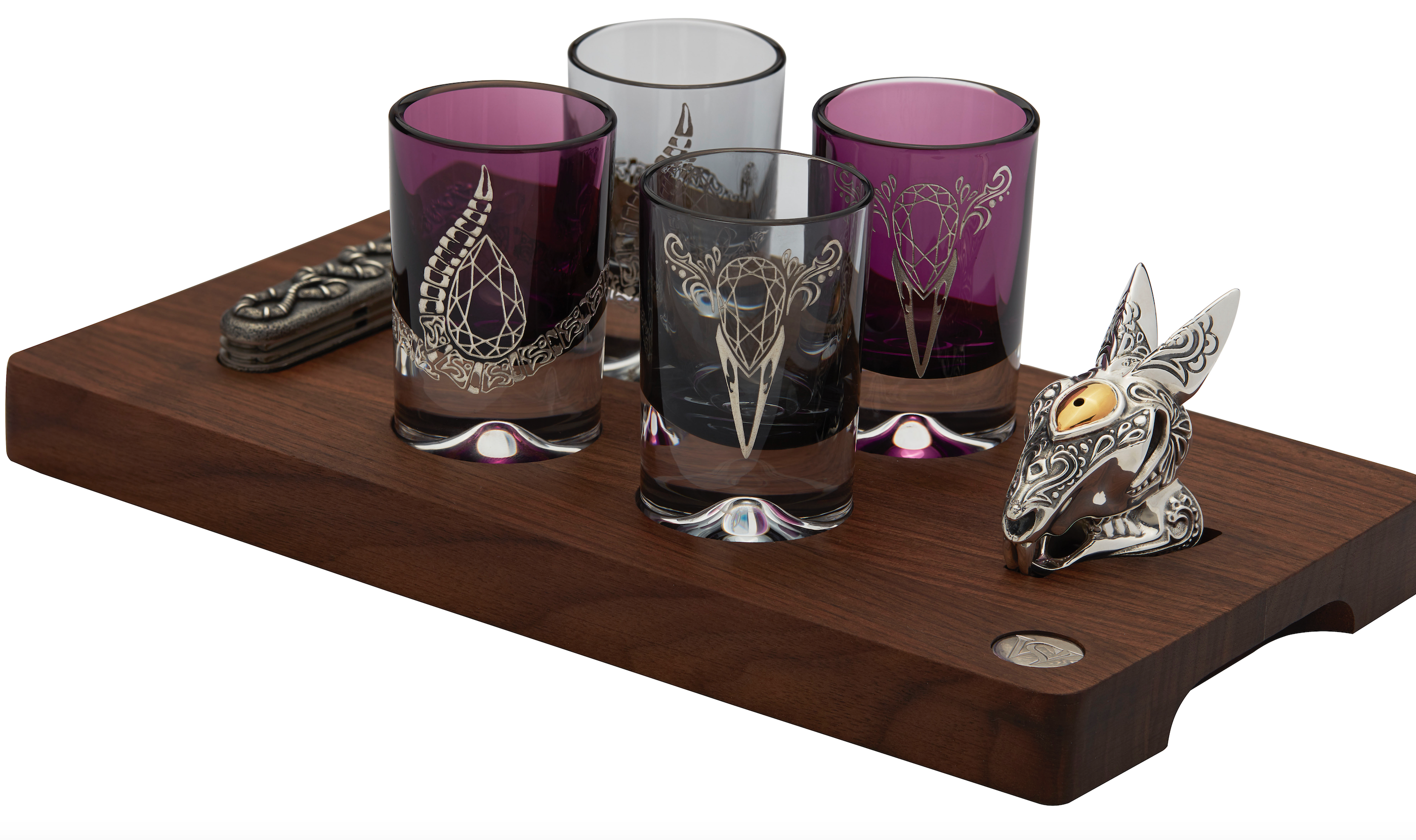 British-born fine jeweler, Stephen Webster, is known for his quirky and bold jewelry designs (found everywhere from Bergdorf Goodman in New York to Net-A-Porter and Neiman Marcus). Just in time for Cinco de Mayo, Webster launched his very-first drinking set, the 'Tequila Lore' collection inspired by Mexican culture and folklore. The chic set must be a fixture at your upcoming Cinco de Mayo or summer soirée.
Webster spoke exclusively to Elite Traveler about his latest collection. First, he cites that while he loves a good tequila, his new collection has a deeper meaning.
"Once the decision was made to create the most extraordinary household tools available, my research into Mexican drinking folklore gave me all the inspiration needed to create the first of a series of bar tool kits," he says. "The Tequila Lore tool kit depicts the creatures found in Mexican folklore surrounding the national drinks of tequila and mezcal."
Webster continues that in Mexican tradition, to imbibe heavily on tequila is referred to as 'being 400 rabbits.' He included a rabbit skull, in addition to a rattlesnake, eagle and long horn (which he has known to include in his collections). Adorned with turquoise gemstones and made of sterling silver, the collection perfectly marries Webster's unique flair with Mexican tradition.
The set includes bar tools (knives, tongs, measurers and salt shakers) and bejeweled tequila shot glasses in a deep amethyst hue with imagery of characters from Mexican folklore (think bull's skulls and rabbit skulls) and the Golden Eagle found on the Mexican flag. Each piece is handmade and hand-engraved in the UK and comes in a bespoke leather case with a brushed-suede interior. London-based leather-goods company Tanner Krolle created each box, which can be customized to your color preferences.
"Nothing is quite as showstopping as Tequila Lore," Webster says. "Each piece, like a samurai sword, is an exquisitely crafted, fully functioning sculptural tool."
Available at Bergdorf Goodman in New York, 745 5th Ave, +1 212 735 7300, stephenwebster.com