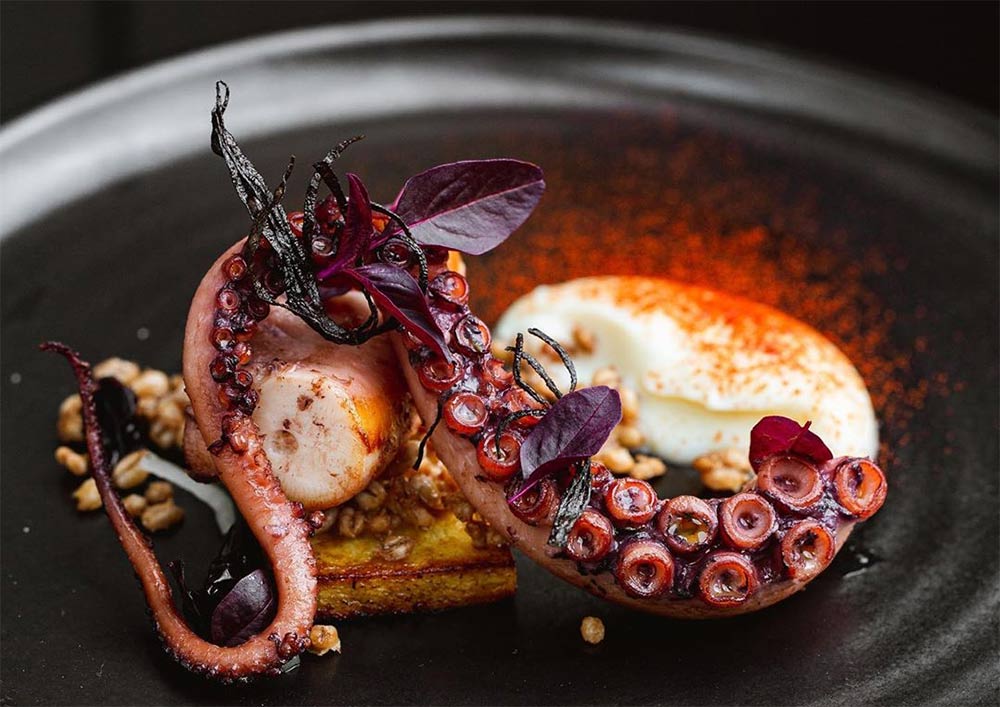 The Ram Quarter in Wandsworth Town is a new development of luxury properties situated on the same site as the old Youngs brewery. Very little remains of the old site, once the lifeblood of the local community, apart from its towering Grade-II listed chimney. Today, the chimney has no use but to act as a beacon for tonight's venue: London Stock.
Located a short journey out of London's center, it is an odd location for a restaurant promising cutting edge fine dining with innovative Asian techniques. But much about London Stock appears to be purposely under the radar. The restaurant opened its doors in January with little to no fanfare, perhaps confident that the culinary world will eventually come to them.
That confidence is borne out of the pedigree in the kitchen. Leading the charge is head chef José Fernandes and pastry chef Nico Fitzgerald. Between them, they boast an impressive resumé, including time at Michelin-starred restaurants Pollen Street Social and the Hind's Head.
There is a pop-up feel to London Stock. Its bare brick walls and free-standing bar make it feel as if it could disappear as quietly as it arrived. It is undeniably a cool atmosphere with lights shining only where strictly necessary, plush chairs and stylish furnishings. There are 80 covers here, only 10 of which are taken when I arrive.
Continuing with the experimental theme, London Stock offers just three options: a tasting menu of either five, seven or nine courses. We opt for the seven-course menu priced at £45 ($60). If it sounds cheap that's because it is, especially considering the culinary talent and the quality of ingredients. It is all part of its promise to deliver a new form of modern fine dining, but must undeniably be aided by its inauspicious location.
There is an eclectic mix of dishes over the course of the evening, from grilled octopus served with potato fondant and celeriac purée to a slow-roasted beef short rib with ratatouille. There are notable highs (the wild seabass with broccoli, broccoli purée and pickled turnips is exceptional) and just one notable low (the octopus is overcooked), and overall the meal is impressively balanced.
In practice, the menu will change regularly but will always champion British ingredients. There is a hefty chunk of Asian influence, too. This is most notable with the Yuzu pre-dessert, which is served with Delica squash, shisho and hazelnut. The sweet and savory dessert feels like it has been plucked straight from Umu, widely regarded as London's best Japanese restaurant.
Each course flows seamlessly to the next, and we only reach the point of saturation once the grand finalé (a beautiful malt and miso soufflé served with stout ice cream) is finished. It is clear the chefs know their way around a tasting menu.
They also know how to plate their food. Each dish is impeccably presented to the point of pretension (the good kind). If the plates tilt London Stock towards stuffy fine-dining, then it is tilted back by the warm and friendly waiting staff. They are the frontline holding the restaurant's 'casual fine dining' tag in place, and they do so with distinction. However, when it comes down to the business of serving, they recite each dish as if they cooked it themselves.
This level of service hints that London Stock has its sights set on a Michelin star. Of course, it is early days but there is enough talent to catch the attention of inspectors. For now, their focus is on piquing the interest of locals, and with one of the best-value tasting menus in London, it surely won't be long. It may have opened quietly, but this little restaurant will soon be making a lot of noise.
London Stock, 2 Bubbling Well Square Ram Quarter SW18 1UQ, londonstockrestaurant.co.uk