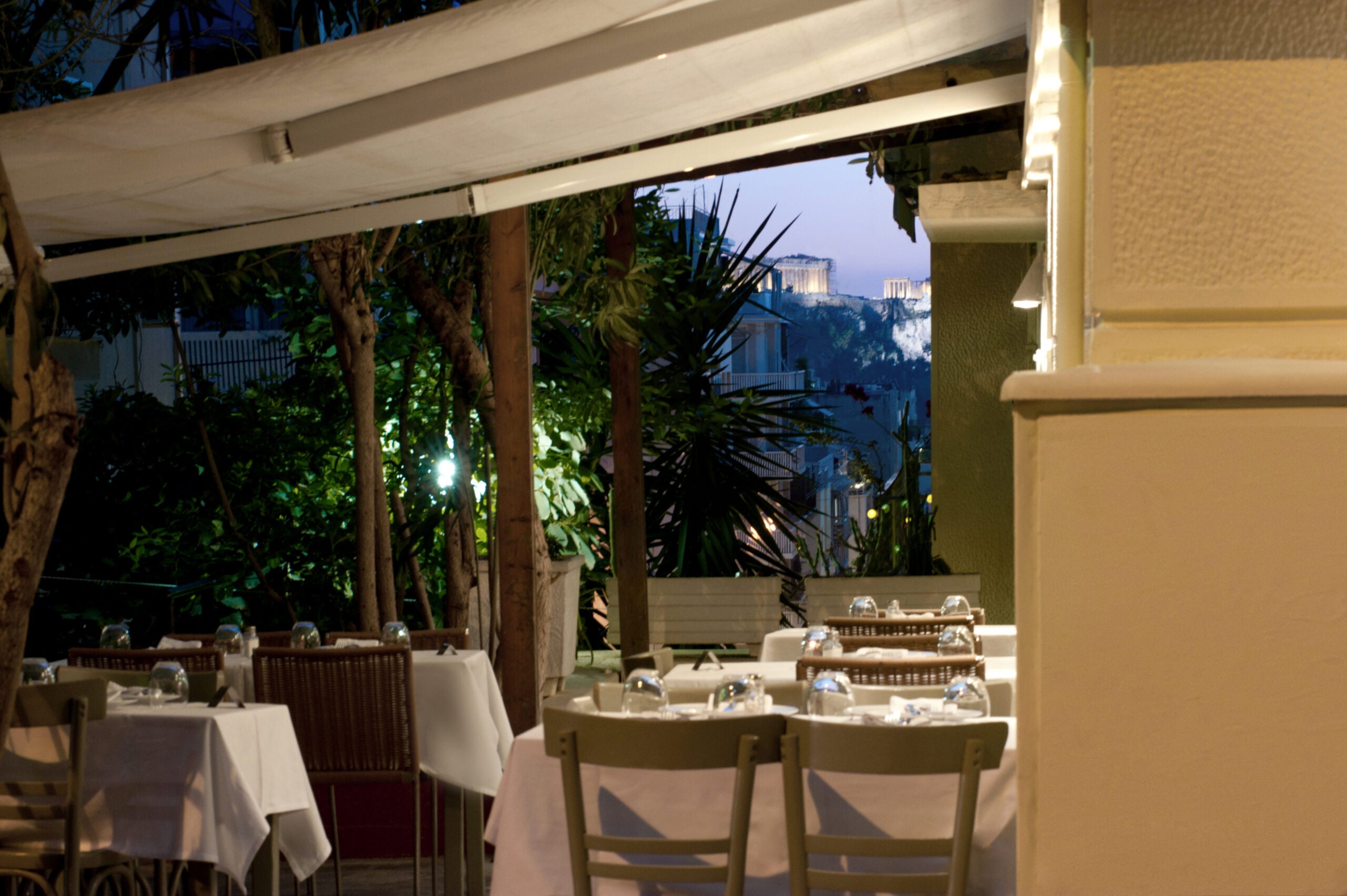 Papadakis Restaurant may not be among the handful of Athenian eateries to boast a Michelin star, but it is arguably one of the best places to experience authentic Greek cuisine in this food-centric capital city.
Sitting on the foothills of Mount Lucabettus in the upmarket area of Kolonaki, Papadakis offers respite from the hustle and bustle of Athens and boasts views of the stunning Acropolis from its shaded dining terrace. It is a welcome haven from the harsh Athenian summer and is a cool place to eat even in the heat of a summer afternoon.
The restaurant is the brainchild of Argiro Barbarigou, a celebrity chef known more for her unparalleled ability to sell cookbooks than as a restaurateur. Indeed, as many a culinary personality has found out, media success does not necessarily translate into the unforgiving world of high-street dining. Here, however, Barbarigou certainly bucks the trend.
Papadakis first opened its doors in 2005 when Barbarigou moved a restaurant of the same name from its original site on the island of Paros. It has since become a culinary pillar of the community and is regularly filled with well-heeled locals who come to experience some of the finest seafood available in the city. Indeed, even on our visit on a Thursday afternoon, the restaurant's terrace is still full of diners sampling the daily specials.
The restaurant's commitment to Greek produce is laid bare by a wine list dominated by local bottles. I suspect there may be a reason why most Greek wine does not travel far but we find delight in a reasonably priced bottle of refreshing white that perfectly complements the dishes to come.
Only serving the best and freshest seafood available, the menu changes as often as the sun sets. Luckily for us, our visit coincides with the delivery of baby calamari, an off-menu item that the waitress highly recommends. It is served with a delicate hollandaise sauced and has the kind of soft texture that only the freshly-caught squid can have.
We are also urged to try one of the restaurants most popular signature dishes: Paros Island Chickpeas. As the name suggests, these humble legumes are sourced from Barbarigou's home island of Paros and are slow-cooked for 15-hours before being served alongside a serving of homemade taramasalata.
It may look like a bowl of baby food, but the taste is complex and heavenly. We savour every bite and seriously consider asking for a second plate. This simple dish is the essence of what Barbarigou aims to achieve at her restaurant: successfully elevating traditional and homely Greek cuisine to its highest possible level. It is the highlight of the meal.
For the entrée I opt for one of the daily specials: steamed grouper fillet, stuffed zucchini with its own cream and a fish sauce with black Osteria caviar. This is served at room temperature, which I find the perfect antidote to the dry heat of the day. Grouper is a meaty fish, so the rich caviar offers an intense seafood hit that balances the dish well.
A semi-raw zucchini proves to be a welcome addition but I am left wondering why three tasteless rice crackers protrude out of it. They taste of nothing and add little to the dish. However, that is the only mark on what is an otherwise exceptionally well-executed dish.
We also try the spicy prawn linguine, another simple dish that leaves no hiding place for mistakes. Fortunately, there are none to be found. The linguine was al dente (as it should be) while the prawns were expertly cooked with just the right hint of spice. We find ourselves looking longingly back at the menu, wondering if there is any room for another dish. We eventually concede defeat and move onto dessert.
The sorbet of the day is mandarin. The sorbet is an intense orange color and I am pleased to say that runs true with the flavour, which is so in-keeping with the citrus fruit that I suspect no other ingredients have been added. It acts as the perfect palate cleanser for what was to come next: the restaurant's signature Greek millefeuille.
An indulgent dessert adapted from one of France's most famous pastries, it consists of caramelized crunchy filo layers, greek yoghurt mousse and topped with crushed walnuts and thyme honey. With an infallible sweet tooth, I find it exquisite but suspect it would suit diners of a similar disposition. It is, after all, a plate laden with sugar… wonderful sugar.
Already in serious need of a siesta, we are invited to end our experience with a shot of Mastiha, a traditional liquor seasoned with a cedar-like resin similar to that of ouzo. It is the perfect finish to a memorable meal that certainly seals Papadakis' position among Elite Traveler's top recommendations for Athens.