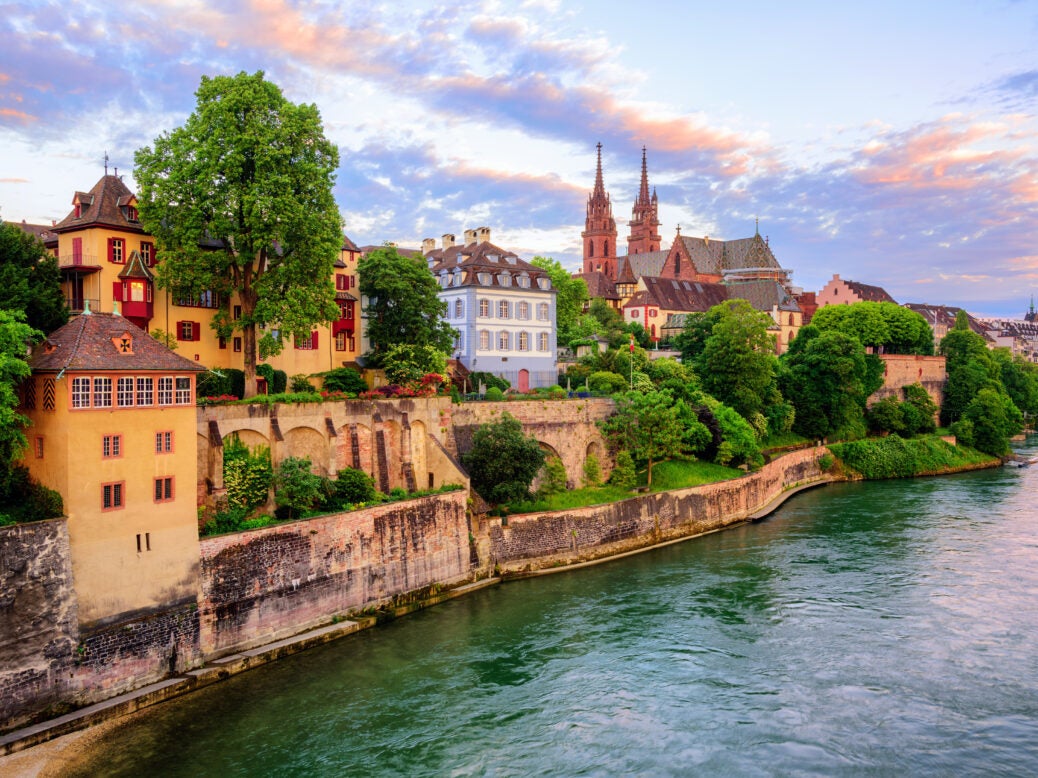 Basel, Switzerland offers its tourists mountain views surrounded by fairy-tale woods. Alongside the picturesque surroundings, however, its culinary offering is equally impressive.
With five Michelin-starred restaurants, it is the perfect destination for a peaceful and elegant trip to Europe. Some restaurants are immersed in nature, like Stucki, or built in unconventional spaces, like Ackermannshof. With up to three Michelin Stars, they are the best restaurants in the Swiss city. 
All of these restaurants have one thing in common: prime-quality ingredients and great creative minds in the kitchen. 
Cheval Blanc by Peter Knogl
Located in the grandest hotel in Basel, Hotel Les Trois Rois, Cheval Blanc is among the top 100 restaurants in the world. 
Its French menu, curated by chef Peter Knogl, is inspired by both Mediterranean and Asian cuisines, which can be enjoyed in the elegant surroundings of the restaurant. "The greatest art in cooking is to ideally combine the ingredients and aromas while preserving the taste of the central product," Knogl explains.
With three Michelin Stars and 19 GaultMillau points, Cheval Blanc is one of the most exclusive fine dining establishments in the Swiss city, overlooking the Rhine river. 
Roots
Directly situated on the banks of the Rhine, Roots faces Basel's old town. The establishment itself is located in a congress and event venue, the Rhypark, however, it maintains its elegant and delicate reputation and personality. 
With a terrace overlooking the city and a glamorous and modern interior, Roots offers its diners a mostly vegetarian culinary experience, with some fish and meat dishes. Thanks to chef Pascal Steffen's creativity, the restaurant was awarded two Michelin stars. 
Roots offers three menu options: five, six, seven or nine courses, mainly inspired by seasonal produce and handpicked ingredients. Even with its formal reputation, the atmosphere is quite relaxed and laid back.
Stucki – Tanja Grandits
Named after chef Tanja Grandits's predecessor Hans Stucki, the restaurant was awarded two Michelin Stars thanks to its colorful and creative cuisine. 
Chef Grandits's main characteristic is her use of flowers and leaves in her dishes, using high-quality produce in a nine-course evening menu and a shorter version at lunchtime. During the summer, diners can enjoy atmospheric views of the Swiss countryside from Stucki's garden terrace, which adds a sense of tranquility to the experience.
The establishment itself is located in an antique villa, which boasts chich and luxurious interiors characterized by neutral-toned walls with golden accents. In a way, the chef uses neutral ingredients as well, turning them into sophisticated dishes with colorful details. 
Ackermannshof
Chef Flavio Fermi creates contemporary and personal versions of Mediterranean dishes with a minimalistic approach, allowing for every part of the menu to be carefully thought over.
This restaurant's location is unique as well since it is an old restored printing house. With one Michelin star, Ackermannshof offers its guests the possibility to dine in a welcoming yard with fairy lights and white-clothed tables.
The diners can savor not only Fermi's cuisine, but also experience the attentive care of hosts Eveline and Roland Tischhauser. 
Bel Etage
One-Michelin-starred restaurant Bel Etage welcomes its guests with warm antique parquet flooring, golden doors and high ceilings with crystal chandeliers hanging from them. The establishment is located on the first floor of Der Teufelhof hotel, an historical and traditional hotel in Basel.
Chef Michael Baader has been in charge of the kitchen since its opening in 1989. 
Just like its atmosphere, Bel Etage's menu reflects the traditional and classical shades of French cuisine. Every dish on the menu boasts simple ingredients to make the simplest form of cuisine thanks to straightforward combinations and flavorsome produce.
For more inspiration on where to eat on your travels, take a look at the world's Top 100 Restaurants.
Image: Shutterstock