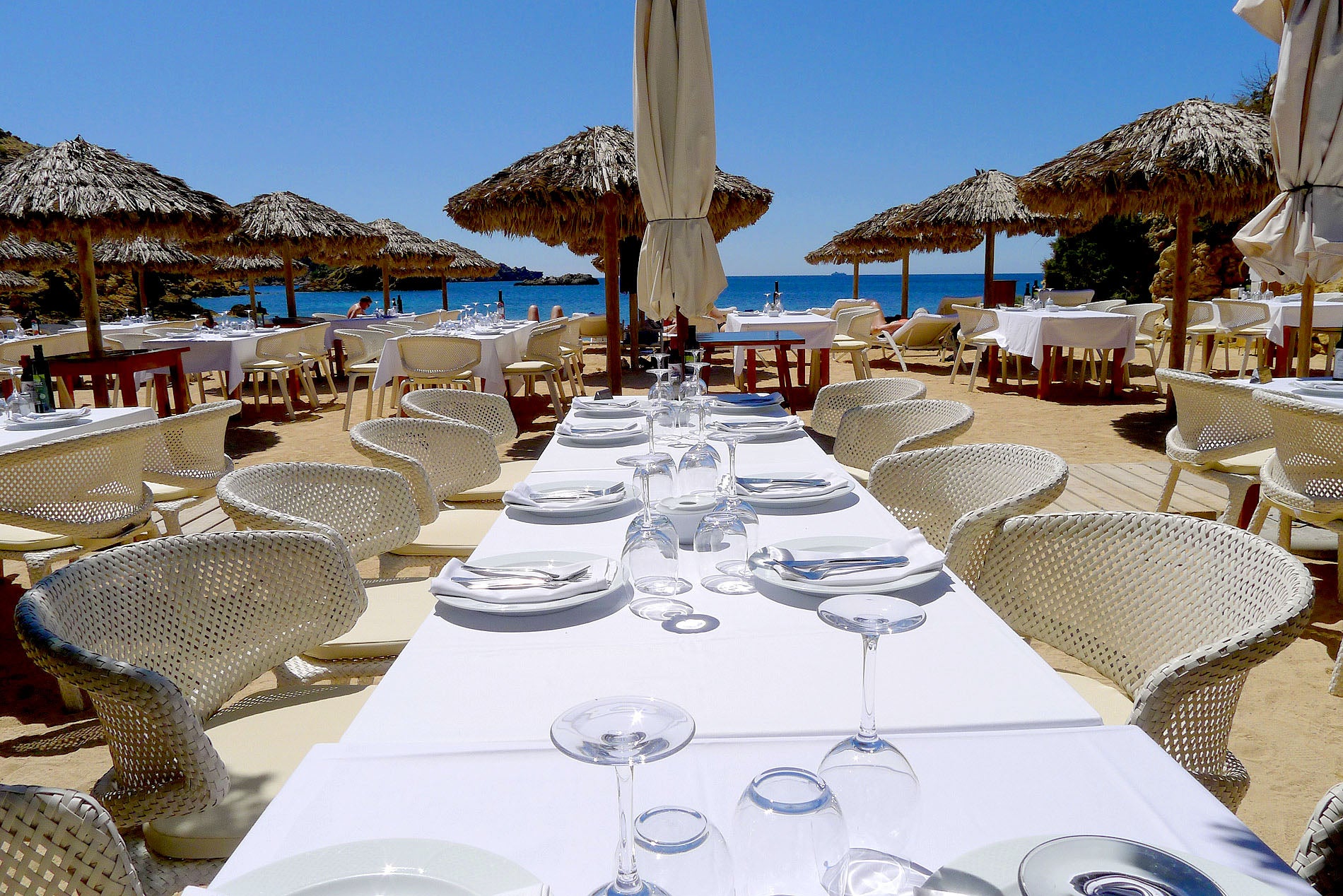 By Kelsey Llewellyn
While Ibiza may conjure images of watersports in crystal clear waters or of its famous and buzzing nightlife, this Mediterranean island has much more to offer its visitors. And what better way to become immersed in Ibiza's distinctive culture than through its unique cuisine (especially when it tastes so good)? From fresh fish to sublime paella, Ibiza's fine dining scene consistently dazzles guests. Need help narrowing down the search? These are the five best restaurants in Ibiza according to Elite Traveler.
Donde Marian y Miguel
Meat lovers should dine at Donde Marian y Miguel, where chefs treat the incorporation of meat into Mediterranean cuisine as a delicate (and delicious) science. Cooking with only the best Iberian meat and beef (brought over directly from the Peninsula), the chefs prepare plates (including ox fillet, young lamb chops and Iberian pork filet) on a charcoal grill. If you prefer seafood, the grilled clams and fresh squid are equally mouth-watering. Decide between three dining locations: an interior lounge, replete with a fireplace for chilly evenings; a spacious and relaxing porch, with a front-row view of the grill; and an outdoor garden terrace. Be sure to stop by the Chill-Out area after your meal, which offers cocktails until dawn.
dondemarian.com/en Tweets by DondeMarianYM
Es Mirador
Walking along a palm-tree lined street built of ancient stonewalls will lead you to Es Mirador, an equally picturesque venue enjoying a view over the harbor and Elvisa. Its intimate interior is lined with oil paintings, and if you look up, you'll be greeted by a detailed fresco-painted ceiling. Connected to its five-star hotel, Mirador de Dalt Vila, this eatery is open to everyone, greeting guests with its luxurious accommodations and fine dining. Entering his seventh year at Es Mirador, head chef Juan Manuel creates creative cuisine from his ingredient-driven menu. You'll understand our excitement as soon as you try the king prawn tartar richly blended with passion fruit, raspberry, peas and a subtle avocado dressing, all served in a stunning glass sphere. The nine-course tasting menu pairs fabulously with wine from La Enoteca, the restaurant's wine cellar featuring a delicious selection of island and Spanish wines.
hotelmiradoribiza.com/en/dining
Es Torrent Ibiza
Sit under lush juniper trees and listen to the music provided by crashing waves and billowing breezes at Es Torrent, which has stood alone on the corner of the southern coast since 1984. While this seaside restaurant has matured since its past as a wooden beach house, its culinary culture and coastal charm have remained constant. Be sure to try one of the seafood specialties, such as the restaurant's take on Ibiza's signature food: lobster. Order the fish of the day for the most recently caught seafood from the Pitiusan Sea. Whether you're served St Peter fish, sea bream, grouper or scorpion fish, it will be lightly cooked in the oven before being tossed delicately on the grill and served to you with potatoes. Pair the delicious cuisine with your choice from the wine list or cigar menu.
estorrent.net Tweets by EsTorrentIbiza
It Ibiza
Head to the northern side of the harbor, where It Ibiza serves Mediterranean-inspired cuisine in a chic setting. Helmed by two-Michelin-starred chef Gennarino Eposito, this fashionable waterfront venue consistently provides fresh ingredients and tasteful presentations. Expect dishes such as pasta and lamb ragu as well as a beef fillet with hazelnut, potatoes and braised lettuce. The restaurant also features a popular club lounge, where guests can mingle while listening to music played by talented DJs and sipping on a stellar collection of Italian and international wines.
it-ibiza.com/en
Restaurant S'Espartar
There never seems to be an empty table at S'Espartar, a family-run restaurant where the sea beyond the terrace's balcony enchants guests with romantic views and gentle breezes. You'll be hard-pressed to find fresher ingredients, as the chef's brother owns the boats that catch the fish for the menu's unpretentious cuisine. Allow yourself to be dazzled by the restaurant's signature dish, Bullit de Peix (an ancient island dish of fish, potatoes, and broth), made according to an authentic recipe from Ibiza. The seafood paella is another local favorite, and specialty of S'Espartar. Complement it all with a delicious drink from the extensive wine list.
restaurantsespartar.com/es-es