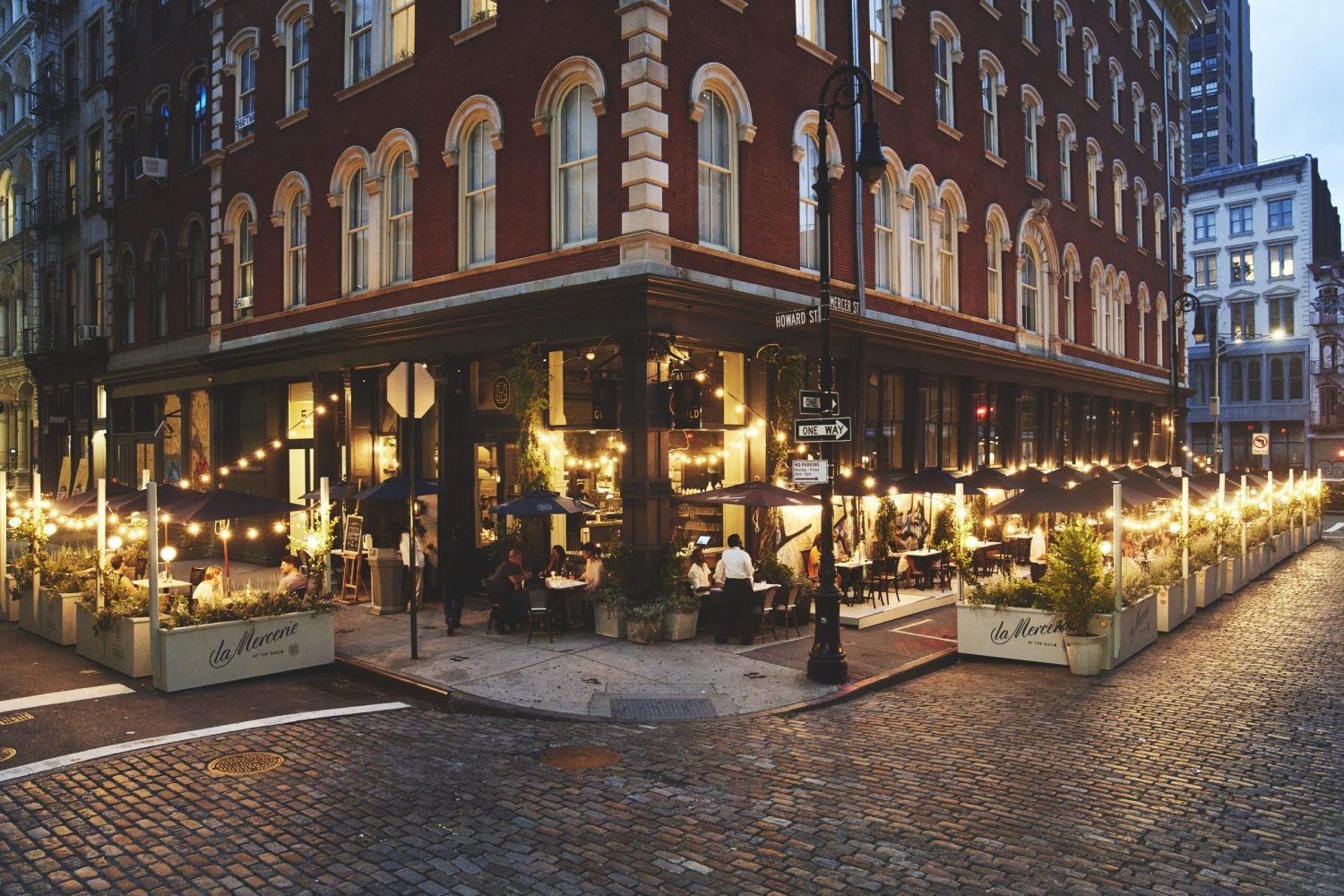 The streets of New York City are slowly coming back to life. The devastating impact of Covid-19 saw one of the most comprehensive public lockdowns in US history, but as the city gains control of the infection rate, citizens are being encouraged to dive into the new normal.
No industry has been hit harder than hospitality, and the chance to reopen for outdoor service and pick-ups grants thousands of restaurants a lifeline.
It is widely accepted that the risk of Covid-19 transmission is far lower outside, so with summer in full swing, it is the perfect time to seek out the city's hidden alfresco treasures. A number of the city's fine dining restaurants now provide outdoor seating or already have beautiful terraces. Here, we take a look at the best alfresco restaurants in New York. 
Estiatorio Milos
One of the most popular upmarket Greek restaurants in the city, Estiatorio Milos has recently opened a new outdoor terrace that transports diners to Athens. The garden has been tastefully styled to conform to social distancing by using urns and planters to separate tables. Green vines hang from the top of an open-air tent, providing a rare dining oasis in the heart of Midtown. The restaurant is known for its focus on immaculate ingredients and fresh flavors. Diners can choose from a select menu, including the famous Milos Special, a tower of lightly fried zucchini and eggplant with kefalograviera cheese and tzatziki.
Wayan
Cedric Vongerichten's beautifully decorated restaurant has been delighting locals in Nolita since reopening with a charming outdoor space. Son of fine dining juggernaut Jean-Georges, Cedric follows in his father's footsteps by offering classic Indonesian flavors with a modern French flair. The outdoor dining seats and inspired Asian bites will make you feel like you are wandering the stalls of a Jakartan food market.
 La Mercerie Café
Many restaurants have had to be creative in order to deliver outdoor dining, but few have worked harder than La Mercerie. The popular Parisian café has built six-inch platforms to elevate guests from the street with planters placed at each end. La Mercerie will be able to accommodate 88 seats outside, which is almost double the previous indoor capacity. Executive Chef Marie-Aude Rose has made the most of lockdown by creating a brand-new menu. As well as the usual classics, diners can enjoy new dishes including Thon Cru á la Vinaigrette (raw tuna, capers, anchovies and olives) and Poulet Fermier (crispy sauté heritage chicken, green beans, lemon and kalamata olive paste).
Avra Madison
Known for serving some of the best Greek food in the city, Avra Madison invites diners to experience its delectable fresh seafood on a newly formed outdoor terrace. Located just steps from Central Park, it is the perfect place to stop for dinner after a late afternoon stroll. Diners usually love the seafood display, which features a range of fresh-caught whole fish that are grilled on charcoal to order. For something lighter, its wide range of delectable appetizers, such as Chilean sea bass souvlaki and Faroe Island salmon tartare will surely satisfy.
Celestine 
Unlike most of the restaurants on this list, Celestine has been a go-to alfresco dining hotspot for a while. The stunning views of Manhattan Bridge makes Celestine's terrace one of the most scenic dining spots on a sunny summer's day. Pair it with the restaurant's beautiful array of Mediterranean food and you will find yourself transported to the heart of Europe. The menu is best enjoyed as sharer plates, so take those closest to you and enjoy the views.
Carbone
An institution of New York's dining scene, Carbone has set up a makeshift terrace of 10 tables outside its famous doors in Greenwich Village. The American-Italian restaurant is offering the same old favorites on the streets of New York's most vibrant neighborhood. It's stripped-back four-course menu allows the chefs to focus on getting back into the groove of excellent cooking. Regulars will be delighted to see dishes like tortellini al ragu and veal parmesan on the select menu.
Grand Banks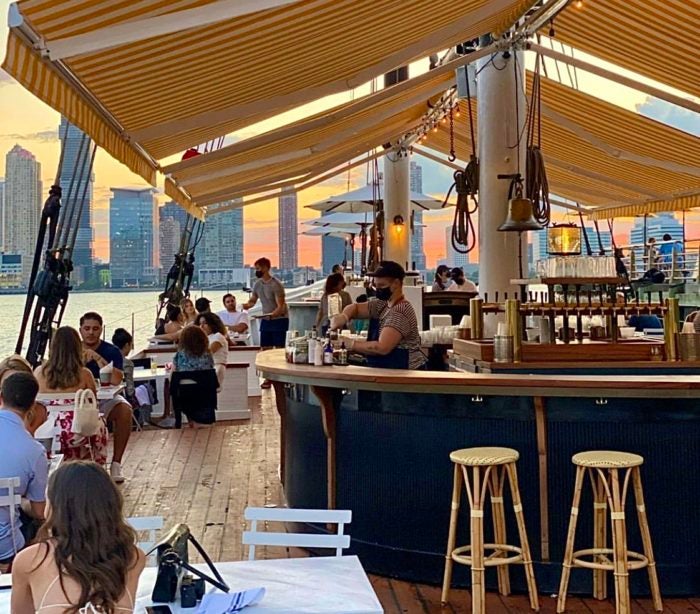 Known for its wild-caught oysters and delectable lobster rolls, Grand Banks has come into its own in Phase 2 of reopening. The Tribeca hangout is situated on a 78-year-old boat in Hudson River Park, so you can trust them when they say all of their produce is fresh. The oysters are all taken sustainably from New York waters and go down well with a glass of iced rose or champagne at sunset.
Shuko
One of the city's best-loved sushi restaurants is hard enough to get into in normal times, and it's not about to get any easier. Shuko has just three outdoor tables for now, and all are given on a first-come-first-serve basis. If you do manage to grab one of the highly coveted seats, you can enjoy the sushi roll set ($135 for two) which includes 14 sushi pieces, a spicy trout roll and a kanpachi roll. An a la carte menu is also available.
Rezdora
This pasta-centric Italian eatery has only been open for a year, but it is already a staple of Flatiron's dining scene. Chef Stefano Secchi has wowed New Yorkers with his range of seasonal pasta dishes, and he returns with a new selection of summer-centric delights. Enjoy dishes such as stracci verde (wide spinach pasta with sausage ragu) and slow-roasted sole fish in the restaurant's new outdoor seating.
Sfoglia
This charming trattoria on New York's Upper East Side may look rustic, but the food coming out of the kitchen is certainly not. Sfoglia is best known for its elevated take on Italian home cooking. The restaurant is now offering outdoor dining for the first time in its 15-year history and has 13 tables for reservations. All of the pasta is handmade and dishes change regularly to include seasonal ingredients.
ABC Kitchen
This popular Jean-Georges restaurant has lead from the front with new-normal dining. Not only are they offering outdoor dining, menus have also been swapped out for digital versions accessed via QR codes. All meals are also delivered in special disposable containers. The menu offers a selection of dishes made with local, sustainable, seasonal produce that does not use pesticides, synthetic fertilizers, insecticides, or GMOs. Meat, fish, and dairy are locally sourced where possible, from humanely treated, pasture-fed animals free of antibiotics and hormones.