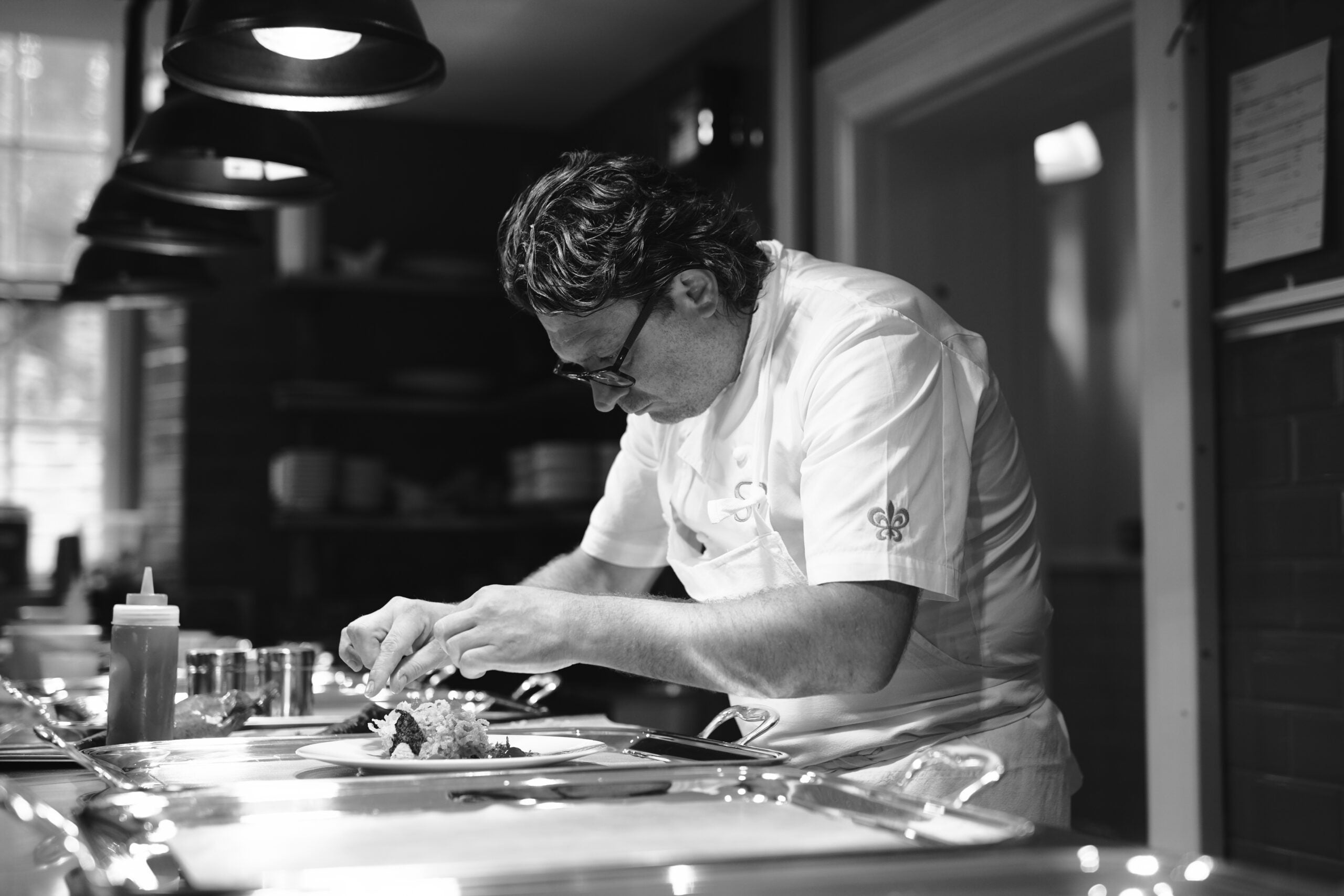 On the morning that UK Prime Minister Boris Johnson imposed a new curfew for England, meaning that all restaurants and bars have to close at 10pm, we spoke to esteemed chef Shaun Rankin on what that means for his restaurants, diners, and the wider industry.
The affable English-born chef and restaurateur's career has taken him all over the world, but he has since returned to his roots in Yorkshire, England. He opened Shaun Rankin at Grantley Hall when the hotel opened in summer 2019 and was slowly opening back up again as restrictions were lifting but, as Rankin summarizes, "it's all going a bit pear-shaped again."
He tells us about what he's been up to during lockdown and the inspirations behind Shaun Rankin at Grantley Hall.
The ten-course tasting menu at Grantley Hall is inspired by your childhood. Do memories and a sense of nostalgia influence your work? 
Memory and food — it's a big thing. Eating something and closing your eyes and being shot back 15 or 20 years to a place that made you feel happy. Food can do that to people through taste buds, through that awareness of the senses. So, for me, that's one angle to it. It does inspire me to try and recreate what I had as a child, tastes that meant something to me, or remind me of a place I've been. As a chef as I've traveled for 30 years and worked all over the world, how can I take something from one place, make it that much better, and take it to a different place? That's what I want to try and achieve.
When I was young, my mam would give me bread and butter to eat with Bovril. It's a nostalgic thing. We looked at things like meat juices and bread, so the idea is to take it really way back. When I was a child, I'd dip my bread in Bovril, and when my mum would take roast beef out of the oven and it was in the tray, you'd dip your bread in the meat juices and put loads of salt on it. And eat it! It was so nice! Just so yummy. It's those interpretations that take you back to childhood. We keep trying to take it to a completely different level because I'm not sending out a roasting tin that you can dip your bread in!
You champion locally sourced produce. Can you tell us about the kitchen garden and how other ingredients are sourced? 
I've been on the Grantley hall project for two years before opening and one of the big jobs I wanted to do was to dig the kitchen garden out. For us, the philosophy for the food is really about sustainability and about locally sourced produce within the area. We try to keep it within a 30-40-mile area. There are lots of different reasons: we understand the story of the food and we can really give that experience to customers; they know that when they come here, ingredients haven't been brought in from France or Italy or Guatemala… it's come from the UK. It's really important to us and the sustainable factor is so important, but also helping the local community.
Can you tell us about the Chef's Table experience? 
I have designed and built restaurants before and included chef's tables. I have always put them outside the kitchen where you have a viewing window. But this time round I wanted something really raw. The pastry section is at the back of the kitchen on a marble slab. I wanted to create an environment where people are right in the depths of it. It's not hot there, it's comfortable as they're away from it but they're still in the environment. It just seems more real. We are in that environment too, so we actually get to serve; we are cooking and serving it. People love it! At one point, pre-lockdown, the kitchen table only sits 8 max but we had 14 people around the table! They were celebrating two birthdays, coming together. and what a way to celebrate than with something like that. It's just really fun. Hopefully they'll be as popular when we do get back open.
Like much of the rest of the world, the restaurant closed down during lockdown. How has it been reopening? 
We were only open such a short period of time before we closed again. We had a vast amount of momentum from opening up in the first place. The second time, after the lockdown, it was pretty difficult. It was harder than the first time. I don't know why. People had so much time off and people were confused about what was going on still. It was really challenging but we got there in the end. Fingers crossed we stay open. People have been waiting such a long time to go out and celebrate birthdays, weddings, engagements… luckily, we are really spread out [in the restaurant.] When you're dining, you're not close to anyone so people feel safe.
How did you keep busy during lockdown? 
I managed to get back to Jersey. My two boys are 8 and 12, so it was home schooling from me, which was quite fun! After that it was exercise with the boys — cycling, walking. Everything was closed on the island during lockdown so I cooked a lot, some things I had not cooked in a long time like marmalade and sourdough bread.
Before that, I was by myself so that was doing a lot of walking… 10 km [approx. 6 miles] a day!
I think lockdown changed people's mindset. I think that maybe some people are changing their course — could be careers, or whatever, but I think a lot of people have gained self-awareness on what they want and how they see themselves in life.
What would your last meal be? 
If I was being over indulgent — I only eat this once in a while — beluga caviar would be amazing. But then… there's a fish and chip shop in Whitby called Maggie's and it is the best fish and chips you'll ever eat in your life.
A Taste of Home at Shaun Rankin at Grantley Hall, £115 ($149); signature wine pairing £75 ($97). grantleyhall.co.uk