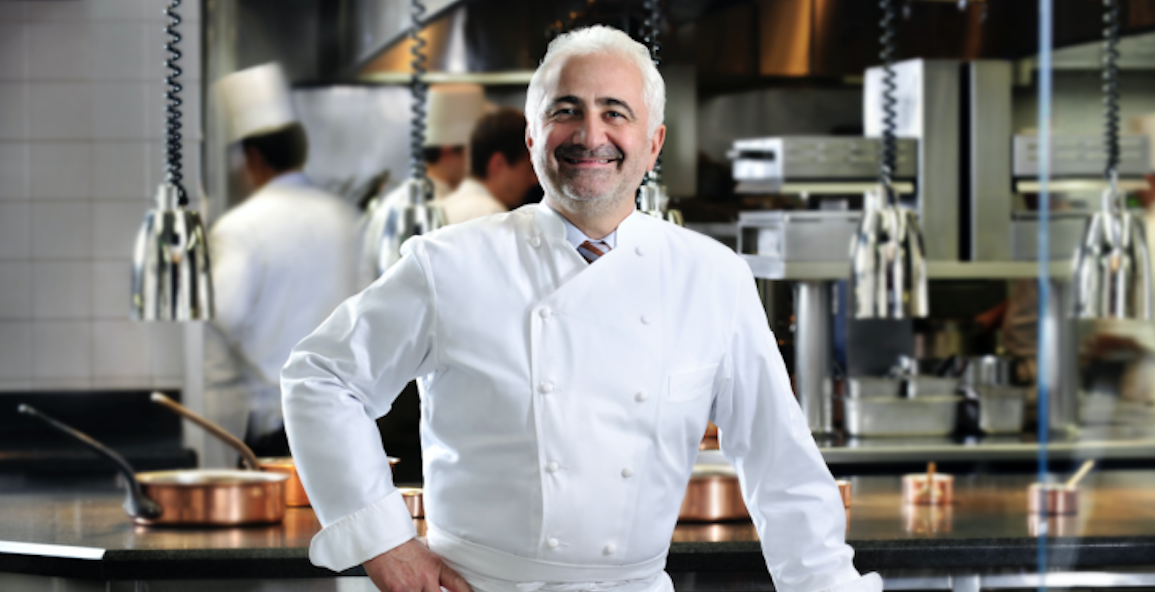 The first thing chef Guy Savoy says to me is, "Merci." Savoy is a world-renowned chef, proprietor of one of Paris's most swoon-worthy restaurants and the winner of Elite Traveler's Lifetime Achievement Award, yet his first impulse is to give thanks.
This humility coupled with fierce pride in his team, his purveyors and France's prestigious gastronomic traditions define his approach as a chef. Savoy's motto is: 'Cuisine is the art of instantly transforming products rich with history into joy.'
And to these two points — the products and his patrons — Savoy returns again and again, reframing each question through this lens. This intense focus could be attributed to his training with some of France's greatest chefs during the nouvelle cuisine revolution of the 1970s, when ultra-fussy, heavily sauced dishes fell out of fashion, and the quality and flavors of the products came into favor.
Under chefs like Jean and Pierre Troisgros (whose restaurant was named best restaurant in the world by Gault et Millau and awarded three Michelin stars), Savoy learned not just how to cook at the highest levels, but that the chef alone is not responsible for a restaurant's success.
When asked what was the single most important piece of advice he received as an apprentice, Savoy instantly replies: "To respect the work of those who provide us with products. Before the products arrive to us, there is a lot of work. There is a long history, and a lot of work."
Savoy's exquisite cuisine never aims to turn you on your head (there will be no ants on your plate); rather, it promotes the incredible bounty of France and its long tradition of fine dining and savoir faire. His pride in his country is tangible.
Savoy says, "I think we are the country of gastronomy" because he is so enamored with the diversity of products available, each at the highest level. France does not have just one specialty, it has dozens, and there are superb, world-renowned examples of each.
"You can have wine and these products around the world. But we are the only one to have le Montrachet, la Romanée-Conti, le Pétrus, le Cheval Blanc."
However, it is not just the best wines and the rarest ingredients that Savoy prizes so dearly. He says the farm that grows carrots is just as important to him as the fisherman who catches his beautiful lobsters. "In cooking, everything is precious."
Of course, it is his exceptional talent and creativity that transform ingredients into sublime dishes, and Savoy is never tempted to overpower these delicacies. Instead, he finds balance between respecting the origin of an ingredient and intensifying it in just the right way.
When considering how to create a recipe, he thinks about how he would want something to taste and the type of food he would want to eat when in a restaurant. His creations come from his own wishes and desires. An iconic dish of his, les huîtres en nage glacée (iced poached oysters), aims to make eating oysters a bit more accessible.
Savoy describes his experience with oysters: "When I ate oysters, I found that the oyster water was uncomfortable. You never know what to do with this water: drinking it isn't elegant, putting the shell in the mouth isn't elegant. Finally, I said to myself while cooking: Well, the best way to give consistency to a liquid is to make a gelée (jelly), and a gelée I know how to do. Et voilà. That's how the dish was born."
Whether you agree or disagree that oysters on the half shell are unpleasant, it's undeniable that Savoy's oysters are smooth, without any harshness. And since the gelée is made from oyster water, the dish retains the salinity and brininess that ostreaphiles so adore, but in a très français, fine-dining way that you could never enjoy at home.
Aside from the product itself, Savoy also honors the chefs who have perfected techniques for each of these ingredients and passed them on to the next generation. He describes the French spirit as "a diversity that rests on a long history, which rests on the work and the observation of men and women. It's all that, the French savoir faire. And then maybe at a moment, just at the right moment, a little bit of fantasy."
Fantasy at Restaurant Guy Savoy sometimes serves a practical purpose. In one dish, they finish cooking a langoustine tableside. While this makes excellent Instagram fodder and adds a sense of theater to the dining room, the practice originated from Savoy's concern that the heat of the plate and the time it took the dish to get from the kitchen to the dining room could potentially overcook the langoustine. Finishing the preparation tableside ensures it is absolutely perfect, as well as adding that bit of magic to his patrons' experience.
France's place on the gastronomic world stage is important to Savoy. His pride in his country's accomplishments and his role in promoting them is unsurprising considering his restaurant is located in one of Paris' most beautiful buildings, La Monnaie (the Paris Mint) on the banks of the Seine.
The windows showcase unparalleled views of the Louvre and the Pont Neuf, the interiors are filled with world-class art (some on loan from the Kering Foundation) and each detail, down to the bespoke plates of smiles by artist Virginia Mo and custom-made salt and pepper vessels from artist Laurent Beyne, has been perfectly considered as art itself.
Savoy is helping prepare the next generation of chefs by passing on his knowledge. In addition to hosting apprentices in his restaurant — he believes that the best way to learn a craft is by doing, explaining the only way to make a perfect sole meunière is to fail at making it at least 10 times — he also opens up his kitchen to high-school students who are curious about cooking as a career.
"We work together. I'm only the captain who leads, but sometimes there are young chefs with good ideas, who have desire as well. And it's this vitality, this energy, that ensures the restaurant is alive."
He passes on the wisdom he learned from great chefs and adds some of his own: They will never be as good as they could be without the proper training, but after they have completed their training, they should remain true to themselves.
"The responsibility is to rest on [France's] DNA, and then to bring your own sensibility, to bring something truly new, different, to replenish this diversity, which is the signature of France."
When discussing what has meant the most to him in his career, whether it was his restaurant earning three Michelin stars or being granted the space in La Monnaie, Savoy pauses to reflect, then says his main goal is to love life.
He does not have plans to open a restaurant empire, but he wants to "focus on the restaurant here and on trying to live the best life possible. Once again, with my purveyors, my team and with the patrons who come here."