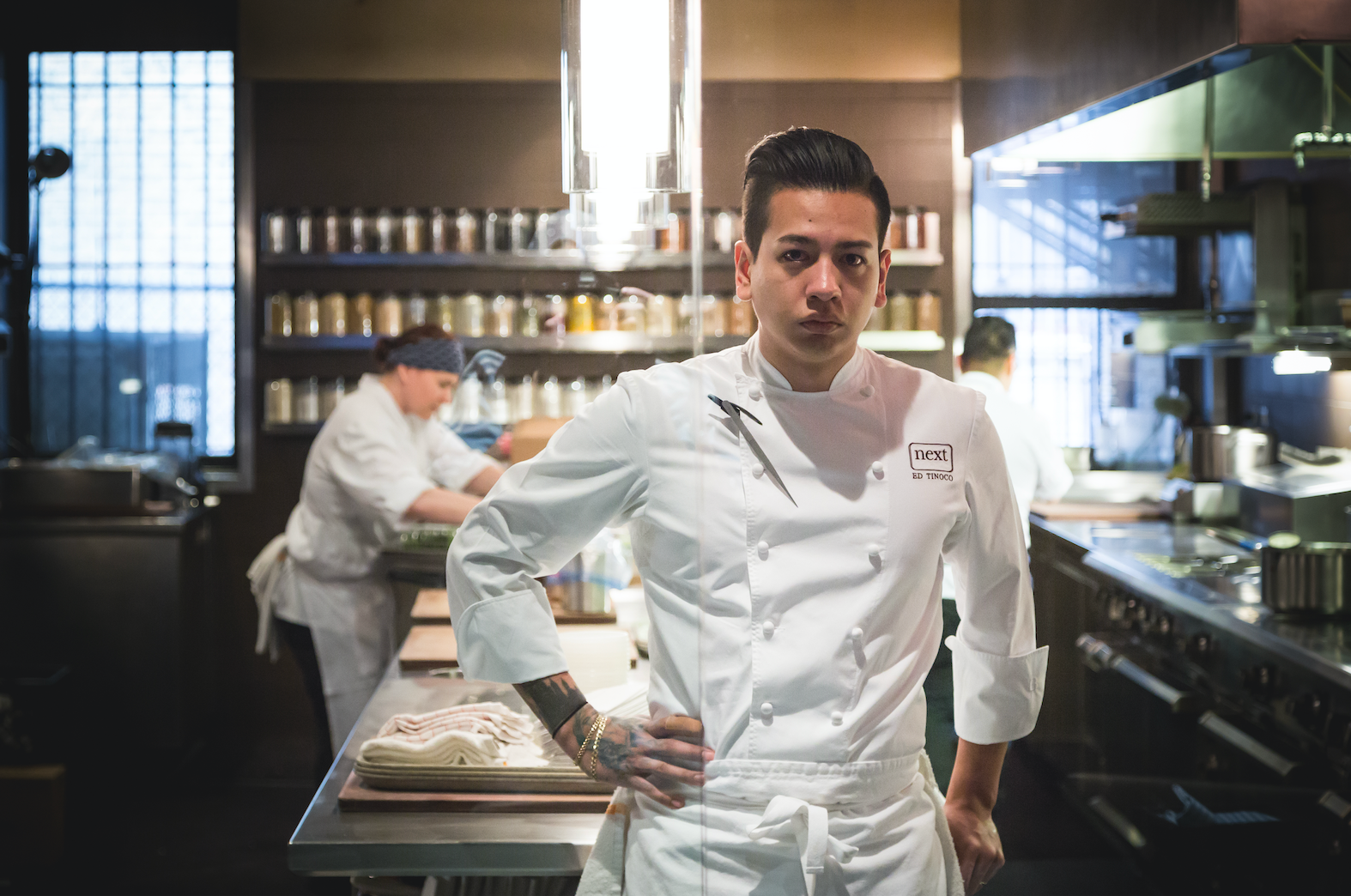 Earlier this year, at just 28 years old, Ed Tinoco took the reins as executive chef of Next Restaurant in Chicago, making him the youngest chef in the Alinea Group portfolio of restaurants. How did he rise so quickly?
You could say he got a taste of being a chef growing up, when he cooked for his family. "My responsibility was to cook for my siblings and make them feel happy," he says. "The art behind being a chef is creating something and wanting to share it with the world."
He moved to Chicago at 21 with the sole purpose of working for Grant Achatz, founder of three-Michelin-starred restaurant (and number two on our list) Alinea. Though he didn't have formal training, he calls working under Achatz "getting your master's degree in cooking."
He began as sous chef for Next in 2016. "Moving [here] was like working at Disneyland," says the New York native. "You can be risky because it's such a creative city, even outside of the industry. When it comes to individuality, chefs here lead that."
There are few restaurants more unique than Next: The restaurant changes its menu every season (each lasting three months) to focus on different cultures' cuisine, with a culinary theme centered around historic events.
For example, this year's summer menu is Italia, highlighting Italy's modern cuisine. To dine at Next, you purchase tickets for a date and time (or season tickets), without knowing any dishes on the menu.
Every experience is built differently from the ones before, from the plates and flatware to the paper the menu is printed on to the way dishes are presented (one dish from spring's Silk & Spice menu used woven baskets as 'plates' to showcase small bowls of lentils garnished with cardamom cream and Indian spices) — even the equipment and purveyors change every few months.
"The biggest challenge is making sure you're consistent with your work but also pushing the limits," Tinoco says of being the creative lead as executive chef. "At the end of the day, our goal is to transport you to that theme and that place."
Tinoco aims to do something completely his own with each seasonal menu. His individuality is inspired by Achatz, Daniel Boulud and Thomas Keller, who he says constantly reinvented the wheel and proved chefs are artists in their own right.
"Ten years ago, people didn't see chefs as artists, or even as a real profession," Tinoco says. "Grant changed this idea and proved that we're artists in our own way — except our art just lasts about 13 seconds."
His bite-sized, edible art may not last long, but his creative concepts are sure to endure.