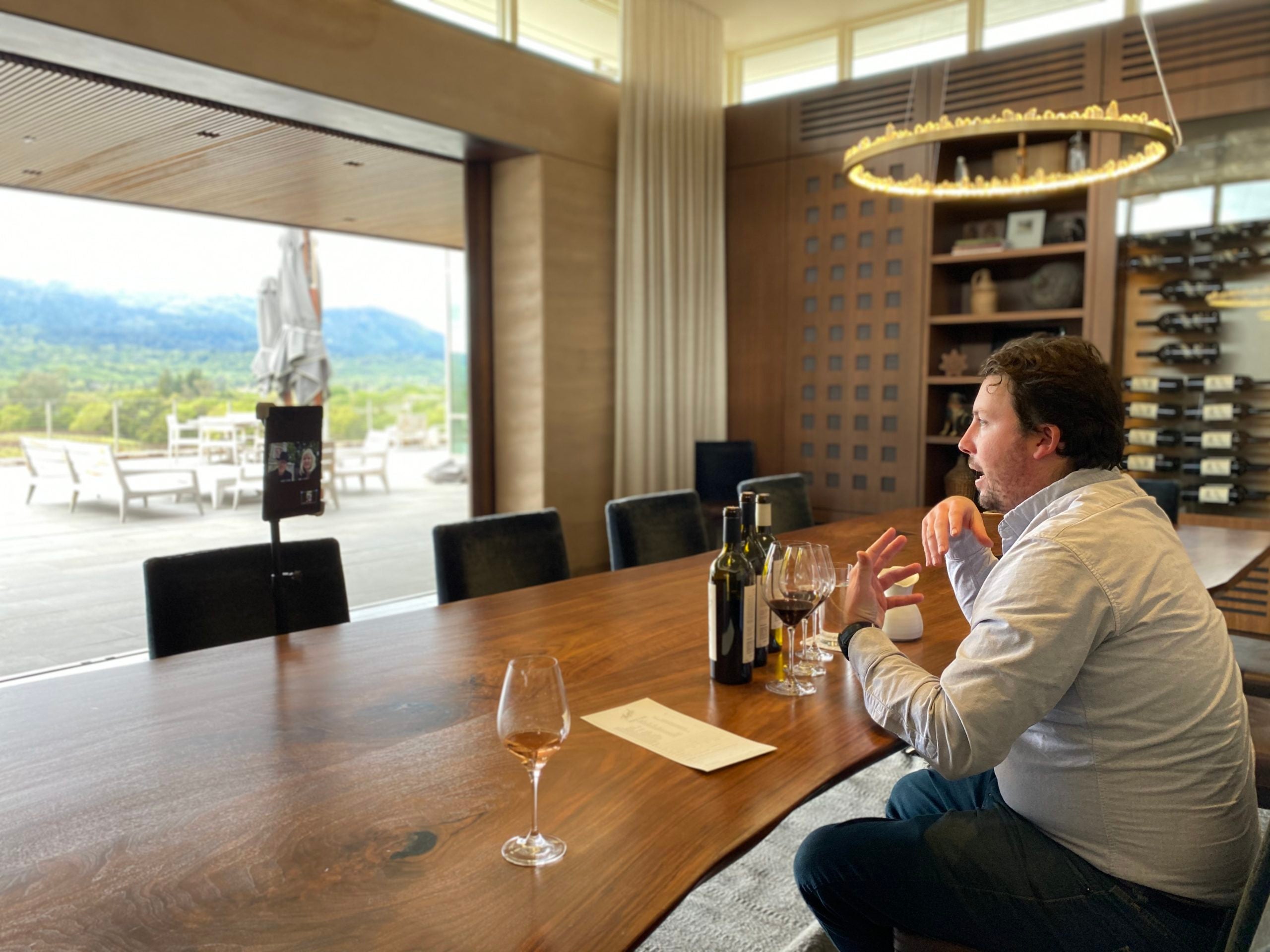 Looking to spice up your self-isolation routine and learn more about wine? Many wineries are now offering virtual wine tastings, bringing vineyard experience into your home. Once you pick the wine do you want to try and place an order, the winery will ship the wines directly to your doorstep. You can do the wine tasting with people in your home, or you can gather a virtual group and everyone can order the same bottles — it's a great way to spice up your regular Zoom happy hour. We tried two virtual tastings and are here to tell you how it all works.
First, pick your wines! Most vineyards will have a suggested range that you can order from. If you want to do special vertical tastings, they can arrange for that as well. Once you receive the wine, there will be instructions on how soon before the tasting you should open them, so the wine has time to breathe, if necessary. You don't want to waste your time with the winemaker opening bottles, so be sure to do everything except sparkling wine ahead of time. 
Next, it's time to taste the wine. If possible, be sure that you have enough wine glasses so each person has one glass per wine, so that you can come back to different wines and see how they compare to the others. If you are in a small group and you don't want to open all of the wines, I recommend Coravin or other wine-saving techniques. If you're opening sparkling wines, you need several high-quality champagne stoppers on hand, or you might only want to open two bottles and save the others for a later date; the winemaker can still go through the bottles you don't open. When the time comes, open your Zoom link and get ready to taste some fabulous wine. We did two virtual tastings: one with Hamel Family Wines in Sonoma Valley, California, and one with Antica Terra in Willamette Valley, Oregon. Read below to see how each one went.
Hamel Family Wines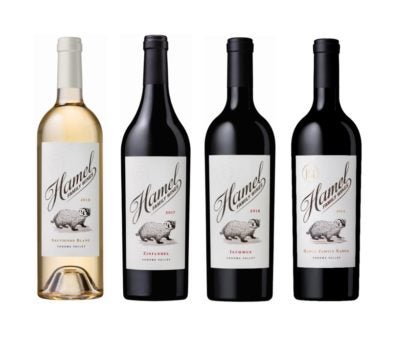 Hamel Family Wines was started by Pamela and George Hamel in 2006, and today they run the winery with their family. In a charming touch, the wine labels feature a badger, because three generations of their family have graduated from University of Wisconsin. You can expect plenty of Midwestern hospitality, even through a virtual wine tasting. I tried the 2016 Isthmus (rhymes with Christmas), a smooth blend of Cabernet Sauvignon, Cabernet Franc and Merlot; a surprising good Zinfandel from 2017 that will change your opinion of the varietal; the family's namesake wine, the 100% Cabernet Sauvignon 2105 Hamel Family Ranch; and a very fresh 2018 Sauvignon Blanc. They recommend aging some of these wines for many years for them to properly develop, so if you use a Coravin, you'll be able to store them after the tasting and revisit them years later. In addition to the wines, Hamel includes the recipe for its world-famous popcorn.
Antica Terra 
Antica Terra is a beautiful winery run by an enigmatic winemaker, Maggie Harrison. Harrison tells me that she is taking the closure as a way to reimagine parts of her business, and she's finding it really wonderful to connect with so many people through virtual wine tastings. It's known for exceptional Pinot Noir, which thrives in Oregon's cooler climate, and doing the tastings is quite interesting as you can really see the range when doing a side-by-side tasting of the different Pinot Noirs, like delicate Ceras and lush Botanica. Antica Terra is also hosting blind blending seminars and nationwide blending competitions, as well as conversations with its renowned chef Timothy Wastell. Be sure to check out its Instagram, as it is selling special wines to benefit Covid-19 relief funds.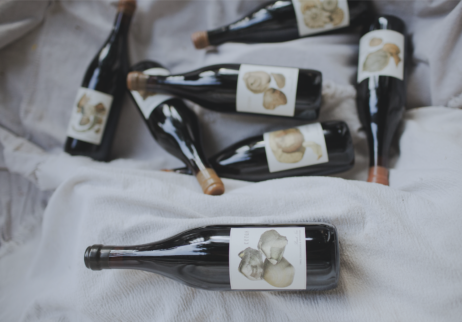 Heitz Cellar
One of our favorite Napa Valley vineyards, Heitz Cellar, recently launched one-on-one virtual tours and tasting programs that take you into the historic vineyard. Heitz Cellars is one of the oldest vineyards in Napa Valley, so your host will share its fascinating history with you and show you the vineyards, the farming, and its historic property. Then, you'll delve into the wines you purchased for the tasting. Heitz Cellar has proven that its red wines can age for a very long time, so its "new" releases aren't that new. Right now, you can expect 2014 and 2015 releases as the youngest. Since its red wine is renowned for aging well for decades, so you can try the wines while they are still youthful using your Coravin, then store them for years and see how they develop. You might be most familiar with its award-winning Cabernet Sauvignons, but don't skip over the Chardonnay, which is elegant, classically driven, and aged in only 10% new oak, making a far cry from the heavily oaked Chardonnays typically associated with Napa Valley. If you want even more after your tasting, you'll receive a limited-time 10% discount on your next order.
Chandon
Napa Valley's Chandon winery makes some of the best sparkling wine in the US, and through its Club Chandon program, clients can experience exclusive virtual tastings. Choose between all sparkling or sparkling and still wine, and they'll send a shipment to your door. Every other month, the very chic and interesting winemaker, Pauline Lhote, will lead a virtual tasting around that month's shipment from the comfort of your own home. It's an excellent opportunity to try new releases and develop a deeper understanding of the brand. We recently tasted the newest release, Reserve Blanc de Blancs, By The Bay, a delicious blend of 92% Chardonnay and 8% Pinot Blanc that aged for 3.5 years on the lees. The resulting wine is crisp and bright, with lovely lemon notes and delicious yeasty notes that many US sparkling wines lack.