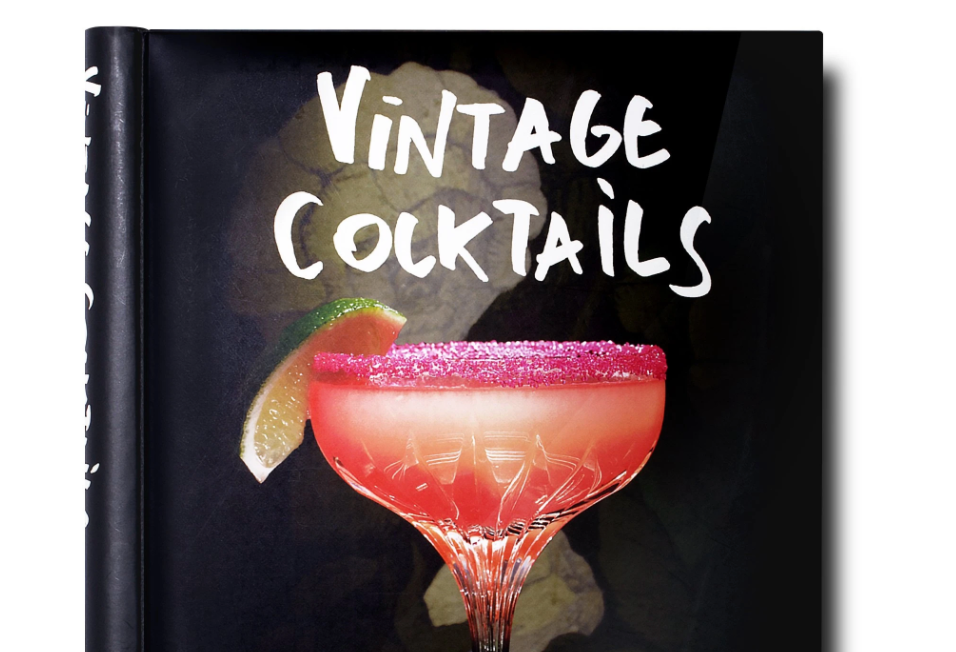 More time spent at home means you can master the art of the cocktail. Spirits connoisseurs and those looking to perfect the perfect libation (whether for yourself or for entertaining post-quarantine) look no further than these comprehensive cocktail books, pairing beautiful imagery with creative recipes, secret tricks from top mixologists and how to be the best host. Read on for our favorite cocktail books to order now.
Vintage Cocktails
Take a trip down memory lane to a time when cocktails were the ultimate glamorous accessory. This book not only covers the types of spirits you need to curate a chic bar but also provides a history lesson on the most popular cocktails through time, whether it's a classic martini or cocktails enjoyed during the Prohibition. There are more than 60 stylish recipes to enjoy.
$50, assouline.com
Eat, Drink, Nap
Bring dish recipes, interiors and your favorite cocktails home from exclusive member's club Soho House (there are more than three dozens of houses across the world) with Eat, Drink, Nap, which showcases everything from how to roast the perfect chicken to how to make the dangerously delicious cocktail recipes, like the Picante, Eastern Standard or Soho Mule. There is a foreword by founder Nick Jones and 300 pages of stunning imagery that showcases houses across the world.
$50, eatdrinknap.com
Cocktail Codex
Cocktail Codex is from the same authors who gave us the iconic Death & Co cocktail book, David Kaplan, Nick Fauchald and Alex Day. Consider Cocktail Codex your cheat sheet for easy-to-memorize recipe templates – old-fashioned, martini, daiquiri, sidecar, whisky highball and flip. Learn when to shake, when to stir, what to substitute, why flavors go well together, or basic tips to creating your average cocktails.
$36, barnesandnoble.com 
The Savoy Cocktail Book
The Savoy Hotel in London is one of the most famous cocktail bars in the world, and this book is a color reproduction of the famous 1930s cocktail book written by Harry Craddock, a former bartender at The Savoy. He was one of the world's most famous bartenders in the 1920s and 1930s, and the book is considered an industry must-have. Now, you can create some of the most celebrated libations (there are more than 700 recipes to choose from) with your very own copy.
$19, barnesandnoble.com 
Alchemy in a Glass: The Essential Guide to Handcrafted Cocktails
Written by Greg Seider, a cocktail connoisseur who has worked at esteemed restaurants across the country, including The Mercer Kitchen, Asia de Cuba, The Box, Minetta Tavern and The Standard Hotel in Miami, including creating the cocktail program for three-Michelin-starred restaurant Le Bernardin in New York City. In this book he reveals his secrets for the perfect cocktails, including transforming your average cocktails into delicious and creative creations. Using fresh, homemade and seasonal ingredients, Seider's recipes highlight the art behind the cocktail (it is, after all, simply more than alcohol). If you already consider yourself a pro, Seider teaches you how to make drinks that go above and beyond – including recipes for your own bitters, garnishes, infusions and elixirs.
$25, rizzoliusa.com
Meehan's Cocktail Manual
Jim Meehan's list of accomplishments doesn't run short; he is a James Beard Award Winner, Tales of the Cocktail Spirited Award for Best New Cocktail or Bartending Book winner and an IACP Award Finalist. The book does far more than just listing recipes; it explains the modern-day bar industry and features excerpts from talented mixologists around the world. Learn everything from bar design, menu development, producing spirits, techniques for drink mixing and the art of hospitality – even if you aren't personally in the hospitality industry, it's a wonderful insight into the world of cocktails. There are also 100 wonderful recipes with Meehan's tricks and techniques that have made him one of the most sought-after mixologists around the world.