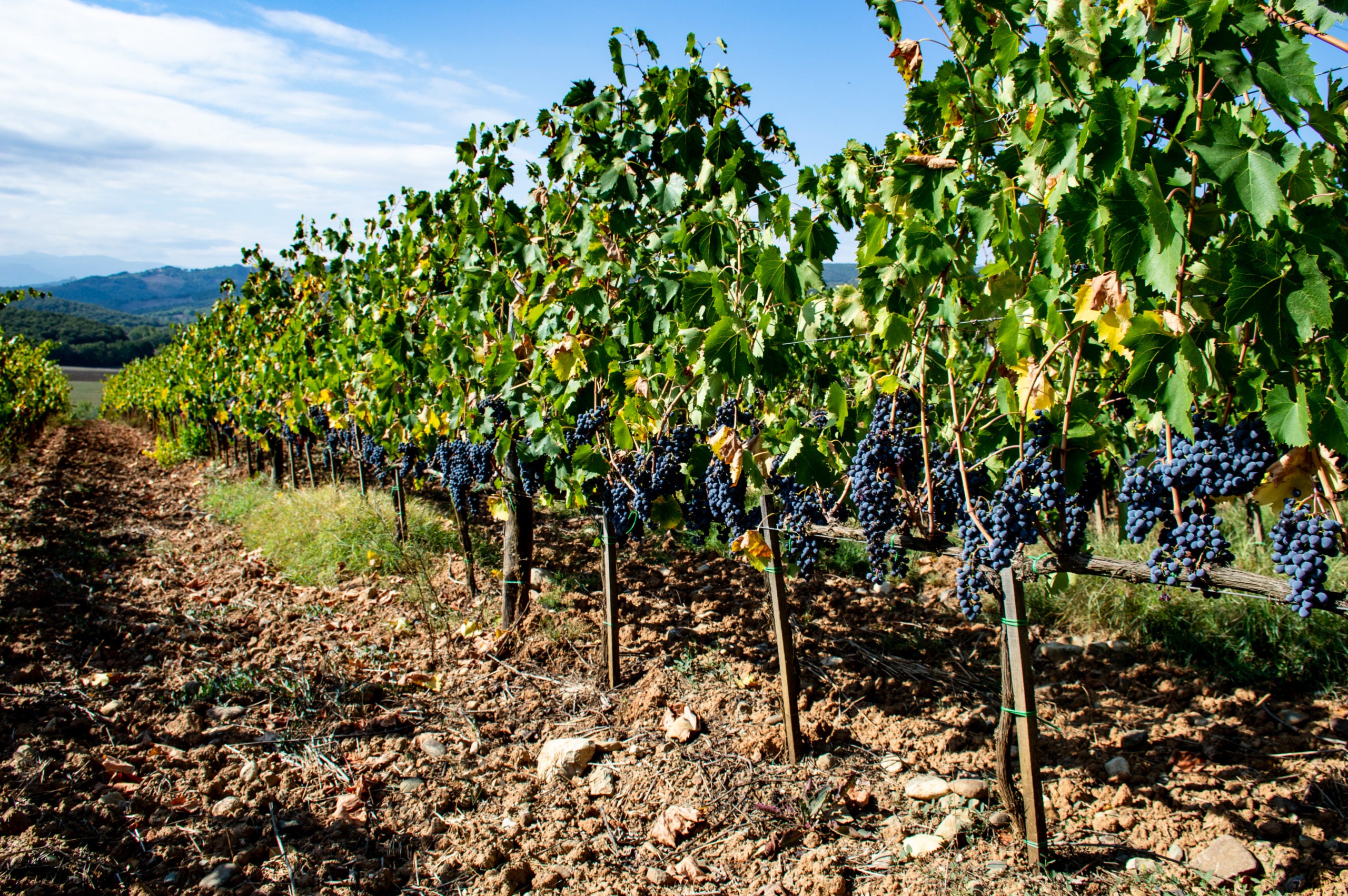 Note: This article originally appeared in the spring issue of Elite Traveler and was written prior to the Covid-19 outbreak.
In a tasting room at Casanova di Neri Winery in Montalcino, Italy, members of international private wine club The Vines look like mad scientists, sitting at round tables, pouring unfinished Sangiovese wines from three vineyards into test tubes, then into carafes, perfecting their blends to produce their small-batch Brunellos, one of Italy's most prestigious reds.
It's rare for everyone to make the trip at the same time, but this is the grand opening in Montalcino, and most members didn't want to miss it. Everyone is drinking and has been since 10am — same as yesterday and the day before.
This is what it means to be a member of The Vines of Montalcino: You make your own Brunello, you are as involved in the production process as you wish, and you drink some of the best wines in the world — the kinds that make you deliriously happy and leave you hangover-free — with an international community of people who love wine as much as you do.
Headquartered on 1,500 acres of vineyard in Mendoza, Argentina, The Vines just expanded to Montalcino, Tuscany and plans to expand into a number of the world's best wine regions, including Priorat, Spain and Rheingau, Germany. Members, many of whom have been involved in The Vines of Mendoza for years, name their own brands, design their own labels and get 24 cases each harvest.
They're always welcome in Montalcino to join in planting, harvesting, fermenting or any other part of the process. Some choose deep involvement; others let the experts from The Vines do the heavy lifting for them. When members aren't on-site, experts including Mariana Onofri, the wine director of The Vines, are available for calls or Skype chats to offer advice and guidance.
From the back of the room at Casanova di Neri, sunshine streams through the windows. Beyond the glass lies a scene so surreal, it's hard to avoid using obvious descriptions: picturesque, postcard. The hills of Montalcino roll like sleeping bodies, greens and browns framing a cloudless blue sky.
Earlier, as we drove narrow winding roads, vineyards unfurling out across the land, we had to brake to let a herd of goats cross. But the region is more than just rustic landscapes: Since arriving a few days ago, in addition to winery tours, blending sessions and long, wine-soaked meals at restaurants that serve as reminders that outside of Italy, no one really understands what food is, we've gone truffle hunting with a champion truffle-hunting dog named Perla and hung out at sustainable organic farm Podere il Casale, where we sampled the homemade cheeses and met the sheep and chickens.
There's also plenty of hiking, olive oil-making classes and day trips to Siena, a gorgeous medieval city with a rich history — and upscale shopping — less than an hour's drive away.
At the front of the room in a bright-yellow dress, Onofri leads the blending session. "Blending lets you express your own style," she says.
Onofri is a sommelier from an Argentine wine-making family who has her own wine label and possibly knows more about wine than anyone you will ever meet. In fact, everyone who works at The Vines is an encyclopedia of wine knowledge. "Some prefer bigger body," she says. "Some prefer smoothness, some prefer tannin structure, some prefer more fruit than spice. This is wine beauty. The wine bases are all great, but when you choose how to combine them, the final product reflects your soul."
The members are excited about the Brunello. After all, it has the DOCG designation, the highest Italian wine classification. "Brunello is rare," says Michael Evans, co-founder of The Vines. "There's a limited supply of these Sangiovese vineyards, and expansion is restricted by the law."
Jeff Warren, a member from Minnesota who joined The Vines with his best friends, adds, "I fell in love with Brunello 20 years ago. As a finance guy, I was initially drawn to the simplicity of the numbers: Brunello is made with only one grape; it always takes two years to grow; and it requires a minimum of five years for aging. I also just love its rich elegance."
After the blending session, we eat a late lunch at The Sesti Estate of Castello di Argiano, a winery in an ancient castle. We sit outside at one long picnic table, enjoying risotto, sharing bottles of Brunello with local men's a capella group Cardellini del Fontanino, who break into old Tuscan songs between courses. Past a low brick wall and pale purple flowers, the sunsets, and the hills surrounding the olive groves like a warm hug.