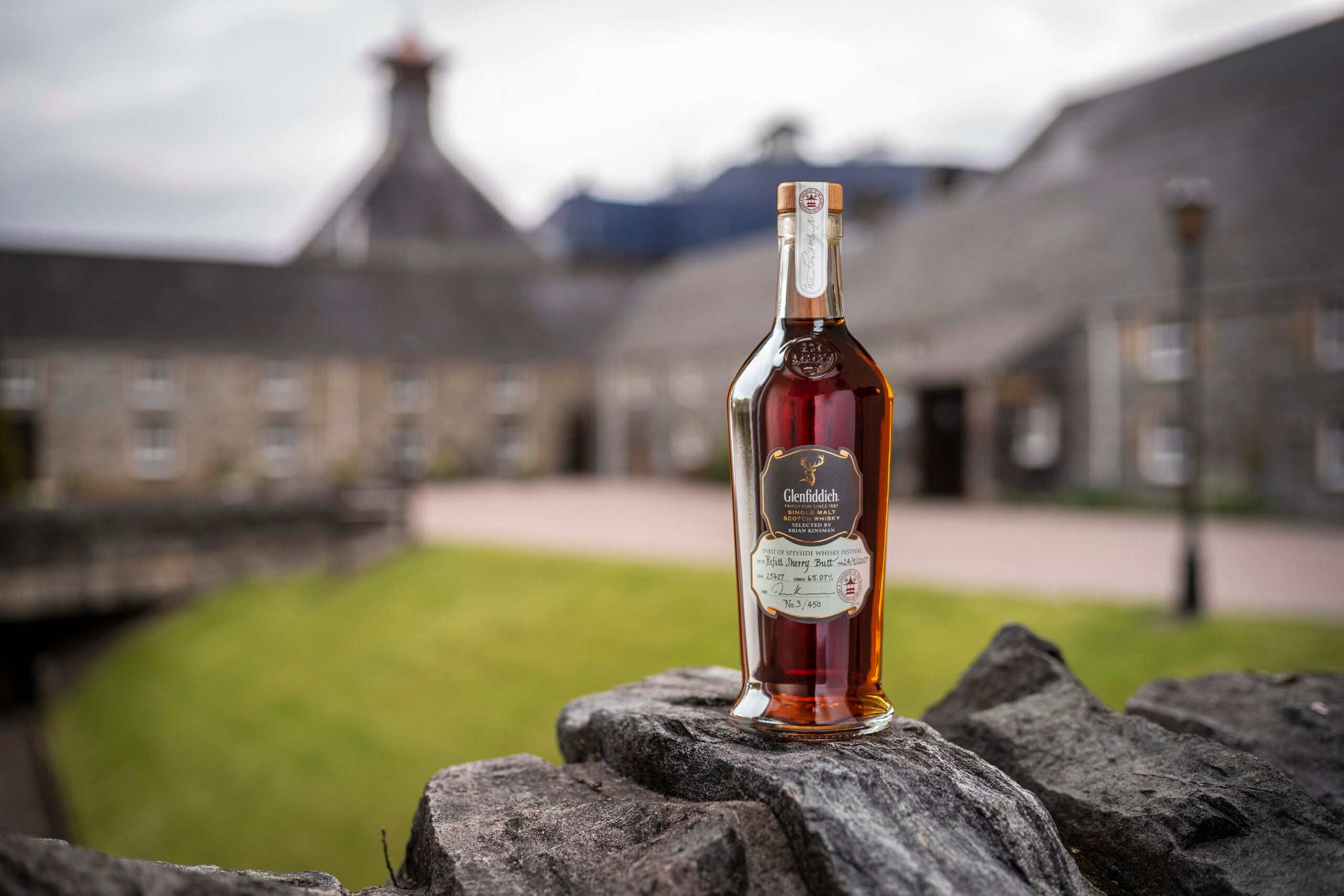 Glenfiddich has announced the release of a limited-edition Scotch whisky to raise funds for the community that lives around its legendary Speyside distillery.
The Glenfiddich distillery in Dufftown, Scotland, pulls tens of thousands of tourists to the area every year and indirectly supports hundreds of local businesses. Many of those businesses have been severely affected by the Covid-19 pandemic, in some cases losing all of their business.
Worse yet, the pandemic has also caused the cancellation of the annual Spirit of Speyside Festival, which is worth many millions of dollars to the local economy. Glenfiddich hopes to plug the huge financial gap with this exclusive new release.
Just 450 bottles of the Glenfiddich Spirit of Speyside Distillery Edition 2020 will be released and each bottle will be individually numbered. The only way to get your hands on one will be via auction on Whisky Auctioneer. The auction is scheduled to run June 17 through June 22. Bidders are encouraged to be generous as 100% of the proceeds will be donated to local Speyside causes and those most affected by Covid-19.
The generous initiative pays fitting tribute to Glenfiddich founder William Grant, who himself was a pillar of the local community when he established the distillery 130 years ago. The distillery has lived through a number of peaks and troughs in that time and Grant always looked out for his craftsmen and the community in good times and bad.
"The local community has been at the heart of Glenfiddich since 1887 when William Grant opened our distillery in Dufftown," said Struan Grant Ralph, the global brand ambassador of Glenfiddich. "We hope the release of the Spirit of Speyside Distillery Edition 2020 is a fitting tribute to William Grant and his legacy in the Speyside community."
The liquid has been handpicked by Glenfiddich malt master Brian Kinsman for its uniqueness. It has spent the last 13 years maturing in the darkness of the distillery's Warehouse 26. Finished in a sherry cask, the whisky has been bottled at the unusually high strength of 65.7% ABV and tastes silky smooth and sweet, with a rich citrus and cinnamon-infused apple fruitiness.
"We are honored to work with Glenfiddich to bring this special charity bottling to auction" comments Iain McClune, founder of Whisky Auctioneer. "There has never been a more important time to form partnerships to support those most in need in our communities. We thank the team at Glenfiddich for approaching us with this opportunity."
The auction starts on June 17, conducted by Whisky Auctioneer. It will conclude at 7pm on June 22.