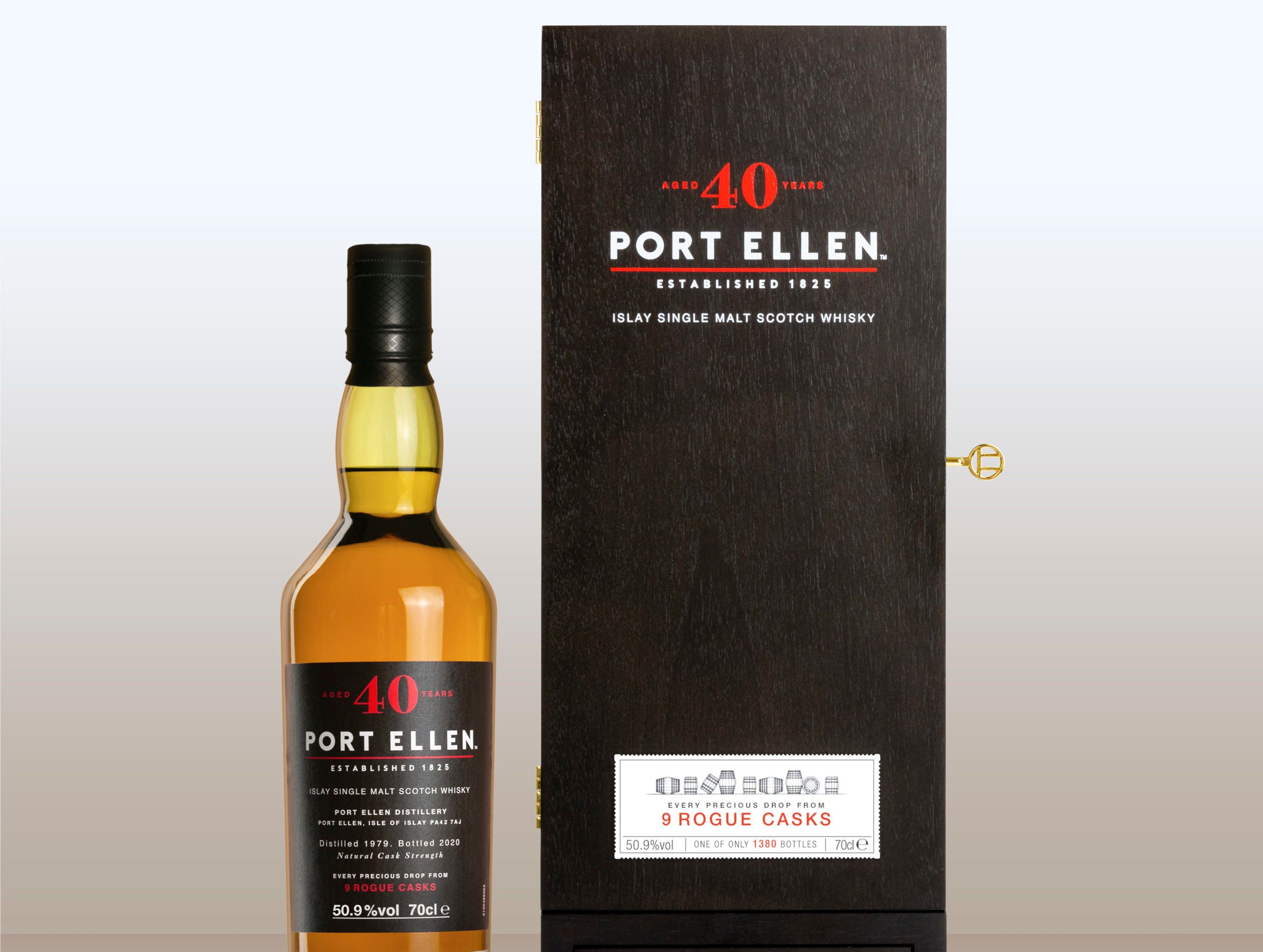 Port Ellen has introduced the second release in its Untold Stories Series. The 40-year-old single malt Scotch whisky has been drawn from nine rogue casks, representing some of the last to be laid down before the distillery's closure in 1983.
Despite closing its doors 37 years ago, the Islay distillery remains one of the most prestigious names in Scotch whisky. Owners Diageo can only work with the limited number of casks available, so releases are limited and thus highly-prized by collectors. Port Ellen was distilled for just 16 of the last 90 years, and not a cask more since its closure, making the original dwindling stocks finite.
The Port Ellen 9 Rogue Casks release is no exception; only 1,380 bottles of the 50.9% abv liquid will be made available to the public at a price of $8,000 each. It represents one of the final opportunities for collectors to own a part of Port Ellen history. It will also be one of the final releases before the distillery reopens its doors in 2021 following a $42m restoration project.
Collectors will no doubt dash to secure a piece of whisky history, but they should not expect a typical Port Ellen profile from the 9 Rogue Casks release. The stock was first identified in 1979 as holding unusual flavor characteristics that stood out from the distillery's typical character.
Unsuitable for the needs of the blenders at the time, the casks were marked and set aside for further maturation and future blending. The blending was down to Dr Craig Wilson, who carefully selected four American oak hogsheads and five European oak butts to create a liquid unlike anything seen from the distillery before.
The whisky was unveiled during a virtual tasting session with future master distiller Georgie Crawford. Crawford previously worked as a distillery manager for Lagavulin but left her post to oversee Port Ellen's revitalization. The new project will see the distillery blast back into life and lay down new casks for the first time in almost four decades.
Tasting notes from the master distiller
Nose: Delicate, grassy/herbal, burnt tangerine skin, very mild smoke at cask strength, opens up a little with the addition of water, crème caramel/roasted coffee, red fruit compote, ripe peach skin.
Palate: Much more pronounced bonfire smoke, pipe tobacco, leather, wood spice.
Finish: Long, wispy smoke finish.