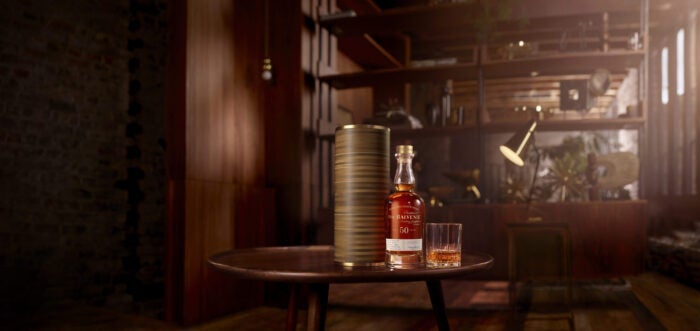 The Balvenie has brought the curtain down on its acclaimed Marriage Series with the third and final release, The Balvenie Fifty: Marriage 0614. The whisky is comprised of the most precious liquids from seven casks meticulously selected by malt master David Stewart.
This new expression, bottled at 46% ABV, is an evolution of last year's Marriage 0962, which was the product of five married casks. Stewart introduced a further two casks to add a new dimension to an already extraordinary flavor profile. The Marriage 0614 delicately balances dark spices and bitter chocolate with intense sweetness and oak tannins.
The successful introduction of two new casks once again puts Stewart's ability to marry the most precious casks in plain sight. Allowing whisky to age for 50 years can lead to extreme variances of taste, even if the respective casks are sat next to each other in the same warehouse. As such, it is incredibly hard to balance such complex flavors. Few distilleries have the stocks – or the audacity – to attempt such experiments. Stewart's ability is helped by an intimate knowledge of The Balvenie stocks garnered over his 58 years at the distillery.
"It's an honor to be able to share such a rare, distinct whisky as Marriage 0614," says Stewart. "Its creation let us reach into the distillery's oldest and most precious stocks, and working with such varied liquids, with all their distinct palettes and differences in maturity and ABV, is undoubtedly one of the most enjoyable and challenging aspects of my role."
Stewart does benefit from access to one of the most prized aged stocks in Speyside. The Balvenie has a rich history of 50-year-old whiskies, bottling its first in 1987 when such ages were incredibly rare. Like those that came before it, the 0614 is extremely limited with just 148 bottles available. Its rarity is reflected in the price with a bottle setting you back $40,500.
Each bottle is presented in a wooden canister that befits its extraordinary nature. Each canister is comprised of 50 layers, 48 layers of elm and two of brass, expertly handcrafted by Scottish wood craftsman, Sam Chinnery, at his workshop on Bruntlands Farm near Elgin, Scotland. All of the wood has been sourced from the grounds of The Balvenie Distillery in Speyside.
The presentation also includes a gold-plated certificate and bottle glorifier, inscribed with the tasting notes of each constituent cask and the taste, palette and finish of the final marriage. The decanter itself has been hand-blown from 100% lead-free crystal by expert craftsmen at Glasstorm.
The Balvenie Fifty: Marriage 0614 tasting notes
Nose: Deep dark spices, rich fruit cake, lots of elegant oak notes, followed by sweeter aromas of dried fruits, raisins and sultanas ending on a ginger spiciness.
Palate: Rich and lush with some bitter chocolate. Intensely spicy, there is a maple syrup sweetness, hints of honey and well-integrated oak tannins.
Finish: Rich and mouth coating with those sweet and oaky spiced notes.
$40,500, thebalvenie.com