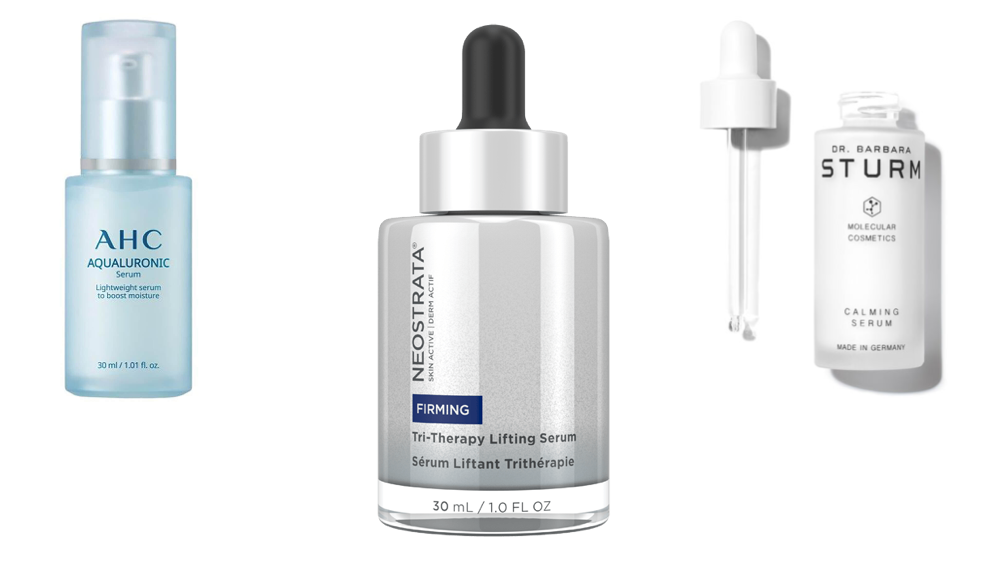 A great serum is one of the keys to unlocking great skin. Things have moved on from the standard moisturizers and adding a hard-working serum will make a big impact. There are many options to choose from, whether you're looking for anti-aging, calming or super hydration, a high-quality face serum has the power to transform your skin's health. This is because serums tend to be packed with potent ingredients in lightweight formulas that help deliver transformative ingredients deep down into the dermis. I swear by them.
Neostrata Skin Active Tri-Therapy Lifting Serum
A wonderful all-rounder, hyaluronic acid serum is formulated to plump up and sculpt the skin. Featuring a blend of the patented amino acid derivative Aminofil® and a low molecular weight hyaluronic acid means it is able to penetrate deeper into the skin. The added gluconlactone also enhances the skin's exfoliation processes to create a brighter and more even tone which is exactly what most skin is after.
Neostrata Skin Active Firming Collagen Booster
This serum contains a high percentage of firming peptides and glow-giving vitamin C which is another wonder vitamin when it comes to protection and rejuvenation. It leaves a lovely dewy look and is a no-nonsense do all option.
AHC Aqualuronic Serum
This cleverly designed serum from the innovative Korean brand is great for skin in need of a moisture surge. This lightweight gel formula absorbs almost immediately never leaving you feeling sticky or heavy. A punchy yet kind-to-skin infusion of Ceramides and French Sea Water locks in moisture for long-lasting hydration and a cooling sensation. I love this product when travelling in warm climates when I want something refreshing and cooling.
Emepelle Serum
One of the most hard-working and nourishing serums. It features MEP technology which developed to support menopausal skin that's suffering from estrogen deficiency. As we age, skin loses the ability to produce collagen and this is the product to counter and fight back. Packed with antioxidants, niacinamide and peptides which all act to rejuvenate and plump up the skin. It's a lovely base under make-up or used alone, it absorbs beautifully and doesn't feel heavy at all. I recommend this to clients and everyone has loved the results.
Barbara Sturm Calming Serum
A terrific emergency serum for when skin is feeling sensitized and in need of some rebalancing. Enriched with an active, plant-based complex of Cladosporium, Echium, and Sunflower, Dr. Barbara Sturm's serum rebalances irritated and inflamed skin. Perfect for soothing your complexion if you suffer from rosacea or after sun exposure, frequent flying  or environmental pollution.