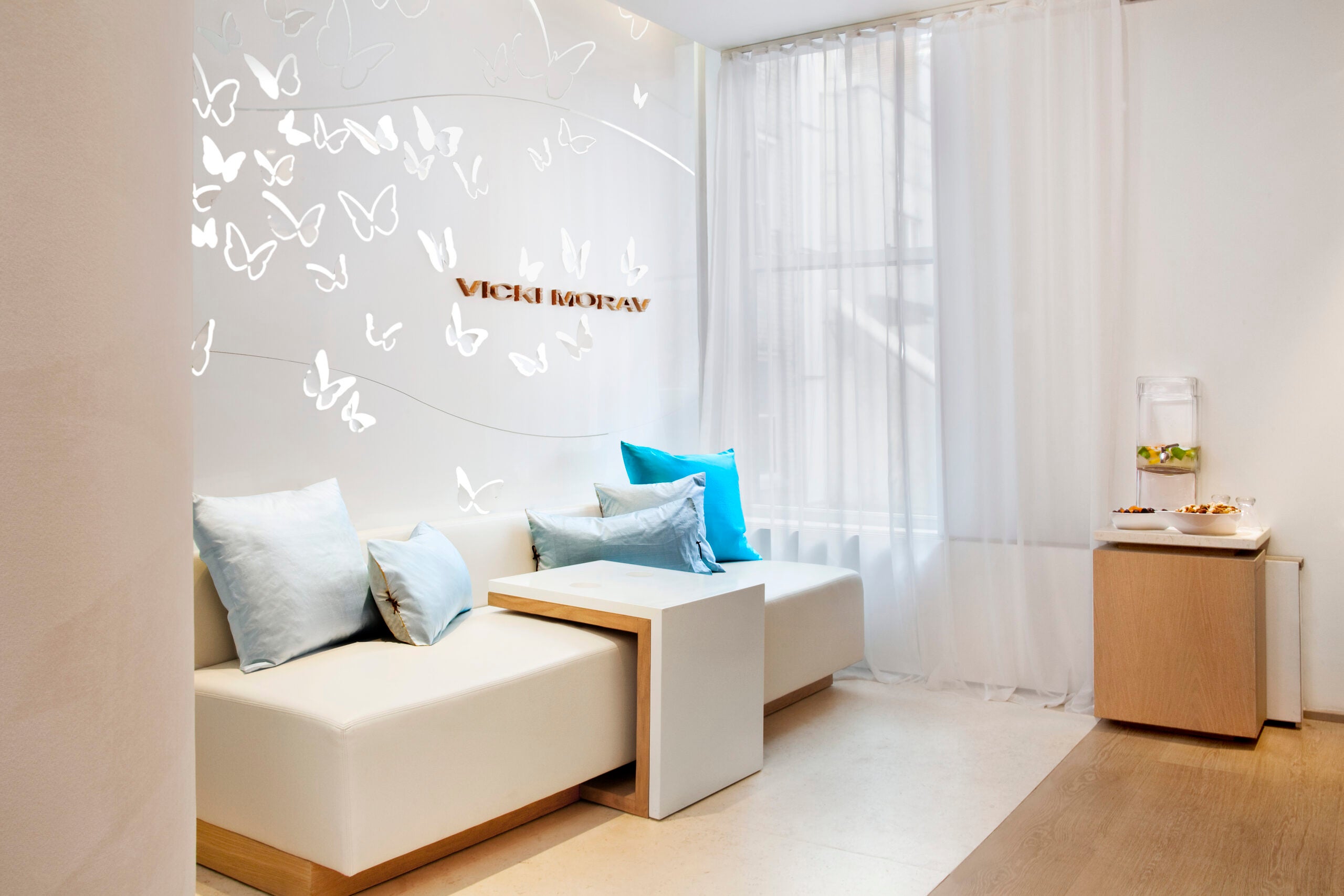 New York City-based aesthetician Vicki Morav is the secret behind many A-lister's and socialite's incredible skin. In normal times, her salon has a six-month waiting list for an appointment, that's how in-demand her magic touch is. Morav is incredibly in tune with her clients' needs and presents them with a holistic approach to skincare. We checked in with her during the shut down to see how she was working with her clients during these trying times.
What changes should people make to their skin routines now that they can't get regular facials?
All my clients are extremely spoiled by me. Their skin has an impeccable regimen that consists of a full spectrum of ingredients needed which are prescribed for each individual as a unique being. At this time, my clients want their skin to be clean, clear, and plump. I FaceTime with most of my clients to guide them through the proper ingredient changes as we are moving into Summer. Every season has its own characteristics and must be addressed for perfection.
The skin is a living organ and it feels our emotions, hormonal, digestive, mental, and environmental changes. It is not an easy time and a very uncertain one. My goal is to guide them properly with their diets, proper elimination, keeping great spirits up, staying positive, connecting to their inner selves, and then of course, all the topical care. All this affects our skin as it is a living organ working to protect us 24/7 from all external toxicity – imagine if we didn't have it!? Taking good care of our skin matters for more than just vanity. It is a health crisis and we must step up our game!
Are there any at-home treatments or products that would be beneficial right now?
Everything starts with clean skin. It is important to properly cleanse, and somedays, double cleanse, exfoliate, and mask daily. Give the skin a variety of nutrition that feels different and new all the time. A mix of proper chemistry matters. I have so many favorites, one of which is Forlle'd Regiment consisting of low molecule hyaluronic acid for a deep absorption. The outcome: complete evenness and plumpness. The regime consists of the Foaming Creamy Cleanser, Peeling Lotion, Refining Lotion, Platinum Lotion, P Effect Essence, FH Essence, Platinum Essence, Platinum Eye Cream, Lift Cream or Platinum Cream.
Do people need to wash their face as frequently if they aren't wearing makeup or going outside?
Yes!!! Washing the skin really matters even at this time! To help the skin absorb ingredients, it must go through the cleansing (and sometimes double cleansing) process prior to applying active ingredients.
Is limiting exposure to the outdoors beneficial to skin? I.e. limiting free radicals, etc.
Yes, at this time we are still exposed to external pollutants, chemicals, and metals in the air. Being inside definitely cleans up our complexion. We are also using much less sunblock, a very protective yet invasive and clogging ingredient. It helps to just have amazing, nourishing, plumping, and healing ingredients and allow them to take action and regenerate our skin.
What are your best tips for at-home mini-facials?
Exfoliation and masking is a must. Exfoliating helps the skin gently resurface, find balance, and helps it build a barrier on the surface. My favorite exfoliants are BR Lotion P50, MBR Enzyme Booster MBR Beta Enzyme. Additionally, my favorite masks are BR Mask Vivant with baking soda, BR Masque VIP O2, Valmont's Collagen Mask, Valmont's Prime Renewing pack, and Z.Bigatti Re-Storation Fruit Enzyme Mask. All ingredients must be used on the face, neck and décolleté. Massage the products into your skin upwards and outwards.
Do you really need to wear sunscreen if you're sitting by a window indoors?
If there is direct and strong exposure, yes!
What is your advice to clients who are stuck at home to help with their mental well-being?
Make sure you are drinking plenty of water between meals, getting the proper nutrition, stimulating lymph flow, blood circulation, and detoxification!  Allow for this profound time to take place by reaching deeply into our conscious hearts and minds so that we can rise up and become healthier, prettier, smarter, kinder, and stronger than ever before!
To learn more about Vicki Morav, visit vickimorav.com