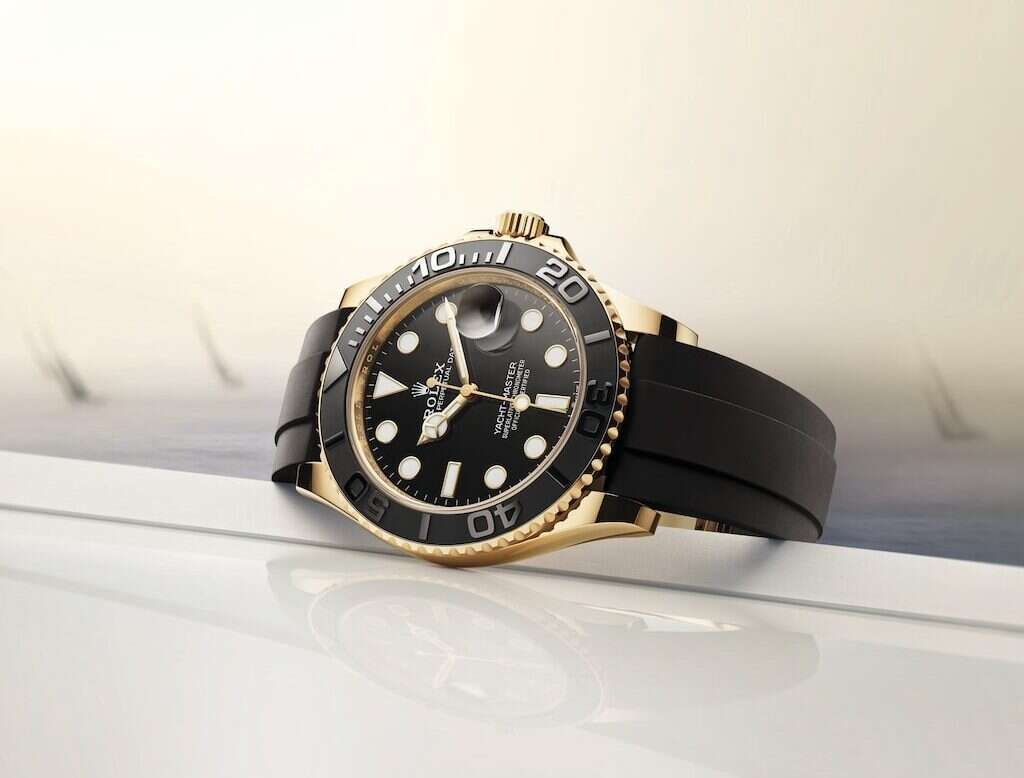 Every man is different, but one thing they all seemingly have in common is being increasingly different to buy gifts for. This year, avoid the stale panic buys (they have enough socks and a beer subscription isn't as good as it sounds), with Elite Traveler's expertly-curated list of luxury gifts for him. As always, we recommend quality over quantity and to buy something that can be enjoyed rather than just used. With this in mind, all of the brands below are renowned for their quality and craftsmanship, promising a Christmas gift that will be loved for years to come. 
Roger Dubuis, Excalibur MT Eon Gold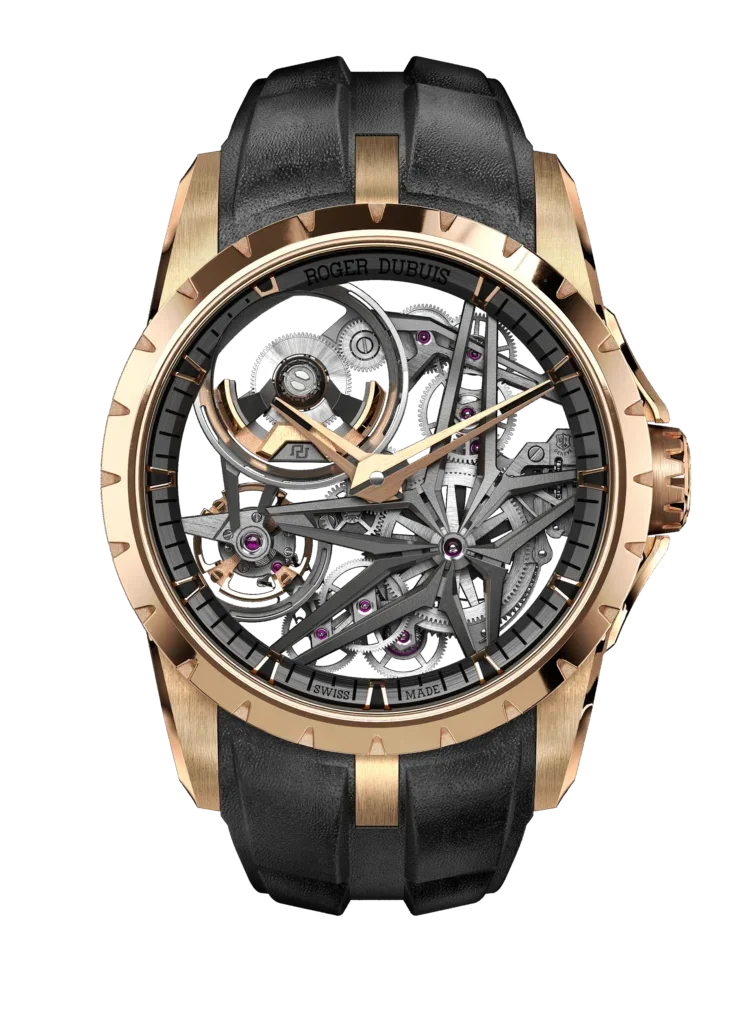 Despite its relatively young age (27 years is nothing in the world of horology), Roger Dubuis has carved out a reputation as one the industry's most revered watchmakers, thanks in no small part to its boundary-pushing designs. Brandishing the brand's signature skeleton movement, the self-winding Excalibur MT EON Gold is a feat of craftsmanship, with an impressive total of 178 components and 72-hr power reserve. The direct view into its mechanics bringing the piece to life. The cool black and gold colorway will ensure it remains timelessly stylish, too.
$77,000, rogerdubuis.com
Panerai, Submersible QuarantaQuattro ESteel™ Blu Profondo
Water resistant up to 300 meters, the Panerai Submersible Blu Profondo is impressively resilient. The watch boasts a total of 171 components, a three-day power reserve, and hour, minutes, small seconds and date functions. An uncluttered dial and luminous markers makes telling the time a breeze even at a glance (a surprisingly uncommon feature in modern watchmaking), and the muted stitched strap promises both comfort and durability. It's a winning piece all round, whether your loved one is looking for a cool but muted watch, or a more practical time-telling companion.
$11,000, panerai.com
Luca Faloni, Pure Cashmere Joggers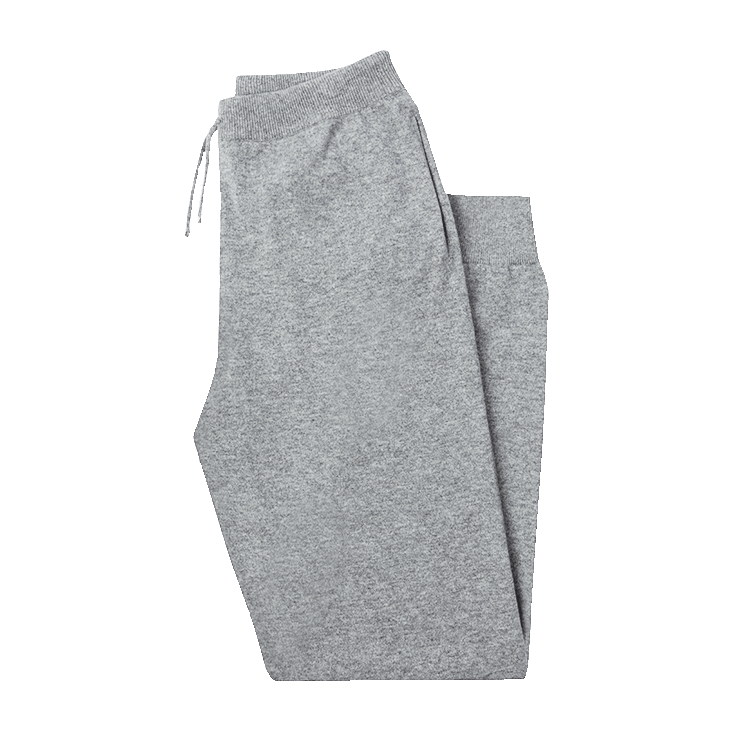 The festive season is just as much about staying in as it is going out, and what better to lounge in than a pair of cashmere sweatpants? Luca Faloni's pairs are knitted in Bergamo, northern Italy, using 100% two-ply pure cashmere from the prestigious Cariaggi Fine Yarns Collection. A tapered fit keeps things stylish, while an elasticated waist promises a comfy fit.
$390, lucafeloni.com
Theo Fennell, Diamond Skull and Snake Cufflinks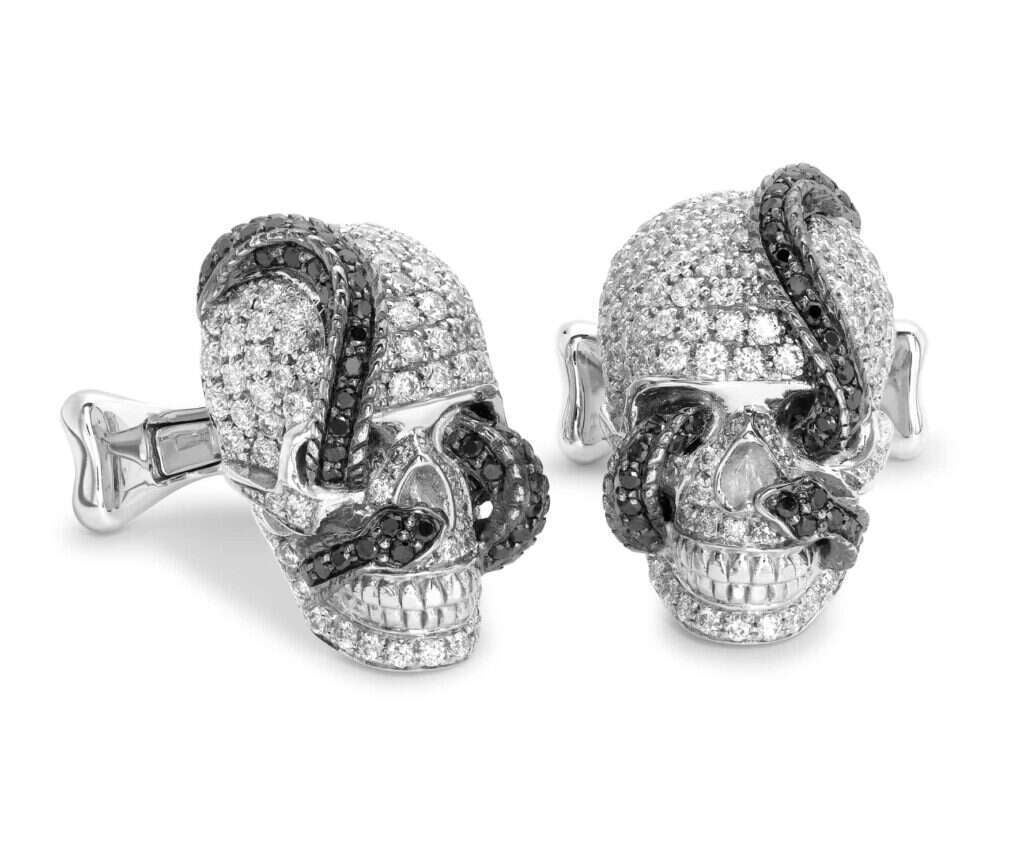 If the man in your life has a penchant for bling, look no further than British-based jeweler Theo Fennell. The designer is known around the world for his use of oversized stones and striking motifs, but perhaps the most recognizable is the gothic skull that features so heavily through his collections. Nowhere is the symbol more dramatic than in the Skull and Snake Cufflinks, which see a pair of black diamond serpents slithering their way through the eyes of two skulls.
$8,300, theofennell.com
Davidor, L'Arc de Davidor Ring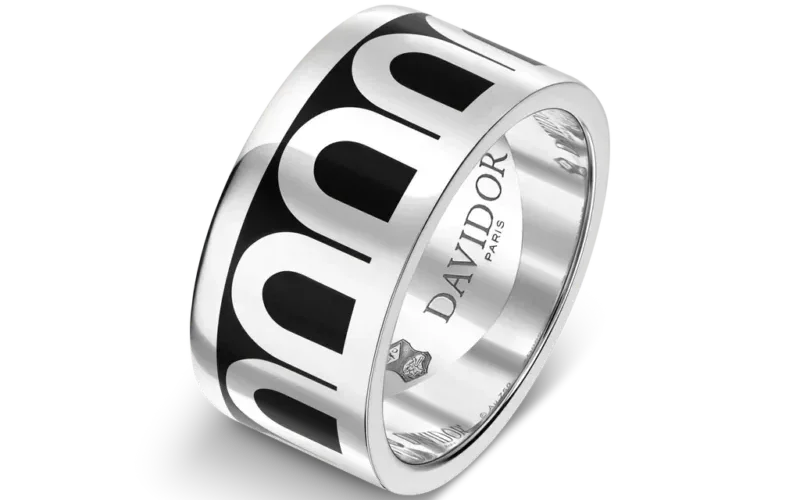 Made by hand in Davidor's Parisian workshop, the L'Arc de Davidor ring is easily the brand's most distinguishable design – and for good reason. Featuring a series of 18k white gold arches on a lacquer background, the rings are beautiful yet demure; conversation-starting yet understated. The collection is proudly unisex, but the GM variation is slightly wider for a chunkier fit. There are plenty of colors to choose from, but for a striking yet infinitely wearable Christmas gift for him, opt for the black lacquer.
$2,950, davidor.com
Chopard, L.U.C Full Strike Tourbillon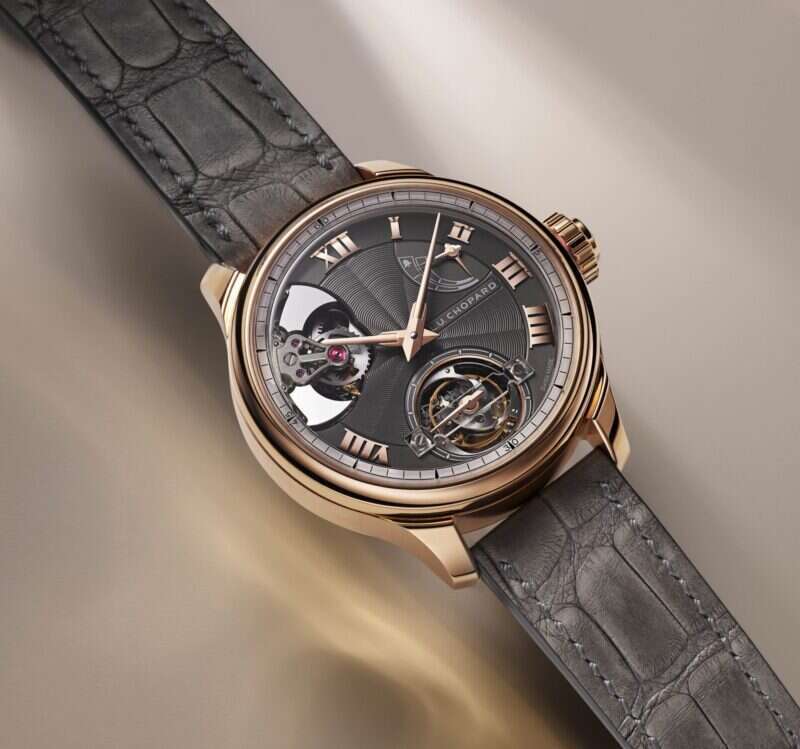 Limited to just 20 pieces, Chopard's L.U.C Full Strike Tourbillion is a blink and you'll miss it type of watch. Crafted out of ethically-sourced 18k rose gold, the timepiece has been exclusively released to celebrate the L.U.C collection's 25th anniversary. Enriched with technical details, the fine example of Haute horology takes its place as one of the most sophisticated of its kind. It uses sapphire as both the bridge over the tourbillon and to form the gongs, a gray alligator leather strap and has a power reserve of 50 hours.
POA, chopard.com
Purdey, Leather Ankle Boot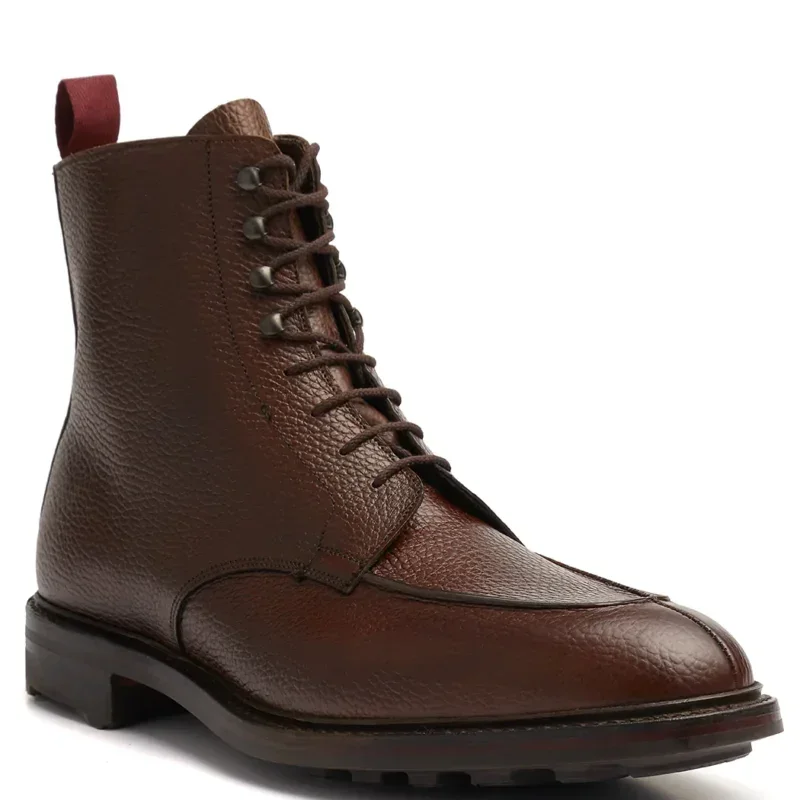 For the outdoorsy man who never wants to sacrifice style in the name of practicality, Purdey is the perfect label. With a legacy dating back to the early 1800s, the British brand knows a thing or two about expertly made accessories, gifts and clothes, and its Leather Ankle Boots are no exception. The Ridgeway soul promises a firm grip, even on uneven footing, while the grained brown leather will just get better with time. Each pair is handcrafted in the UK, promising a superior level of quality.
$596,  purdey.com
Montblanc, Writers Edition Homage to the Brothers Grimm Rollerball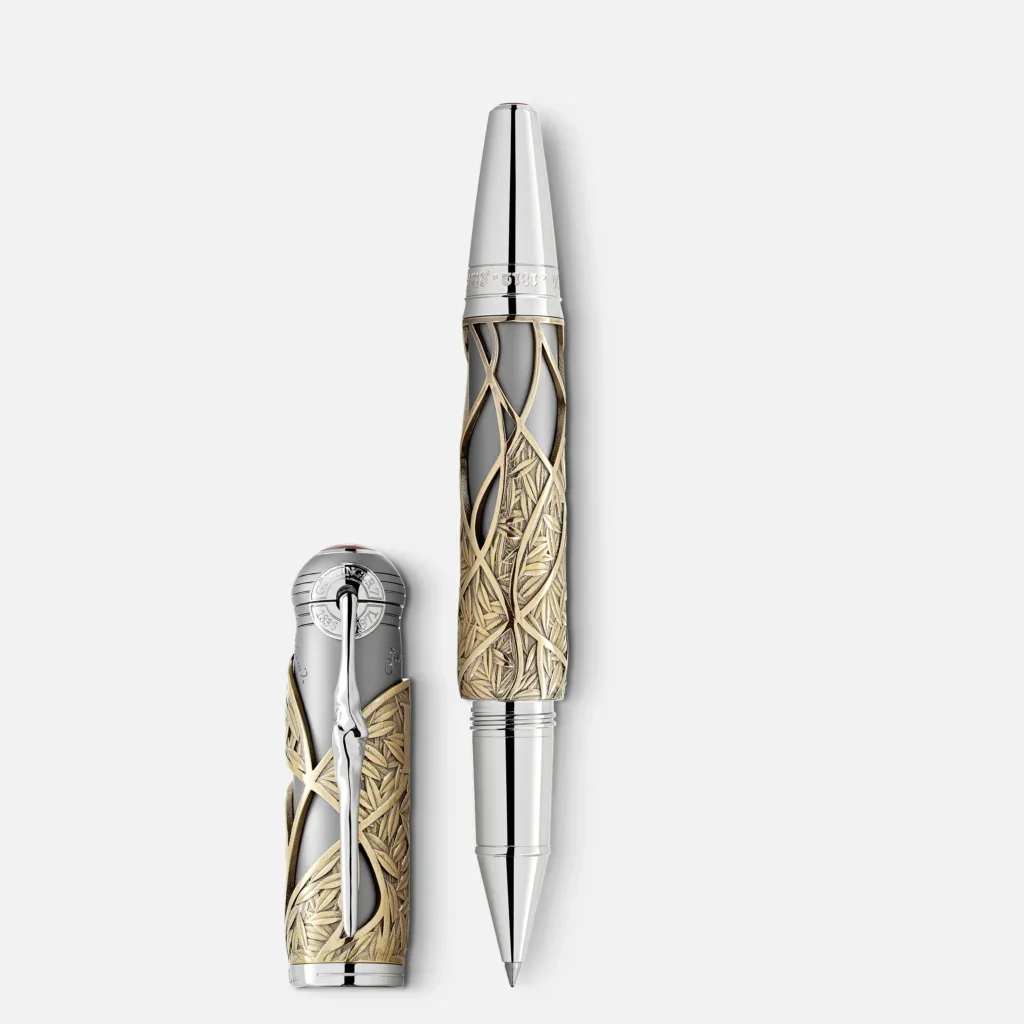 Dedicated to the writers of some of the world's most recited fairytales, Montblanc's Writers Edition Homage to the Brothers Grimm collection is entirely singular. As is the Montblanc hallmark, every detail of the writing instrument has been painstakingly imagined, from the silhouette which takes on the shape of a traditional hiking stick, to the precious mother-of-pearl cap. This particular edition is a homage to the tale of Sleeping Beauty, which comes to life in the form of the intertwining leaves and thorns that wrap around the barrel.
$4,400, montblanc.com
Stefano Ricci, Technical Fabric and Calfskin Leather Sneakers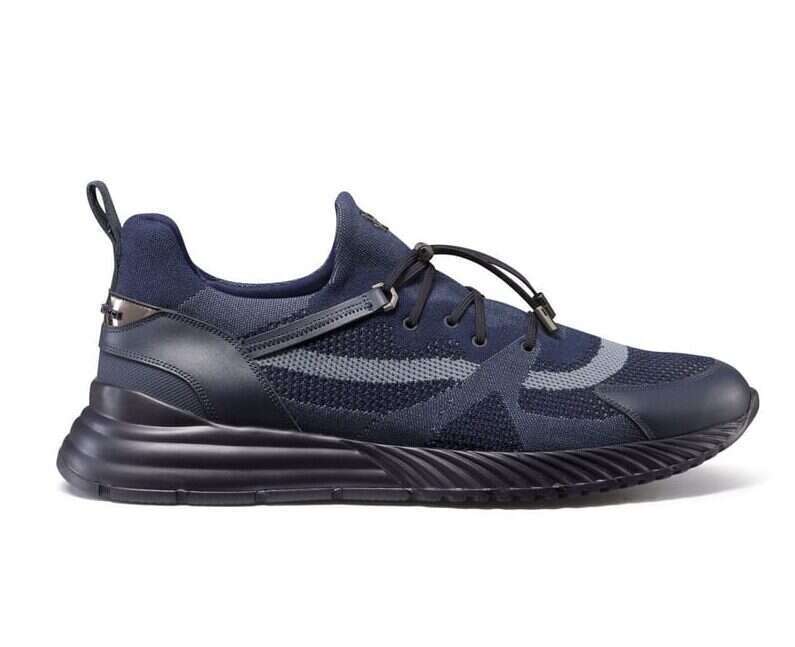 Anyone who thinks running gear can't be stylish has clearly never met a Stefano Ricci sneaker. The technical fabric and calfskin leather sneakers just ooze the brand's signature Italian look, but still retain the reliable practicality that is so necessary in sportswear. To ensure heightened performance, the sneakers feature fully adjustable elasticated laces, as well as a comfortable breathable fabric. Entwined precious metal hardware completes the shoe and adds that beloved level of Stefano Ricci luxe.
$1,750, stefanoricci.com
Jo Malone, Myrrh & Tonka Cologne
The deeply evocative nature of perfume means buying a fragrance for someone else can be tricky. In the Myrrh & Tonka Cologne, however, Jo Malone has hit jackpot for just about every man. The intense fragrance mixes the rich scent of the sap from Namibian myrrh trees with the warming nutty notes of the tonka bean to intoxicating effect. A real draw of Jo Malone colognes is how well they layer – pair Myrrh & Tonka with a lighter, fresher fragrance for an even more dramatic result.
$131, worlddutyfree.com
Rolex, Yacht-Master 42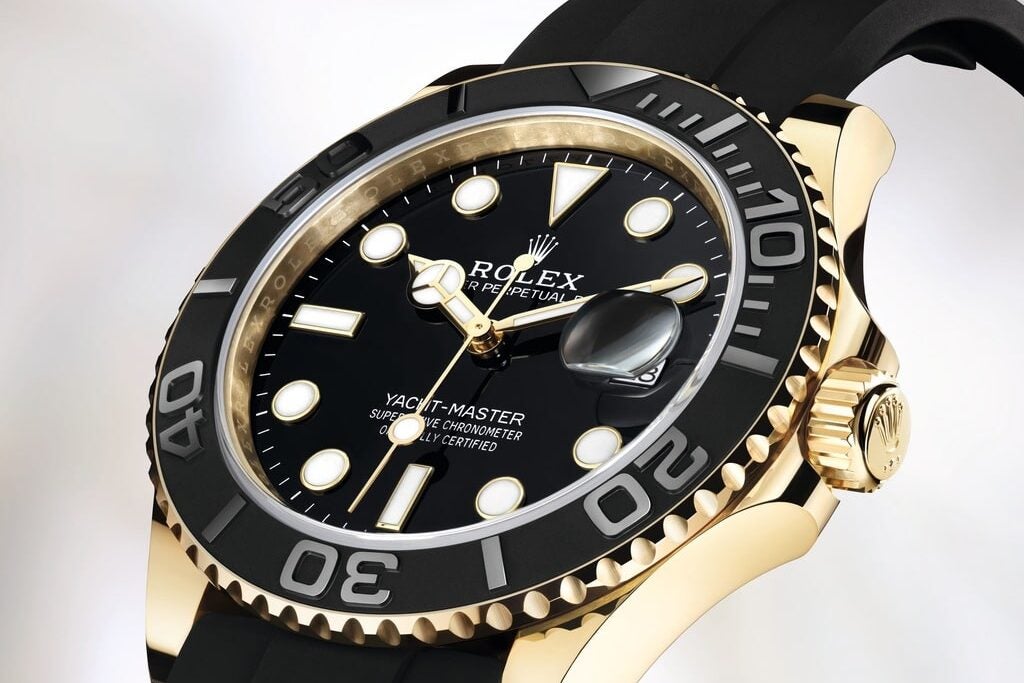 No list of luxurious Christmas gifts for him would be complete without a Rolex watch. This year, we're coveting the Yacht-Master 42 in 18k gold. Specifically designed for watersports, particularly sailing, the timepiece is impressively sturdy with a patented oysterflex bracelet, a scratch-resistant sapphire crystal and waterproof capabilities for up to 330 ft. The timepiece also boasts a bidirectional rotatable 60-minute graduated bezel, polished raised numerals and graduations, and a highly precise 3235 movement.
$28,300, rolex.com
Montblanc x Public School, NY Duffle
Following the zeitgeist, Montblanc launched its first eco-friendly collection earlier this year with the help of New York lifestyle brand Public School. The collection of bags and accessories are all made with regenerated fabric and environmentally conscious materials. We love the Duffle, a perfect companion when business trips and long weekends return in earnest. The lining is made with an innovative new nylon called Econyl, which is made from waste fishing nets, old carpet and scrap fabrics that would otherwise go to waste. The straps are made with recycled polyester rather than virgin, which not only reduces the environmental impact, but the energy required to produce it by 32%. Owning a piece of the collection is not just a fashion statement, it's a moral one as well.
$1,550, montblanc.com
Bomber Skis, Heritage Style 78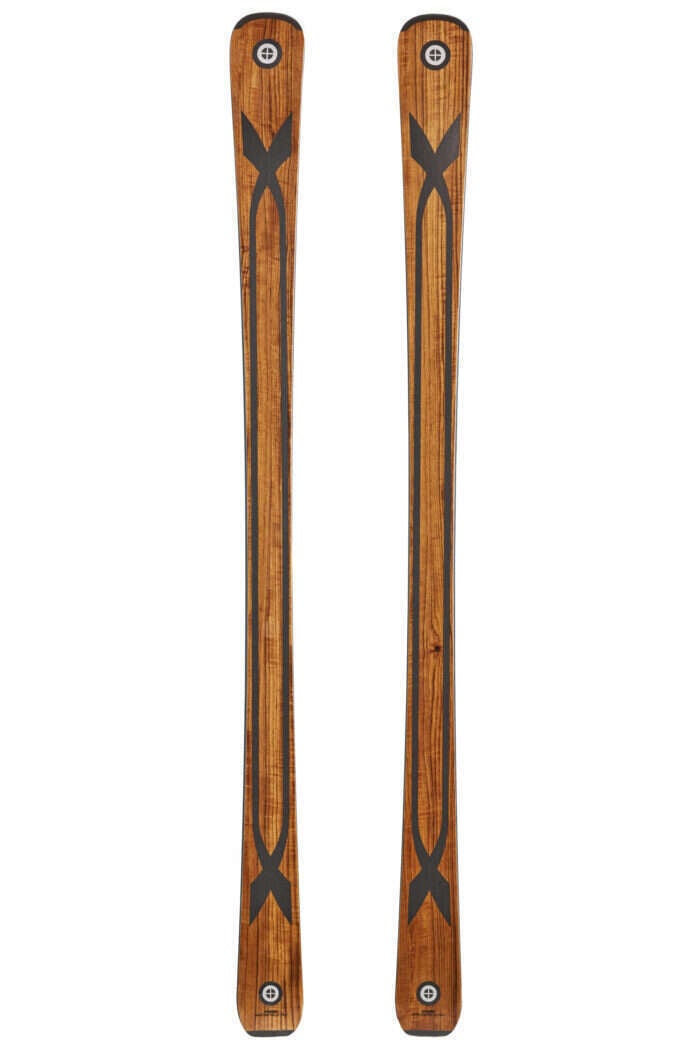 It may have been a while since you last hit the slopes. Ski seasons have proved vulnerable in the era of Covid-19, but now ski seasons are back, demand for chalets and ski passes has never been higher. If you're looking to get back to Aspen, Jackson Hole or Park City this winter, ratchet up the excitement one more notch with a fresh pair of skis. The Bomber Heritage Style 78 mixes iconic style with state-of-the-art technology. Engineered in teak wood and carbon fiber, these skis offer high stiffness and low weight for optimum performance. The skis also come with an embedded NFC chip that contains vital tuning information.
$2,450, bomberski.com
Burberry, Kensington Heritage Trench Coat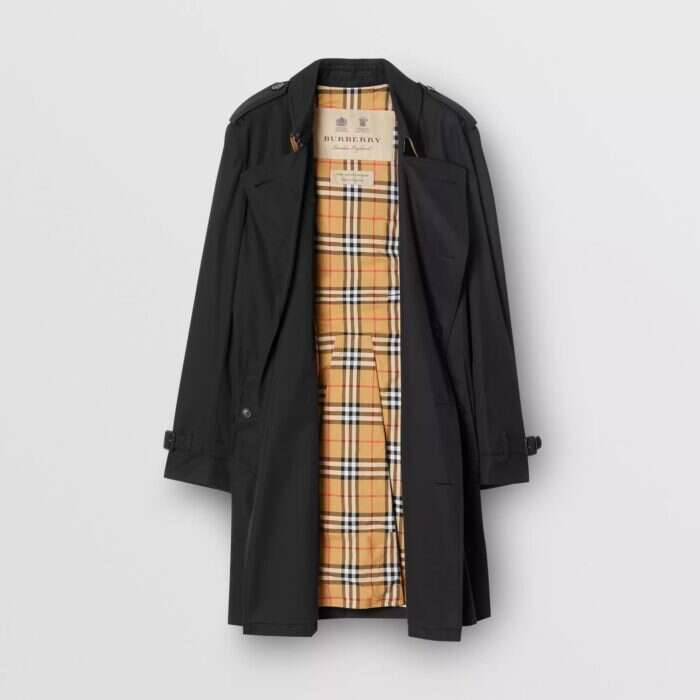 Burberry has come a long way since it was embroiled in controversy for reportedly burning excess clothes. Today, it is crafting a more sustainable image by working directly with the secondary market and committing to becoming carbon neutral by 2022. Also a member of the G7 Fashion Pact, the British brand is back in the good books. Its Heritage Trench Coat is a classic design that will never go out of style and as such is built to last. Available in mid- or long-length, wearers can add a flash of color to their look by popping the collar to reveal the iconic check pattern.
$2,250, burberry.com
Saunders & Long, Q Fragrance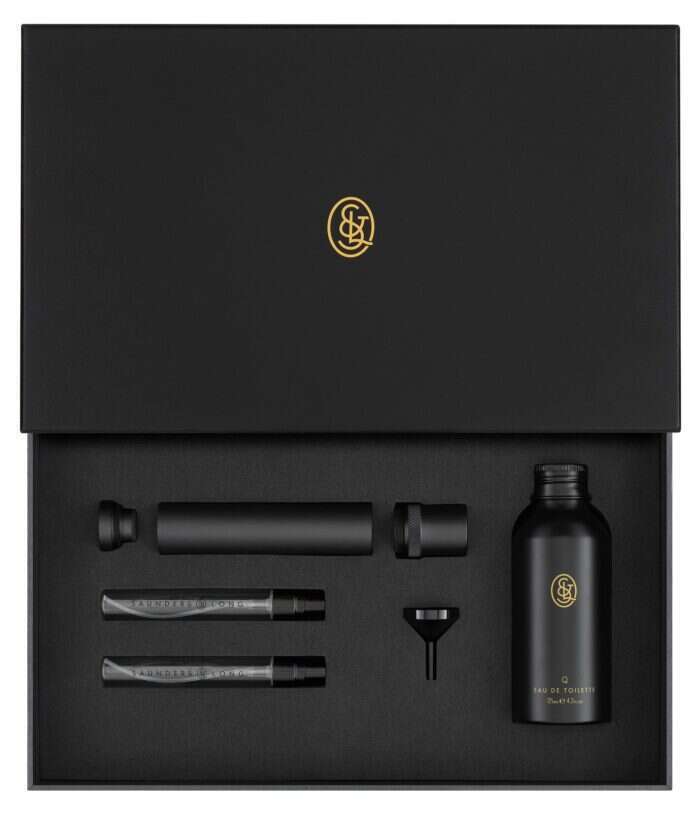 We first profiled the founders of Saunders & Long a week before their launch and it's great to see that three years later they continue to evolve and adapt. The people behind it are true experts in their field from the high-end hairdresser who has worked with products for decades to the innovative scientists bringing his ideas to life. Q Fragrance is another example of their disruptive attitude. The sophisticated fragrance is wonderfully masculine with hints of peated whisky and unlit Cuban cigar. Best of all, the fragrance comes with an innovative refillable Havana Travel Atomizer, making it easier than ever to take your favorite fragrance with you wherever you go.
$275, saundersandlong.com
William Henry, Kingman Cigar Cutter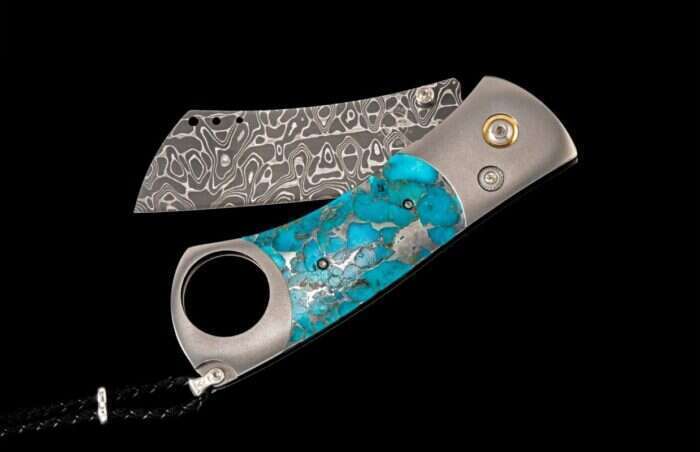 Famed for its exemplary pocket knives carved from the finest materials, today William Henry offers a variety of accessories, all made to world-leading standards. Its range of cigar cutters exudes exclusivity, none more so than the Kingman. The hand-forged Damascus blade can cut up to a 52 gauge cigar. The cutter is made with exotic materials like zinc matrix turquoise and Kashmir blue topaz, both of which presumably give it its exotic blue color. Made to order and handcrafted, no two are the same.
$1,250, williamhenry.com
Rolls-Royce, Cellarette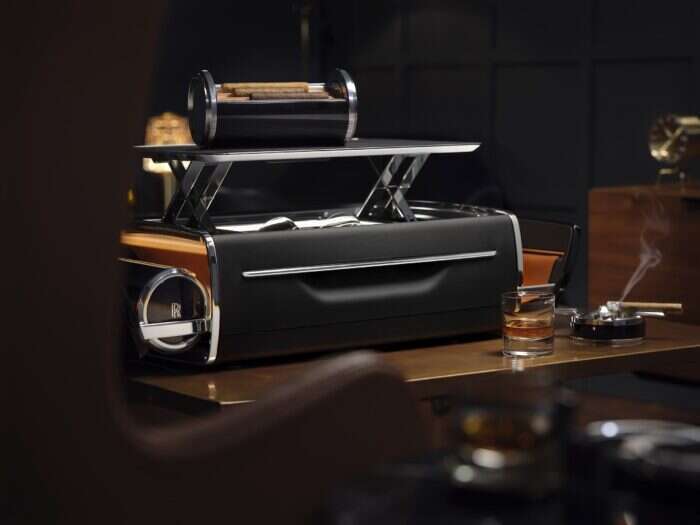 The Rolls-Royce Connoisseur's Collection brings the company's incredibly high standards to the world of accessories with spectacular results. The latest edition was the Cellarette, a whisky and cigar chest that epitomizes Rolls-Royce's obsession with luxury and precision. Fitting neatly into the rear of any of its models, the Cellarette is designed to take the Rolls-Royce experience with you to your next soiree. Designed to adapt to fit a number of bottle sizes, owners can take their favorite Scotch with them regardless of the decanter. Once activated, the chest will slowly reveal an array of beautiful accessories including two lowball glasses with the 'RR' monogram. A Spanish Cedarwood section stores cigars at a customizable humidity level, a measure that is precisely monitored by a hygrometer.
Click here to return to the Elite Traveler Holiday Gift Guide