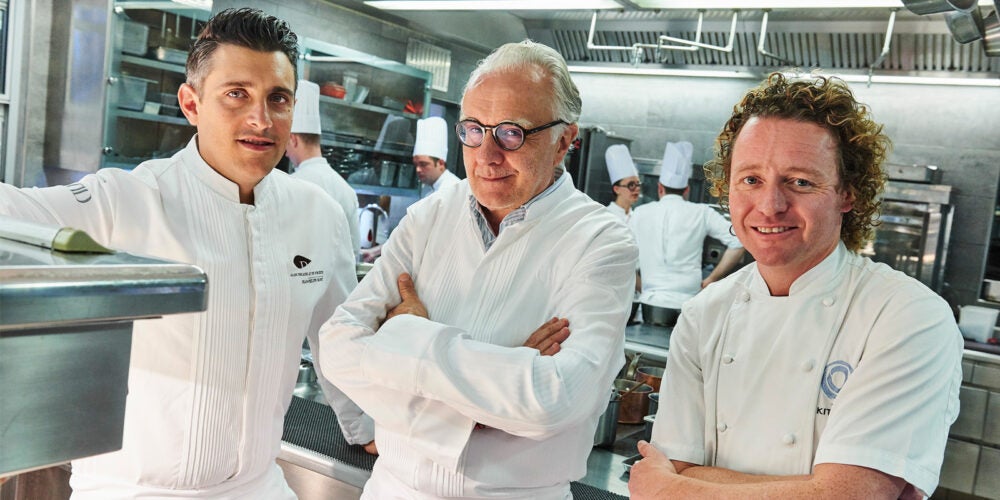 There are celebrity chefs, and then there is Alain Ducasse.
Chef Ducasse started his career in cuisine in the verdant southwestern farmlands of his native France, There, in the kitchens of the nation's most famous chefs, he learned his craft. Before he even reached the age of 30, he led Hotel Juana's La Terrasse restaurant to its win of two Michelin stars. And stars have been awarded, in abundance, to Chef Ducasse's establishments ever since.
Travelers in search of the finest dining experiences around the world know to seek out tables at such famous restaurants as Le Louis XV at Hotel de Paris in Monaco, Alain Ducasse au Plaza Athenee in Paris, Spoon in Hong Kong, and Adour at the St. Regis in New York; or spend an idyllic gourmet weekend at one of his country inns in Provence or Tuscany.
In the midst of one of his round-the-world trips to visit his kitchens, Chef Ducasse took time in New York to meet with Elite Traveler's Editorial Director Laura Hughes. In the private dining room of his year-old bistro here, Benoit, Chef Ducasse discussed the most influential people in his career, the importance of the fine dining experience in a recessionary economy, and how all of his restaurants represent the unique spirit and style of the cities in which they reside.
ET: Who have been the most influential people in the course of your career thus far, in terms of shaping the way you work today?
Alain Ducasse: The most influential, at the basis, are those people who trained me early in my career. Among them were Chef Michel Guerard, Roger Verge, Gaston Lenotre and Alain Chapel. Particularly Alain, because with him I discovered a love and passion for the ingredients we worked with. From there, and throughout my career, all of the people I encounter while traveling have influence, as do all of the chefs in each of my restaurants. They bring a certain sensibility, a cultural sensibility that becomes the roots of a restaurant. And, the added perspective of the savvy locals is an influence on me as well.
ET: As head of Groupe Alain Ducasse and its 1,000 employees, you have a very wide-ranging job. What part of it makes you happiest?
Alain Ducasse: I am happiest when I am in the kitchen, because that is where I can exchange ideas with the chefs and give feedback on tomorrow's menu. Often, if I am not in the dining room, I like to be in a restaurant's kitchen, tasting dishes and exchanging ideas. I value and appreciate the feedback I receive from my clientele, because guests are often international travelers with a global perspective they can share with me. In fact, it's enriching to have that added perspective from guests because it helps my culinary offering evolve. I respond to their needs.
The part of my job that involves working with purveyors, I find that essential because without the men and women who take ingredients from the beginning stages to when the kitchen receives them…well they are 60 percent of the equation that allows a chef to do his job properly. I love going to the market when traveling, and seeing what that city or country offers.
Regarding the process of finding new business locations, I need to have a connection with any city first. There, I need to understand what I will find, so that I tell the right story. A restaurant tells a story, and that story is not the same in one location as in any other. Each location needs to have its own personality, like an individual. The restaurant is almost like a theatrical setting, and the men and women working there and the customers animate it on a daily basis. The mix creates a singular expression of a culinary philosophy.
ET: Are there are characteristics that you carry across all of your restaurant locations?
Alain Ducasse: It's the ensemble. There are a lot of details that create the overall experience. Its harmony of design, what's on a plate, the tableware, style of service, music—it all fits together. Hospitality is the notion of adapting. For example, in a bistro there is more of a casual yet chic way of welcoming the guest, it is more fluid. But in a fine dining restaurant, there is a more refined, elegant, attentive and different way. In the end, what's essential, the primary aim is to allow the guest to disconnect from the outside world for an hour or two, whether they are at one of my restaurants or country hotels in France or Italy. We are merchants of ephemeral happiness. That is something that has longevity. It's intangible, not material, and what remains is the memory.
ET: Are you making any changes in your restaurants in response to the economic recession?
Alain Ducasse: Our role is to comfort the client. When you give your all to the client, you can only infuse the experience with more feeling and attention, reinforce their experience with a personal touch. We can't compromise on quality by lowering pricing. We have to create a cocoon for the client. We always have to offer the best possible experience for the asking price because the price to quality ratio is on the line. The most you can do is that extra attention and feeling. It's bringing a softer approach to the client in a harder world.
ET: How do you define luxury today?
Alain Ducasse: A luxury has to be tangible and long-lasting. It can't be fashionable and disposable. It can't be something that you consume and then start again. Hermes is not affected by this economic crisis because there is a certain price, and within it there is a consistency of quality and investment. When you make that investment in something from Hermes, it's not a fashion that is just consumed, it has durability.
ET: And does dining at an Alain Ducasse restaurant, or staying at a country hotel, fit the definition of luxury?
Alain Ducasse: It does, for the mental pleasure it creates. It is part of constructing one's well-being. It builds your mental well-being. In Paris you could go have lunch at Jules Verne, my restaurant in the Eiffel Tower, stop by Hermes for some shopping, have dinner at my restaurant in the Hotel Plaza Athenee—that's a substantial luxury day!
ET: During your time in New York this week, will you experience what other chefs and restaurateurs are doing in the city, or work within your own restaurants?
Alain Ducasse: I always have been very curious and I love discovering what's going on in each city I visit. But lately, to follow up on the subject of attention, I am focusing on spending time with the chefs in my kitchens. I spent lunch yesterday in Benoit, and tomorrow I will too. Dinner tonight will be at Adour. It's important to feed that relationship.
ET: Here at Benoit, what do you recommend a visitor makes sure he orders from the menu?
Alain Ducasse: Benoit isn't one destination for a signature dish. It offers many experiences and we encourage clients to feed their cravings. Perhaps they will want to dine out front and have a plate of charcuterie and tarte flambé, or they will order salad and roast chicken in the dining room, or reserve the chef's table in a private room for a very intimate meal.
ET: Have you taken a trip recently that left a great impression on you?
Alain Ducasse: In a world shaken up by many things, I set out on a tour du monde, to visit each of my restaurants around the world. I made a stop in Kyoto and it was a very serene city unaffected by the anxiety of the world. It's another world. I was there just to stop, on my way to my Osaka restaurant. That offers an appropriate price and environment for what people are looking for today. Then, I traveled from Kyoto to Las Vegas, and was reintroduced to the real world! You need to brace yourself, as life continues. That is what is so enriching about travel, the emotions that surge, discovering other restaurants and culinary proposals. It brings up the point that some people see the result of travel as being globalization, but to me what results is each culture preserves its identity. Like in Kyoto. We say this is an influential world, but in Kyoto it has not been influenced. The craftsman there is the fourth generation in his family to practice his craft, and he is still doing what he knows best. Traveling is so enriching and it really feeds me, because of the great mix of cultures and differences. Traveling is, in fact, the act of taking a closer look at differences. For example, a peasant from Tuscany and a gambler from Las Vegas are on this same planet, but they have very different ways of life. My next stop: Tuscany on Thursday.