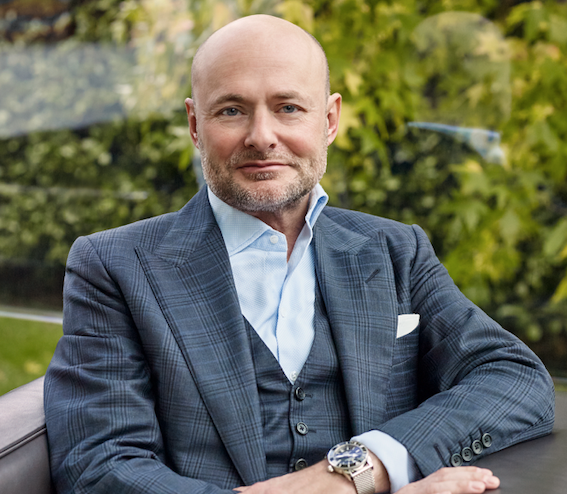 How do you revolutionize a historic watch brand without abandoning its heritage? Breitling CEO Georges Kern, tells Kristen Shirley how he is shaking up the brand — and upending the watch industry — in his quest to make Breitling one of today's most coveted brands.
"When a train passes by, you have to jump on it." Anyone who has met Georges Kern, Breitling's new CEO, can easily imagine him making such a pronouncement to explain leaving his prestigious job as the head of watchmaking at Compagnie Financière Richemont, and jumping aboard the Breitling train. Kern is powerful and persuasive, and he has an unshakable belief in himself and his ideas, which tend to be quite canny; he's also the consummate showman. Bold statements — and bold moves — are part of his nature.
Prior to his position as head of watchmaking at Richemont, where he oversaw many historic watch brands including Cartier, Vacheron Constantin, Jaeger-LeCoultre and A Lange & Söhne, Kern was the CEO of IWC Schaffhausen. During his tenure there, he led the brand to exponential growth, transforming it from a watch-insider favorite into one of the world's most popular brands. Now, Kern is positioned to do the same at Breitling, but this time as both an investor and the CEO.
As the saying goes, money changes everything. Kern calls the chance to become an entrepreneur and invest in Breitling while leading it a once-in-a-lifetime opportunity, and he acknowledges that being an investor certainly changes things.
"Being involved with your own money is different. It's a different feeling and a different challenge," Kern says. But the difference he feels is not to be cautious and conservative. Rather, it has emboldened him to trust his instincts and launch an audacious new strategy, completely overhauling Breitling's products, marketing and sales.
He says, "I never took as many risks as I took at Breitling. You know, when you are an independent company — alone — it's always different than when you're in a group. But the beauty is, you can be extremely quick, and you have to decide very quickly. And that is what we have been doing in the last 18 months. It's unbelievable what I think we have achieved in this short period of time. Probably in another context, it could have taken five or six years."
Walking into a newly designed Breitling boutique and looking at the new collections, it's clear that Kern's Breitling is different. He even calls it "the new Breitling." The boutiques resemble loft apartments, and the industrial design is meant to be so inviting that customers want to move into the boutiques. Kern's reasoning? The longer a customer stays in the store, the higher the chance of sending them home with a watch. And the collections? Kern culled the number of products offered and reorganized the collections around Breitling's new pillars: land, sea and air.
Of course, aviation remains one of the most important parts of the brand, which has been a favorite of pilots and aviation professionals for decades — but Breitling recently introduced a new type of aviation ambassador: the Aviation Pioneers.
The 'squad' is comprised of astronaut Scott Kelly, who famously spent nearly a year in space aboard the ISS; Spanish fighter-jet pilot Rocío González Torres, the first Spanish woman to spend more than 1,000 hours at the controls of an F-18 fighter jet; and Luke Bannister, a teenage world-champion drone pilot. This wide range of ambassadors is reflected in Breitling's other 'squads,' and shows Kern's ultimate goal for Breitling: universal appeal. Kern wants anyone to be able to walk into a boutique and find a watch they want to buy.
While this certainly is a new Breitling, Kern looked to the past when developing it. He admits that it is difficult to balance respecting the brand's rich heritage with paving a new path for its future, but he firmly believes "a brand is like a human being, and it has to evolve."
Delving into Breitling's history by examining the enormous collection of Breitling's biggest collector, Fred Mandelbaum, Kern traced the most important design codes and anchors for the brand, giving him ideas for the next 10 years.
When he speaks about Mandelbaum's collection and his passion for watch design, Kern lights up. He spends a lot of time in the design studio, talking with the designers, looking at the collections and making suggestions. He says, "I'm not a designer, but I have quite a clear idea on what I want and I have a very, very talented design team."
At the end of the day, you can have a great story, a rich history, cool boutiques and excellent in-house movements, but if the design isn't right, no one will want to buy it. Based on his wild success at IWC, Kern knows what people want. His Breitling is a place where superstars Brad Pitt and Charlize Theron, world-champion surfers Kelly Slater and Stephanie Gilmore, and a teenage drone pilot each pull in a diverse crowd of fans, introducing them to the Breitling lifestyle.
Will this bold and expensive strategy work? Kern has upended the traditional watch-sales method by abandoning annual trade shows and creating biannual Breitling Summits where he introduces new collections that are immediately available to purchase.
"We want to be top of mind with the consumer," Kern says. "And today everything is going so quickly. You cannot tell anybody anymore, 'Oh by the way, it's coming out in eight months.' No, they move on and they go for another brand."
In between the Summits, Breitling will have individual product launches. Rather than worry about consumer fatigue, Kern says this approach will continually emphasize the message of what the new Breitling is. He is sure that, "with time, people will get it."
By the end of the year, Kern says most of the collection will be new. When asked how he is able to inspire his team, both new and old Breitling employees, with such a revolutionary strategy, he says, "you can only stop criticism by success."
In a short period of time, the new collections have sold incredibly well; Kern calls it phenomenal. This success has convinced everyone that they are on the right path, and it is all systems go at Kern's Breitling.