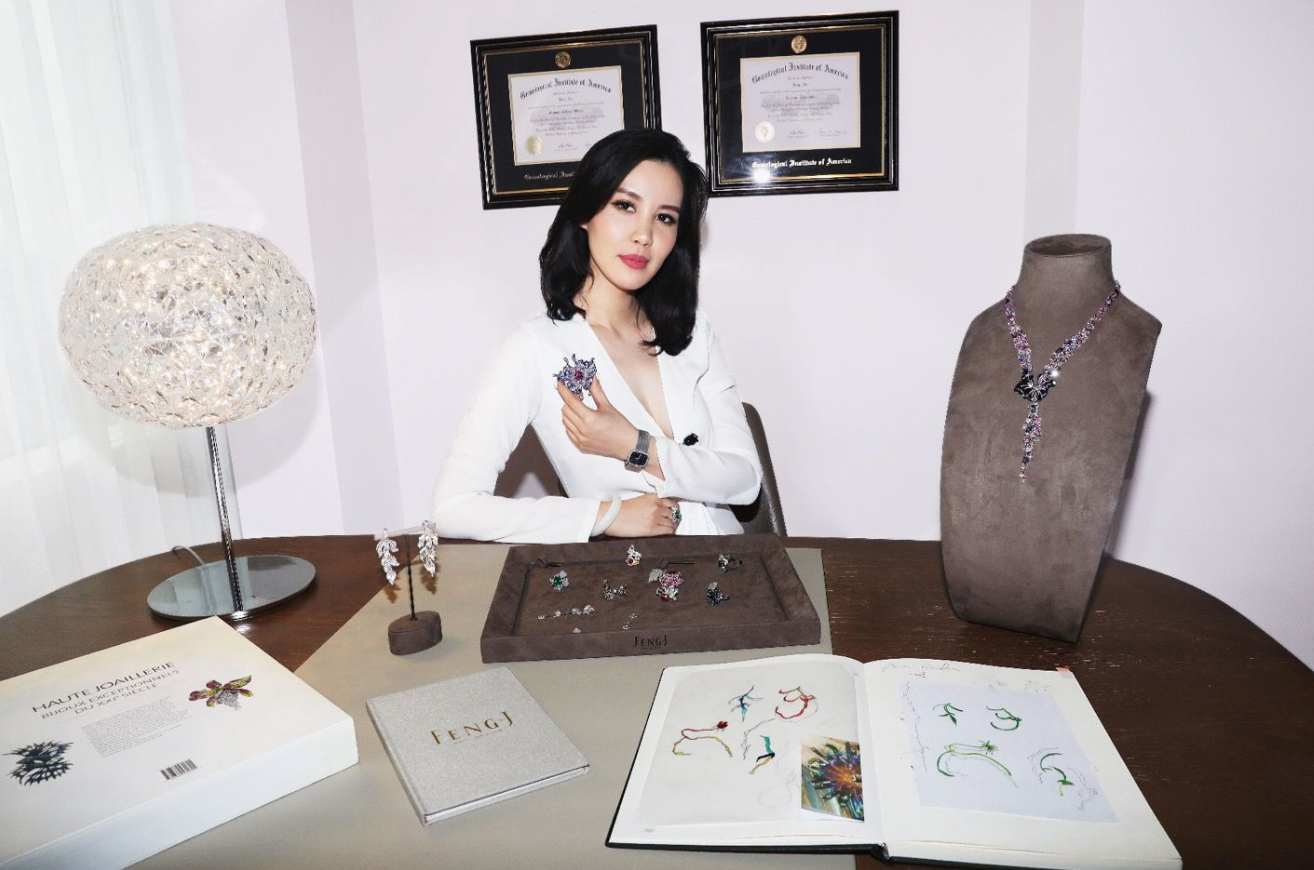 Chinese jewelry designer Feng J is one of the latest high-jewelry designers whose whimsical, avant-garde pieces are making waves across the globe. She established her haute joiallerie brand between Paris and Shanghai (and splits her time evenly between the cities), taking inspiration from traditional French jewelry techniques paired with endless creative inspiration from the vibrant city of Shanghai. Her atelier is at Place Vendôme in Paris, where she produces her one-of-a-kind creations (30-40 pieces per year).
The young designer sits down with Elite Traveler to tell us about what sets her apart and where she gets her inspiration.
What inspired you to get into the jewelry business, and when did you realize you wanted to start your own company?
I never intended to be a jeweler; I studied furniture and product design. My dream was to design sports cars. It may have just been fate that led me to travel overseas to obtain my master's degree in jewelry design. I thought designing jewelry could be similar to creating a small piece of furniture or car or even a miniature sculpture, so I decided to attend the Haute École de Joaillerie to be trained in European craftsmanship and received my GIA G G (Graduate Gemologist). In 2016, I established my namesake brand in Paris.
 What are you trying to do differently in the high-jewelry world?
The world is certainly not lacking when it comes to high jewelry brands. There are many big maisons as well as established jewelers out there. I ask myself "What makes me unique? What is my specialty, and how do I want to be remembered?" I'm a young female designer, and the world is changing. Consumers want something very special, so I want to make high jewelry for the younger generation, and my style of design and craftsmanship is driving me to do something totally different.
What are some of your favorite stones to work with? Do you have any techniques that set your jewelry apart?
Personally I love red spinel; it feels younger than ruby, yet very sophisticated. One of my special design elements is to use a double-rose-cut technique. For example, with a gemstone of 1 to 1.2mm width you can have two-sides of facets, and the piece has beautiful sparkle and a brilliant reflection. The floating set is a very technically innovative setting that gives the metal part of jewelry a nearly invisible appearance, allowing maximum light to pass through, so the stones look as if they are floating in air – it's amazing.
What inspires you each collection?
It depends on different periods, but contemporary arts, nature, the environment and my travels inspire me the most.
Your jewelry borders between fashion and contemporary art — how do you balance this?
I believe jewelry is absolutely a form of art. I challenge myself to think like a collector and how I would judge my own piece. But sometimes I don't worry at all – if I have strong feeling about a piece, then I believe that there is someone out there who will love it, too.
Tell me about your design process — where it it designed and made?
Regarding my signature style of design, it starts with my imagination. But the first thing I do is source my gemstones and work with my exceptional gemstone dealers and top gem-cutters who can create my bespoke double-rose-cut technique, so that I can find the perfect match for my design. It takes a long time to collect stones, then I start to play jigsaw, putting stones together to shape the outline before drawing a sketch. It's just like a game, I must predict the final look of the piece, and then adjust each stone's position separately. My craftsmen are superior; they are only making high jewelry for Place Vendôme maisons. I love exploring my client's creativity together at my atelier, but it is by appointment only.
You're one of the youngest haute joaillerie designers from China — what are the advantages to this, and what do you think you do differently?
To me, it's a benefit being young. I think I know more about the clients/collectors at my age, and I'm very open to pushing the boundaries when it comes to high jewelry. I developed my new line of  contemporary art pieces, like the Coeur Rouge cuff and earring, in which I set ruby and red spinels on lacquered silver. The piece is wearable art, yet very chic for young women.
How are you keeping traditional Chinese jewelry techniques alive through your work?
One good example is my use of Chinese lacquer, which is a very ancient artistic technique, and the production process is amazing. I looked to my Asian heritage to create Coeur Rouge, a contemporary form that makes use of a thousand-year-old design tradition. The lacquer is created from painted metal, paint then polish, paint then polish, again and again. The lacquer is from the Chinese lacquer tree's sap, so it's organic. As with living things, the color will change in several months, from dark crimson to scarlet then to bright red. The whole process is magical.
What do you want our readers to know about you or your work?
I believe my signature technique of 'painting with gemstones' will always be my own identifier. My great grandfather was a court painter in the late-Qing Dynasty, so painting is something that is in my DNA. And I created the double rose cut and floating set. These are two totally unique techniques that represent what my pieces stand for.
To see more of Feng J's work, visit feng-j.com