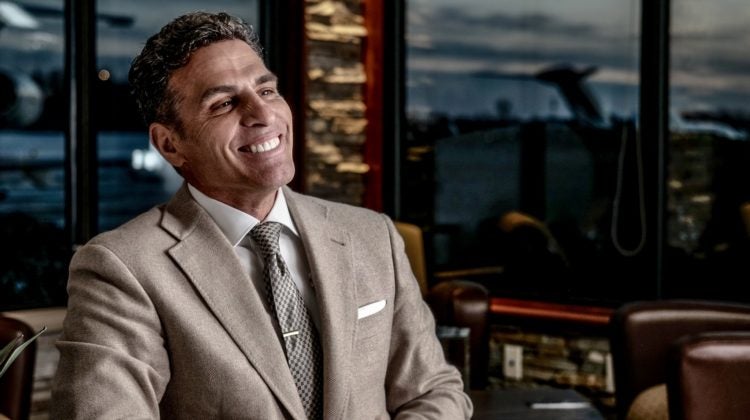 Kenn Ricci grew up with a love for flying. After learning to fly in the military, flying privately for Sir Richard Branson and former president Bill Clinton, he then got involved in the business side of aviation, when he founded Directional Aviation. (Today he is founder and principal of Directional Aviation.) Ricci stepped onto the private aviation scene in the early 1980s (1981 to be exact) when he purchased his first-ever private-jet company, Corporate Wings.
Today, under Directional Aviation, there are several aviation-centered companies, including Corporate Wings, Flexjet, Sentient Jet, Nextant Aerospace, Simcom, Constant Aviation and Reva, among others, each operating in its own unique niche that help support aviation as a whole, whether it's Nextant coming up with remanufacturing solutions, or Constant Aviation, which makes aircraft modifications and repairs.
Most notably, Ricci is chairman of fractional-jet ownership company, Flexjet, founded in 1995 under Bombardier Aerospace. Since 2013, when Directional Aviation bought Flexjet, the company has transformed into one of the leading fractional ownership providers on the market. Ricci's unique portfolio of aviation companies allows him to truly deliver the best service and safety to his clients; Directional Aviation has more than 2,200 employees and serves more than 70 countries around the globe. Ricci, despite his success, is both humble and dedicated to his passion for aviation.
"It's funny because when someone's had some level of success, it feels like it was an overnight success, but for me it's like an over four decades success," Ricci says. "I became involved in the industry from a perspective of someone who loved their craft."
The aviation veteran sat down with Elite Traveler to talk about his impressive career (he has been honored with several prestigious awards, including the Lifetime Aviation Entrepreneur Award at the 2016 Annual Living Legends of Aviation Awards; Harvard Business School's Dively Entrepreneurship Award and several others), his proudest moments and his take on the future of private travel.
How did you get started in the private aviation space?
I started in the private aviation market in 1981. I was trained in the military and then I actually was an airline pilot at the time, but was furloughed, a fancy term for being laid off, during a slowdown. After that I went to law school, but I always missed flying. So I bought a little tiny charter company in 1981. I always laugh because I remember I bought the company for $27,500 and the company had $27,000 in the bank. And so I called my dad up and I said, "Dad, I think I want to stay doing something in aviation. I'm going to buy this company for $27,500 and I have $27,000 already." And he said, "Well, where are you getting the other $500" and I said, "Well Dad, why do you think I called you?" So that's how I really got started in private aviation. The company was called Corporate Wings and we actually have it today [under Directional Aviation].
How has the private-aviation market evolved since you started?
Private aviation grew up around me. In 1980, when I was really getting into it, there was somewhere less than 5,000 aircraft; today, there are 27,000. The industry blossomed in the early '90s, and it was during that time that I spent about a year of my life in the air. I had more than 1,800 hours [of flying time], which is a whole year. My business was starting to grow because of the simultaneous growth in aviation. Along with that, I was starting to buy some supporting operations, like hangars.
Tell me about the various types of companies that you've put together under Directional Aviation.
We try to find businesses that have a relationship or can work together and help each other in some way. For example, it was obvious that having a great maintenance provider and great support, like Constant Aviation, was essential to [our other company] Flexjet's growth. Our most recent purchase is Simcom, a simulator training organization based in Orlando, Florida. We have a different vision for how training will happen in the future, so that's why we bought that platform. As we transition the company, we do a lot of training at Flexjet and in our different companies. There are synergies between these companies, but that isn't the primary reason why we decide to buy or invest in one company or the other.
What sets you apart from other fractional-jet ownership companies?
It's a very difficult task when you're up against Warren Buffett. When we looked at Flexjet, which is about half the size, we think there's a niche market for [service]. That is our Red Label product; it really took five years to make that product what it is. All pilots fly the same plane, and there's a safety factor to that. For example, you know your own car; you know where the air conditioning is, what you left in the glove compartment. But there is also a service factor: If I'm a pilot flying this plane everyday, I take pride in the cleanliness of my plane and how the plane operates, and I want my plane to be the better-looking plane than the other guy's in the fleet. And in [addition to] the quality of the aircraft, it shows in terms of compensation [for our pilots]. We pay our pilots more, and the result of that is last May, our union de-certified. We're the only non-union aviation company, which has another appeal. It speaks to the fact that the pilots like where they work, they feel fairly treated, they want to do a good job and that speaks to our customer. We've had amazing growth in the last 18 months but it was five years in the making.
The next part of that is if you're going to be top-end of the market, we had to be international. We focused on buying longer-range planes and developing international operations in Europe and elsewhere.
What are some of the proudest moments in your career?
Having the pilots overwhelmingly decide to de-certify their union in favor of management is such a rare event. It's such a rare occasion, and I would say, without a doubt, it was one of the things that I'm most proud of because our business is very much about the people. People in aviation are passionate about what they get to do.
I also think that when we introduced the G650 program. These are planes that are $70 million a piece, and if you'd have told me five years ago that we could afford, and would be the premier player, the only company to operate those airplanes in the fractional market – [I wouldn't believe you]. We had a celebration at the company where everybody came, the plane came in and we had a great chance to celebrate. The third one would be my daughter is now running Corporate Wings. Of my three children, she's my only aviator.
Also, in aviation, which is truly a male-dominated environment, we were told in July that we are getting an award this fall for diversity. Four of Flexjet's eight executive positions are held by women. That's a rarity in aviation, and that is something I'm very proud of. Our chief legal console, chief financial officer, chief operating officer and the president of the Europe division are all women.
Is gender diversity in the workplace something you focus on?
Female pilots are just hard to get, but executives are a different story. We did an analysis: We employ within the office more women than men, but in the flying side, we have more men than women. I think that gives you some direction as to where the next leaders are going to emerge. I think the women that hold those positions  are going to attract more talented women to our organization.
What are some emerging trends or patterns of behavior you are seeing within the private aviation space, either on the business or consumer side.
The thing I'm seeing more and more all the time is longer and farther [trips]. We're doing more trips that go around the world and that are 10 or 12 hour missions, where faster airplanes are required. You really do have a business environment where speed and distance are in demand. And that's a very unique trend to follow having seen this for so many years. Worldwide business is really helping our industry.
What are some traits you think have contributed to your success as a leader?
The number one thing is consistency. I'm a huge believer in setting quantifiable goals for people, and then coming back and seeing how they did against that. But to do that, I'd like to think I can build trust in people. I think I build trust because my reactions to situations and the way I analyze is in a consistent manner. I'd like to think that the traits I concentrate on are being provocative to help you to learn and grow or figure out what we can do together, but also being consistent over a long period of time. And [to that point], we've had very low turnover in our senior leadership. And I'm very proud of that.
You are involved in helping to bring the Aerion AS2 supersonic jet to business-jet travelers. Can you tell us about the project?
It's a very interesting product and there's been so much kept under wraps in terms of what the aircraft can do, even what it's going to look like. If you think about being in aviation and being on the leading edge of the foray into supersonic aircraft, that's very exciting. It is a $5 to 6 billion project; it's not something Directional Aviation could ever do [on its own], but we'll play a small role in it and hopefully we will be flying them.
For more information, visit flexjet.com