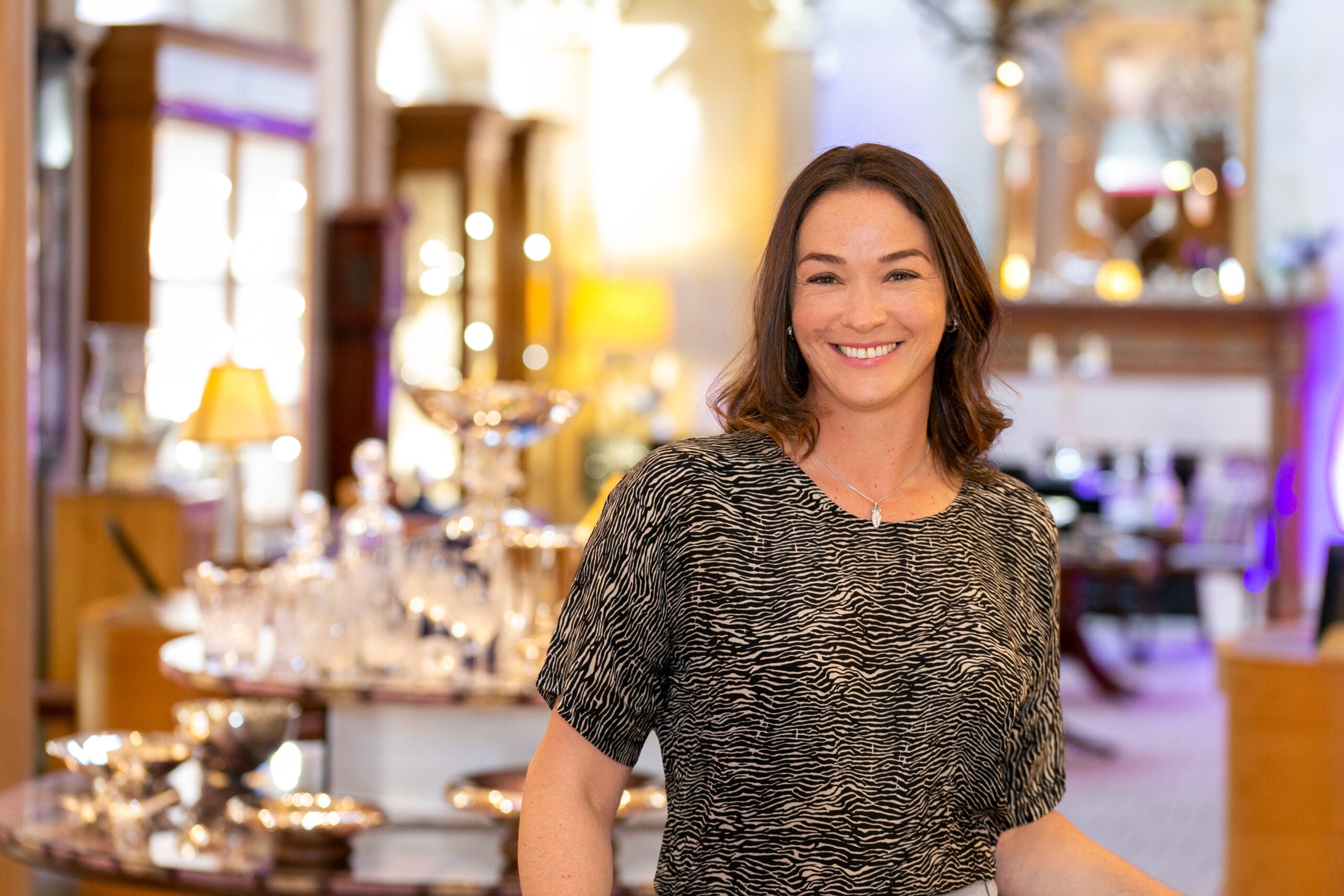 Victoria Houghton was appointed as CEO of Hamilton & Inches in April 2019, taking over from Stephen Paterson who held the position for 40 years. She has been tasked with doubling the jewelers' turnover and bringing new life to the historic brand.
Hamilton & Inches showroom and workshop is based in Edinburgh, Scotland. It has held a Royal Warrant as silversmiths to Her Majesty the Queen for over a century. The expert silversmiths still uphold traditional methods of craftsmanship, making many intricate pieces by hand, including a recent gift for the royal family.
We speak to Victoria about what her biggest inspirations are and her expert predictions for the next big thing in jewelry.
How did you first get into jewellery? My love for jewellery started from an early age and I used to handcraft and sell jewellery at fairs during my school years. However, it was during my role as a Product Developer for Next in Thailand when my real passion for silver jewellery and gemstones began and I worked closely with the workshops designing silver collections. This passion inspired me to learn more about Gemology, achieving an A-grade certificate at GEM-A.
What has been your proudest achievement? My proudest achievement would definitely be my appointment to CEO of Hamilton & Inches in April 2019. I was privileged to join the Hamilton & Inches board as a non-executive in June 2018 and gained a great insight into the business. The past year granted an opportunity to showcase my business, creative buying and strategic management expertise and I am honoured to lead the business forward with an exciting five year growth plan.
And the most challenging moment in your career? The most challenging moment of my career has to be setting up the country-wide franchise for Next in Romania and establishing it with four profitable stores in Bucharest. I entered the market with limited local knowledge and quickly learnt the importance of adapting to the local culture, building a solid team and growing a local network of specialists.
What or where inspires you? I am inspired by local cultures and the specialist artisanal skills within each region across the globe. When travelling, I always source hidden gems in local markets, vintage fairs, auction houses and antique stores. Female entrepreneurs also inspire me, such as Estee Lauder and Natalie Massenet, however my biggest inspiration is my two young boys. They remind me of true values and how the simple things in life bring the most happiness.
Where is your favorite place/favorite hotel/favorite restaurant? My favourite place is Asia and the destination has played a large part of my working life. I frequently travelled to Hong Kong and Shanghai during my role as a buyer. I love the vibrancy of the Asian cities and the shopping, food, people and culture. The refined elegance of the Banyan Tree, Bangkok holds many memories, however I also really love Desa Dunia on Gili Trawangan Island. Rustic, simple and tranquil Javanese lodges. It is hard to name just one restaurant, however my favourites include a dim sum breakfast at The Shangri-La, Hong Kong, lunch at Colom d'Or, St Paul de Vence in the south of France and dinner at La Pep, Barcelona; a hidden gem of a tapas bar.
What (or where) is on your bucket list? Furthering my Gemology studies, I would like to visit a Columbian Emerald mine. I would also like to walk the Great Wall of China, visit Petra on the border of the Arabian desert, island hop in the Caribbean and attend the Monaco Grand Prix – it's a long list!
What does 'luxury' mean to you? The world of luxury is changing, and times and expectations for luxury have moved. It is now about service, elegance without arrogance, quality and innovative design. Consumers are looking for more than just a product and are seeking more definitively 'luxurious' retail experiences.
Is there any advice you'd give to your younger self? My main piece of advice is not to worry about defining your career and future at such a young age. I felt a lot of pressure growing up to know what career path to choose and what discipline to specialise in at University. However, looking back it's important to enjoy studying, making friends, gaining confidence and building life experiences. Career plans will always change and enjoying the journey with challenges along the way is important. I started my career in Merchandising, moved into a Buying role, followed by three years in Product Development and moved back to a Buying role, before setting up my own retail business. My motto is to believe in yourself and be surprised by how much you have to contribute.
Do you have any jewelry trend predictions for this year? In terms of jewelry designs for 2019, expect to see statement earrings, pearls, colourful gemstones, oversized chain link necklaces and brooches, worn in a myriad of ways. Sustainability will continue to be at the forefront of consumer spending decisions and millennials and Generation Z will represent a larger proportion of global luxury spending, influencing jewellery designs.
Hamilton & Inches, 87 George Street Edinburgh EH2 3EY United Kingdom, hello@hamiltonandinches.com, +44 131 225 4898, hamiltonandinches.com