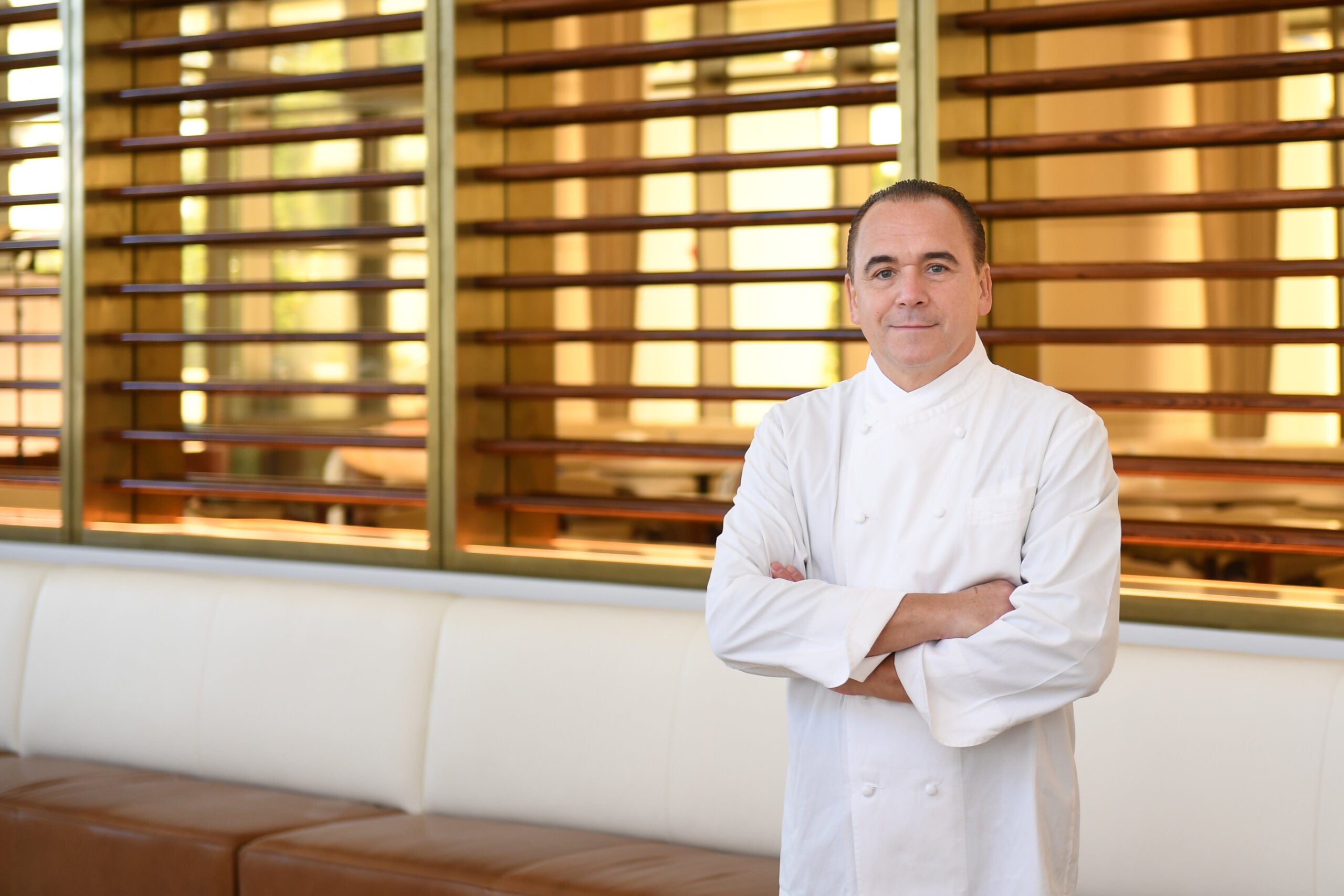 Hailed as the chef who reinvented French cuisine, Jean-Georges Vongerichten sat down with Alexandra Cheney to ruminate on sustainable eating, meticulousness and why there's more to fine dining than Michelin stars.
There's a finite precision to everything in Jean-Georges Vongerichten's orbit. Some of it reflects his upbringing: He was raised in a two-story house dating to the 1780s with his parents, grandparents and three siblings, where order was both demanded and respected. More of it stemmed from his four decades as a chef and global restaurateur.
His story isn't a particularly linear one — he came to cooking from his love of eating — bouncing from France, the motherland, through Europe and Asia until he landed in New York in 1986.
Throughout his three-decade tenure in Manhattan, though, no other chef has continually impacted the culinary landscape quite as profoundly as Vongerichten. He's been credited with influencing how New Yorkers dine out, as well as how other chefs cook and what restaurants look like throughout the city.
That may sound a bit overstated, but the proof is in the (coconut rice) pudding: Whether it's at his eponymous Central Park West restaurant, Jean-Georges at the Connaught in London or JG Tokyo, Vongerichten was the first to forge a global franchise based on haute cuisine.
Perpetually (and naturally) tan, Vongerichten is perfectly relaxed, gently reclining in a camel-colored leather chair in his West Coast restaurant on the ground floor of Waldorf Astoria Beverly Hills. Beneath a pair of thick brows, the chef keeps one eye on the kitchen at all times.
"I have over 150,000 recipes. Not bad for 44 years of work. Some are from home, some are new, others dormant," Vongerichten explains in a quiet, matter-of-fact tone. "We create and upload videos of everything we do; we video the technique and have a picture of the dish so all of my kitchens can prepare anything."
Raised the eldest of four siblings in Illkirch-Graffenstaden, a suburb of Strasbourg, France, Vongerichten was set to inherit his great-grandfather's coal-distribution business. But at the age of 15, he was thrown out of the local engineering school for poor grades.
It wasn't until the sight, smell and experience of eating foie gras, venison and salmon soufflé — a celebratory meal for his 16th birthday at the three-Michelin-starred Auberge de l'Ill — ignited an unknown career path. When the chef stopped by to inquire about the meal, Vongerichten's father George offered up his son as a dishwasher. Less than a year later, the failed engineer became a star apprentice.
"In that environment, I was special. I grew up overnight," he says. After working through four three-Michelin-starred restaurants in Europe and at five-star hotels in Bangkok, Singapore and Hong Kong, Vongerichten acquiesced to chef Louis Outhier's request that he join New York's (now razed) Drake Hotel restaurant, Lafayette.
Replacing butter and cream sauces with infused oils and introducing common Asian ingredients like ginger and lemongrass into classical French food, Vongerichten created a fusion cuisine unlike anything previously seen in the New York dining scene. Needless to say, he made quite a splash.
Five years later, in 1991, the then 34-year-old chef opened his first New York restaurant, JoJo (Vongerichten's childhood nickname), and since then, he hasn't slowed down, averaging a new restaurant each year. This year, he is set to open Paris Café & Lisbon Lounge at JFK airport; another pair of namesake restaurants at Keswick Hall, a resort in Charlottesville, Virginia; and in Four Seasons Philadelphia at Comcast Center, to name a few.
Maintaining a precise, consistent voice is paramount to Vongerichten's success. "My role as a chef is to transform food in a simple way. I don't want a shrimp to look like a noodle, or a hand-harvested scallop to be anything but. I add a little cumin to a carrot and it's wow."
To create his depth of flavor, Vongerichten begins with his origins. "I grew up picking radishes for lunch in the garden. There's nothing better than that crisp, straight-from-the-backyard freshness on a plate." (At his ABC Kitchen in New York, market radishes with seasoned butters is a perennial favorite.)
From there, the chef relies on his French techniques and "Asian touch." "There's always a touch of chili, an acidity. There's vinegar and citrus juices, but the ingredients are better now. It took me 30 years to try and find a good, organic carrot."
Plants and vegetables have become central to Vongerichten's thinking and menu planning. The plant-based abcV in New York, as well as the seasonally focused Jean-Georges Beverly Hills, are a few of the latest eateries that subscribe to the chef's steadfast beliefs. "As you get older you try and live longer and healthier, so I've begun to cook a bit different."
Although Vongerichten prioritizes his time in the kitchen, even spending four to five hours every day "touching food," throughout his career he's admittedly misstepped as both a chef and a restaurateur.
"There are two things I'll never do: I'll never take an American classic and reinvent it; and I won't ever open another restaurant where I can't cook the food myself."
In 2003 Vongerichten opened 66, a Chinese restaurant in New York's Chinatown. "I had a team of Chinese [chefs] brought in from Hong Kong. I couldn't take over for the chef. I don't know how to use a wok. If I can't learn every single station myself, I won't do it."
Another station, and inevitably another lesson, for Vongerichten occurred outside of the kitchen. The proprietor left school at age 16 but returned, to Hunter College at age 33, in order to scrupulously learn how to open and run a small business.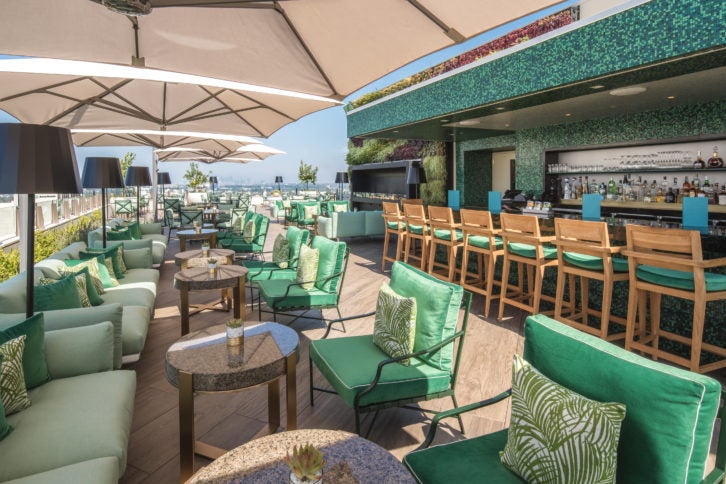 "It's all about overhead. That's still my business plan. I know the threshold of every single restaurant and, on a daily basis, what's needed to survive. I never invest money back in a restaurant. If we break even, it's never going to succeed before we have to reinvest."
The chef is doing a different kind of reinvesting in his crown jewel, Jean-Georges in New York. Since its opening in 1997 and until the release of the 2018 New York City Michelin Guide, the fine-dining restaurant held three Michelin stars. Last year, he lost a star for the first time in his career. "I will never go after why, but I think a tasting menu alone, that's the new game. Jean-Georges is still fine dining, but most of the three-starred restaurants today have one menu."
With a tasting menu, though, Vongerichten explains that choices are eliminated before the guest even sits down. "Luxury fine dining is simple and well presented. I think a tasting menu works in a small room or at a counter, but Jean-Georges is prix fixe. There are more options, and that's luxury too."
Redefining luxury through the lens of sustainability is Vongerichten's current mission. "I want to be the first 100 percent green restaurant, from compost in the kitchen to zero GMO, all organic. I don't know if there is such a label, but I want to create it."
At abcV, everything is recycled. They purchase everything on eBay. "Even our frying oil in the kitchen is GMO-free. We try to really have everything as organic as we can. Because I just turned 62, and I want to be 92."