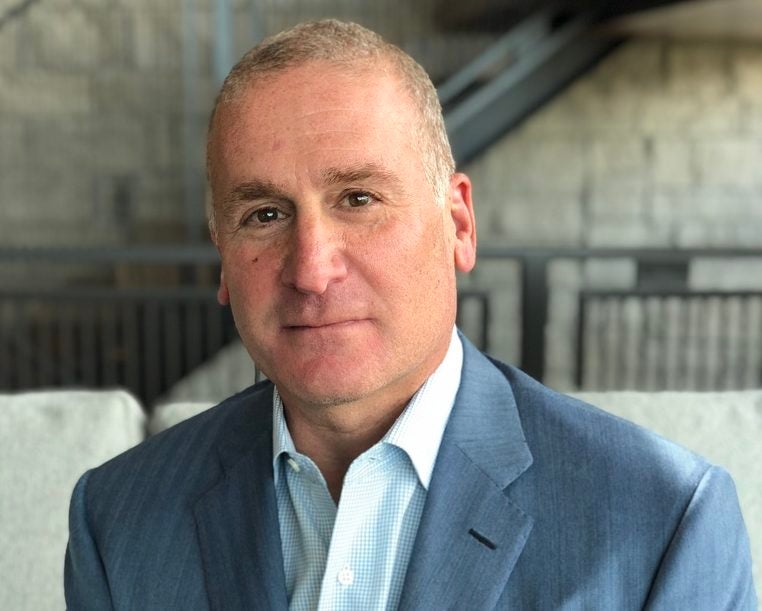 Jon Cummins, co-owner of Bankside and numerous other hotels, who has launched his own yoga platform. Bulldog Online is a completely new type of yoga platform whose founder describes it being "yoga for non-yogis". Created by Jon out of his own love of the physical benefits of yoga but dislike of the traditional yogi vibes, he was inspired to create an online platform that would make yoga more approachable, affordable, accessible and fun.
Unlike traditional yoga, the dynamic and varied online classes feature upbeat playlists that motivate users to get active in the comfort of their own home – perfect for this period of lockdown. With its website and group of Apps, Bulldog Online offers people the ability to exercise when it works for them – any time, any place. The diversity of class times and types – from 10 to 60 minutes and from beginner to "kick my butt" – allows people to tailor their experience to their fitness level, and there are new classes added throughout the month to keep things fresh. 
The online classes are recorded live – offering a virtual feeling of being in the studio, but with the reality of being in your own judgment-free home, office or hotel room. No Sanskrit, no chanting, no intimidation. Bulldog's mission is for people to do what they can and not worry about "being good at yoga."
The Bankside is such a beautiful property, you must be very proud. What attracted you to the concept?
Bankside was a project of passion for the whole team and I think you can sense that from the moment you walk through the door. We wanted to design a creative space that appealed to the global citizen, be that a person working in finance or tech, or the arts. The design team we brought together all had similar philosophies and was led by Dayna Lee, the celebrated film set designer turned interior designer. Dayna brought together the best artists, makers and craftsman from across the UK and US to deliver a transatlantic style that is unique to Bankside. Our goal was to create a hotel that put sustainability, creativity and the location at the heart of the experience. We were really lucky to be awarded several awards within a few months of opening in a year that saw many great hotels launch in London, setting us apart.
There aren't many hotels that really get the art programs right, but Bankside does. How did you develop this and really bring to life the art connections?One of the missions of the hotel was to celebrate the location, just a stone's throw from the Tate Modern and many other leading global cultural institutions. I suppose you could say it is a bit like the Left Bank in Paris, but perhaps more dynamic. The area has always been home to artists but many of the younger up and coming artists have moved on, so we wanted to celebrate this heritage. We partnered with a London organization called The Contemporary Collective to create a rotating artist in residence program that gave over a studio space in the hotel to an artist for 3 months. This has created some amazing pieces and started a legacy for Bankside. It is all very natural and authentic, which is why it works.
Have you always practiced yoga?No, I picked it up about eight years ago quite by accident while on vacation. When I got back home, I started going to my local yoga studio.  However, I never really felt comfortable there. It really felt like it was only for a certain type of person and if you weren't the traditional 'yogi', you were out of place. This was the first nugget of the idea to create Bulldog Online, which started off as one studio.
What did you like about yoga?Really that it is a whole body exercise and, as we know, strength training is incredibly important for fitness. However, not everyone wants to go to the gym or do weights. Yoga is the perfect exercise for this.  And, with Bulldog we've actually created what we call "fitness fueled yoga"; many of our classes offer great cardio benefits as well.
Do you practice yoga when you're traveling?Yes and one of the reasons I created the online platform was to give people the opportunity to continue to practice outside studio. We now have three studios in the US, but the platform was seeing exponential growth even before Covid-19. We now have users across the 50 states and in Europe. 
Who is the platform for?The platform is for anyone and everyone – that is really the point. Any shape, any fitness level, any size. We have a custom workout area on the site where you can tailor a workout schedule to your own level and goals, which is proving really popular. It is really fun, uplifting and dynamic and has a fantastic playlist with each class and it really works you out.
Has yoga been helpful for your mental health whilst being on lockdown?Definitely, but I think it is the specific type of yoga we do that helps. The strong movement, breath and music comes together to make you feel really great. Honestly, I can't think about anything else as I am working so hard during the class – which must be a good thing!
 Where will be the first place you visit be when we're able? London!  To see the team.