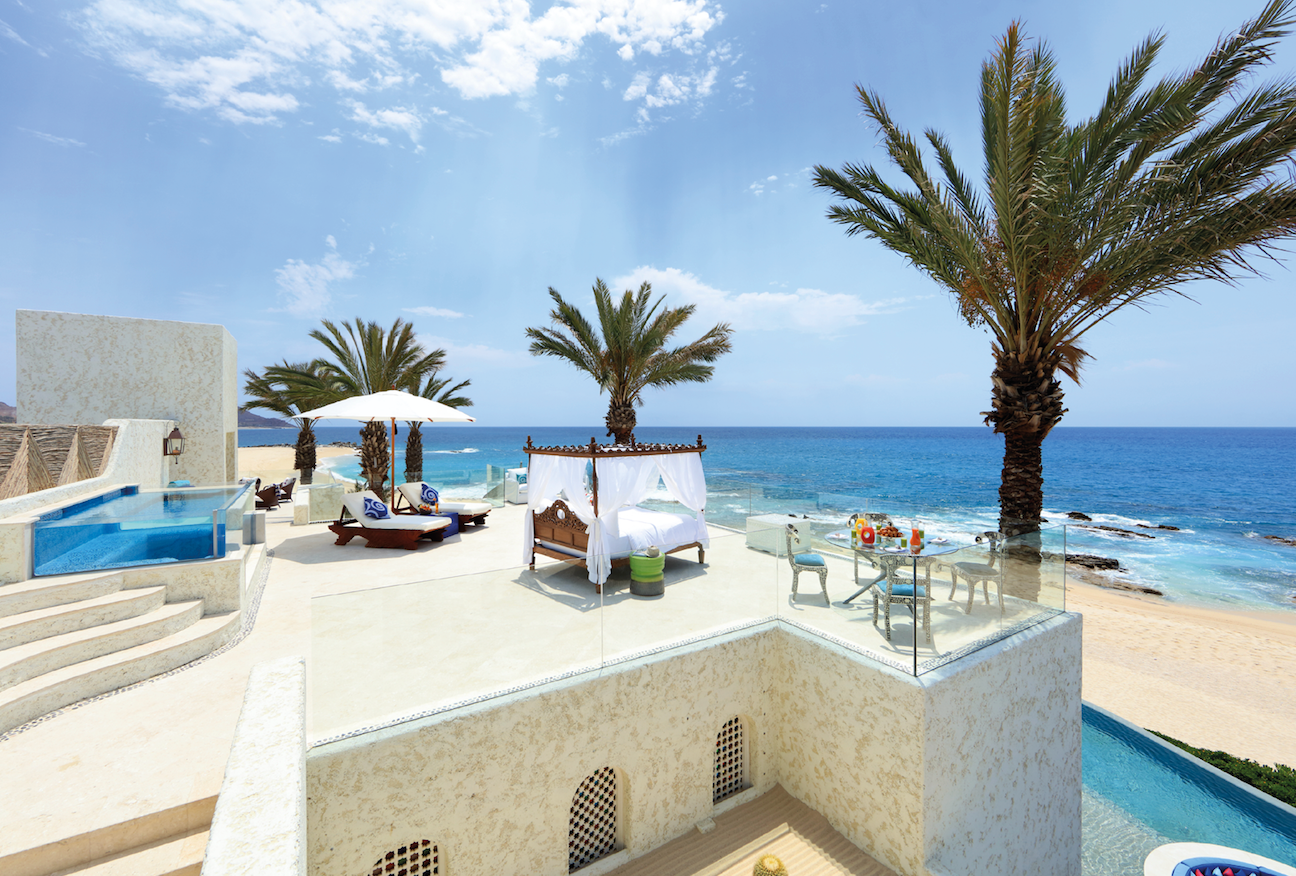 Las Ventanas al Paraíso, a Rosewood Resort was preparing for another busy season in Los Cabos when the Covid-19 pandemic brought the travel industry to a complete halt. Having worked hard to introduce new safety protocols and improve the already-meticulous hygiene standards, the luxury resort is now preparing to reopen its doors to guests on July 1.
As the Managing Director of Las Ventanas al Paraíso, Frederic Vidal has been a key figure in ensuring the resort is ready for the new normal. The resort, famous for its dedication to the highest level of personal service, has had to adapt to meet the new needs of guests.
[See also: Top Suites in the World – Ty Warner Mansion, Las Ventanas al Paraiso, A Rosewood Resort] 
Vidal spoke to Elite Traveler about how his team at Las Ventanas al Paraíso has reacted to the pandemic and what the long-term future of the resort looks like.
Why did Las Ventanas al Paraiso take the decision to close?
Las Ventanas al Paraiso, A Rosewood Resort temporarily halted operations on April 1 in a community effort to contain the spread of Covid-19. The decision came following the Ministry of Health of Mexico's heath orders and fell in line with many hospitality establishments in the destination.
What have the major challenges for the resort been during this crisis?
Our closure was in line with high season when many families and couples had booked their visit, and therefore it was unfortunate to see these guests have to postpone their holidays. Now that we are aware of the scale of the crisis, we anticipate that even when we're fully open on July 1, we will not immediately be operating at the same capacity as before. Though this will be challenging, we are beyond grateful that Las Ventanas Al Paraiso's owner, Ty Warner, has been supporting our staff throughout this time. All 500 employees of Las Ventanas al Paraiso remained onboard during the closure and will return upon the reopening. Retaining our employees has been helpful for the spirit of the team and will allow us to reopen with the same level of service our guests have always expected.
And what opportunities have arisen due to the unanticipated closure?
At Las Ventanas al Paraiso, we are continuously reinventing ourselves and enhancing amenities to provide the best experience for our guests. During this period of temporary halt, we focused on creatively implementing ways to make the property safe and comfortable upon the resurgence of travel. We have invested in high-tech, touchless services such as QR codes in lieu of menus and keyless doors. All of these new features are in addition to the safety and hygiene protocols guided by Rosewood's new Commitment to Care and Los Cabos' Punto Limpio certification. With many of our guests arriving via private plane, we also took this time to create an expedited immigration process in partnership with the Cabo San Lucas International Airport. The new experience is called Sense of Arrival and our goal is to ensure our guests feel safe the second they land to the time they depart through limited interaction and seamless processes.
When tourists inevitably return to the resort, their needs may have changed significantly. What are you doing to anticipate and meet those new needs?
A significant differentiator of Las Ventanas al Paraiso is the Butler and Villa Host service that comes with each accommodation. The experience begins before the guest arrives, as the Butler and Villa Host will learn all about the guests' wishes and desires via a Guest Profile form. Upon arrival at the resort, they will take complete care of them throughout their stay. With the new App we are developing, guests will now be able to interact with the Butlers and Villa Hosts over the phone, rather than in person if they desire. We also anticipate that guests will feel the utmost comfort and safety with the implementation of our hygiene protocols, contactless experiences and physical distancing measures.
To promote physical distancing, while preserving the customization that is so important to the Las Ventanas guest, we've adapted extensive measures such as designated cabanas at the beach and pool for the full duration of each stay. These bespoke changes are necessary to match the needs of the Las Ventanas guest who seek white-glove service, privacy and seamless experiences.
What aspects of Las Ventanas make it well-equipped to operate as normal despite the prospect of long-term social distancing requirements?
The way Las Ventanas al Paraiso was built grants ample space, so theoretically the resort does not need to change a lot to accommodate physical distancing. The property sits on 12-acres and naturally allows for social distancing with five distinct dining venues and 71 spacious and well-appointed guest suites, most of which are spread over seven three-story elevator-free buildings.
The majority of the guest accommodations feature private balconies with outdoor showers and plunge pools, rooftop patios and outdoor Jacuzzis. The Villas each feature a kitchen, private pool, and expansive living and sleeping area, so guests will feel like they're in a private home and never have to leave. Upon reopening, Las Ventanas will enhance physical distancing measures even further. The already expansive restaurants will position their dining tables to provide for six feet of space between each table and party. The property has also moved live performances outside for guests, instead of holding these experiences inside.