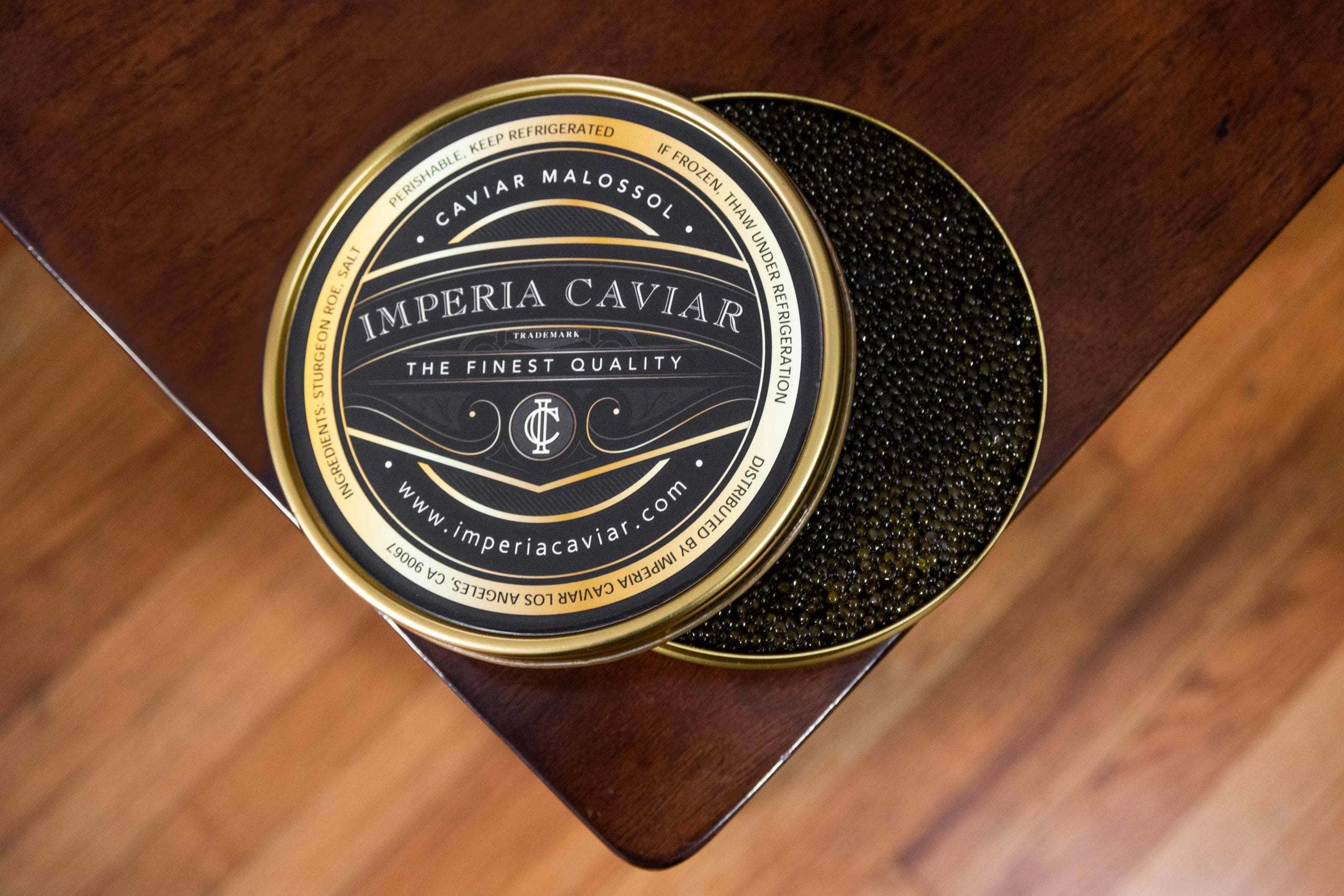 Sony Mordechai is on a mission to get everyone to eat caviar, and not reserve it for special occasions. His new company, Imperia Caviar, sells directly to consumers and offers the world's first caviar club. Here, we have an exclusive interview.
Why did you start Imperia Caviar? 
I have always been passionate about discovering something valuable or new and sharing it with the world. My passion for caviar started 10 years ago on a trip to France with a group of CEOs from my YPO chapter. The trip was organized by Cyril Camus, a fifth-generation entrepreneur, and maker of one of the best cognacs in the world. Part of this extraordinary trip, and most definitely my trip highlight, was a caviar tasting in Bordeaux; it was love at first bite. During most of my 20-year business career as a parallel entrepreneur, I have represented luxury and wellness brands such as Burberry, Technogym, Ralph Lauren and Tod's. With Imperia Caviar, I have found an opportunity to bring together my passion for amazing food, wellness and the finest things in life, and create a global brand that can redefine the caviar industry. We believe that caviar should be a luxury everyone can enjoy and that it has the potential to become the next avocado!
Right now you only sell directly to consumers, how are you introducing Imperia Caviar to the world? 
We have been collaborating with numerous restaurants across the US, and a lot of interest has sparked across Europe as well. Although this has not been our primary focus, a lot of the business owners or chefs that have experienced our product have reached out and sourced their caviar from us. 
Imperia Caviar sells two varieties: Kaluga Hybrid Reserve and Royal Ossetra. How did you decide on these two varieties and what are your favorite things about each? 
Both our Kaluga Hybrid Reserve and Royal Ossetra are two of the best quality caviars one can have. There are 27 sturgeon species around the world with very different taste profiles. We have focused on the best.  The Kaluga sturgeon is also known as River Beluga in Russia because it originates from the Amur River. It has a very mild and buttery taste and very large eggs. The mild profile makes it an excellent choice for any newcomer in the caviar world, or if you are a caviar veteran (like myself) that loves pairing caviar with almost everything else. The Royal Ossetra originates from the Caspian Sea, and it is the most popular high-end caviar out there. It has a bold sea-breeze flavor, and its taste is nutty and briny. It is an excellent choice for the caviar connoisseur that wishes to close his eyes and go on a flavor trip. We love eating this caviar on its own, but it also combines very nicely with sour cream, blinis, mild sauces and meat, as its intense taste will make it stand out. Both of our caviars are two of the highest-grade caviars you can access in the US. In Europe, we have also started offering Beluga to our clients. Beluga import is illegal in the US. The Kaluga sturgeon is also known as River Beluga. Its hybrid version is legal in the US. 
How are you working to convince people that caviar is for regular consumption, not just for special occasions?
If you were born in Russia or Iran, the truth is you don't need much convincing. We have many clients who grew up indulging in caviar regularly and are extremely happy they can once again access top-grade caviar at a reasonable price, so they understand what we are doing. The way we see it is that caviar is an extremely tasty and healthy food that can and should be consumed regularly. In addition, it's probably the most sociable and celebrated food in existence. Ask yourself, when was the last time you were invited to have caviar? Most people would answer "never." What would be the chance that you show up if someone invited you for caviar? My success rate for inviting people over to indulge in caviar has been 100% so far. People, especially the younger generation, are constantly seeking new experiences, so the first milestone is for us to have as many people as possible taste top-quality caviar and to realize that they actually like, or even love it. To a certain extent, it reminds me of sushi a couple of decades ago when it had started penetrating the European market. People would drag their friends to experience this novelty, which of course in Japan has existed forever. If you like fish, sushi or salmon eggs, you will like caviar! 
What eco-friendly and sustainable practices do Imperia Caviar's suppliers use? 
Imperia caviar is fully committed to sustainable seafood practices. All of our caviar is farm-raised, and we care about the preservation of the wild species and the well-being of the oceans. We will make every effort to raise healthy fish while making sure we don't cause any damage to the natural ecosystem. Our farms avoid using additives, chemicals, hormones or antibiotics for growing the fish. We only use fish feed that is carefully curated for optimal health.
Imperia Caviar launched a Caviar Club — how does it work? 
The Caviar Club is our select member club designed for individuals that believe in the high nutrition value of caviar, or who simply love caviar, and want to include it into their regular diet. As a member of the club, you are part of a select community that periodically receives shipments of the best quality of caviar available in the US. Our members also benefit from complimentary shipping, free education, exceptional pricing and access to invite-only events. Our average club member consumes around four to five kilograms of caviar per year, and our entry membership pricing starts at $1,200 for 1.2kg of caviar delivered four times a year. There are also monthly or bi-monthly options. 
What are the health benefits of caviar?
It is one of the healthiest superfoods there is! If you believe in the keto diet, paleo diet or simply appreciate the nutritional value of healthy fats, Omega 3s, B vitamins, arginine, selenium, etc, then caviar should be your thing. Numerous publications and books are talking about the health benefits of caviar and fish eggs in general; there can be profound health benefits such as an improved immune system, better mental focus, better mood and elevated energy levels. It is even said to have an aphrodisiac effect. Dr Lisa Mosconi, who holds a PhD degree in neuroscience and nuclear medicine, as well as being also a certified integrative nutritionist and holistic healthcare practitioner, talks about the health benefits of fish roe in her New York best-selling book, Brain Food. In a nutshell, my humble view is that all eggs are superfoods as they are the cocoon of life that nature created for us. Please note that all caviar eggs are unfertilized, so no offspring embryo is ever harmed during the collection process.
How is Imperia Caviar working with restaurants? 
Our focus in the B2B space has been to educate restaurant owners that caviar can be an excellent addition to many of their dishes. Putting this superfood on your menu will not only generate more revenue, but will also create a memorable and exquisite experience that clients will cherish and share with their friends. Caviar pairs very nicely with pasta, eggs, seafood, meat and many other dishes.
What is your favorite way to enjoy caviar? What are your favorite pairings?
In the morning, I love combining it with eggs, smoked salmon or steak. In the evening, I love sharing it with friends and pairing it with almost everything. Unquestionably, one of my favorite pairings is with plain pasta, grilled fish, French fries or even pizza! During the day, I will also indulge in a one-ounce tin on its own, straight from the tin. There is no wrong way for me to have my caviar, as I love the way its taste can complement almost any food.
You purchased a ticket on Virgin Galactic — why are you going to space? Will you be the first person to eat caviar in space?
This is the first time I was asked this question in a caviar interview! I was indeed the first person to purchase a ticket to space online, so I guess buying top-quality caviar online shouldn't be an issue for anyone! If Richard Branson allows me, I would be more than happy to take a few pounds on board and share it with my fellow astronauts! Cheers!
To learn more, please visit imperiacaviar.com 
This interview has been condensed and edited for clarity.