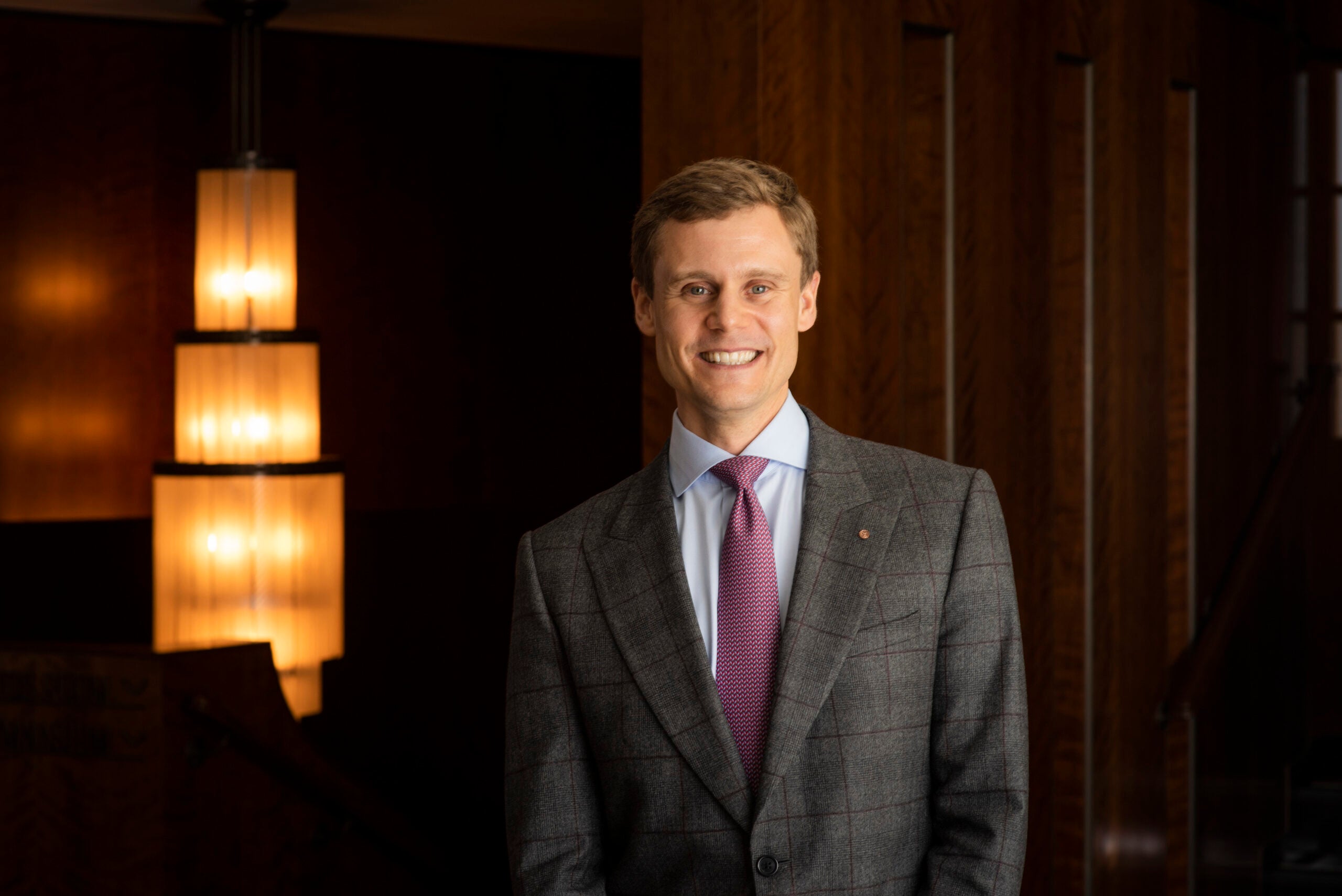 Jannes Soerensen certainly knows his way around a luxury hotel. In the last 16 years, he has worked in some of Europe's finest accommodations including Hotel George V Paris, Hotel Arts Barcelona and The Connaught, and Le Bristol Paris. For the last four years, he has been the general manager of The Beaumont, one of London's finest hotels.
Having learned his trade from masters of the art, Soerensen has himself become one of the most accomplished hoteliers and has brought his own unique style of management to the industry. Here, he speaks to Elite Traveler about his career path to date, why luxury hotels must lead the charge on sustainability, and offers insight into the future of travel in a post-Covid-19 world.
Tell us how you got into the hospitality industry, and what drew you to The Beaumont.
I started in my hometown of Berlin, working as an Assistant Concierge at the Hotel Adlon, where I met Raffaele Sorrentino, a legend in the concierge world, who told me I was going to work in the lobby and learn in-depth what people want, how they feel, how this makes them behave and how ultimately to enrich their lives. I became deeply immersed in life, music, opera and theatre and it was a fabulous education. And, I realized I wanted to keep on learning and discovering more. At the age of 24, I left for Paris with a suitcase but with no knowledge of French and no job. An introduction to the Head Concierge of Four Seasons George V led to an interview with Leah Marshall, the Rooms Manager at the time. She was not concerned about my lack of French: she simply said 'you'll learn it'.
I later moved to the Hotel Arts Barcelona, where I became a member of Les Clefs d'Or. This was followed by a stint as Assistant Chef Concierge at The Plaza Hotel, and then to the Front Office at The Connaught in London, where I moved up the ranks to become Director of Rooms. I was then approached by Le Bristol Paris to become their Director of Rooms.
A former colleague recommended me to be General Manager at The Beaumont, a role for which I would not necessarily have put myself forward yet but I took on the challenge because I loved the vision Jeremy King, who created and founded the hotel, had for it. A believer that 'hospitality comes from the heart and not the boardroom', his ethos, his values, his impeccable sense of taste and his quest for perfection in every detail greatly inspired me. I shared his philosophy that hospitality is about being generous and caring, and wanted the same thing. It's very rewarding if you are aligned with the hotel owner on the vision for the hotel. We have created something new and refreshing at The Beaumont and I am extremely proud to be a part of that.
Tell us about your approach to managing and other unique aspects you've brought to the role.
Firstly, I believe that everyone in a hotel is in Guest Relations and that is how we run the hotel. The staff are totally focused on the guest experience; each and every one truly cares about delivering an outstanding stay experience to each and every guest and they are fully entrusted to deliver on this. They know that hospitality is all about meaningful relationships and real interactions.
I run the hotel with a strong Executive Team: they are the backbone of the hotel. I believe you need different voices, it is a collective effort, it is not a solo venture. It is my job to lead, to set the values, to pick the right idea in the room and to nurture a culture of debate, where people contribute, and show how much they care, with people that stir and nag and others who appease, all within a secure setting where everyone can safely have their say and not be afraid to make the right decisions.
I was brought up to trust people, to give them a stable environment and the freedom to be the best they can be. I have worked with a number of senior leaders in different countries, who were coincidentally all very much of the same mind-set: they saw the potential in people, they trusted them, they believed they would rise to the challenge and they empowered them to make it work.  Today I apply this to my team: believe in the talent that surrounds you, encourage them and guide them to take ownership of how they perform and they will do so at the highest level because they want to and not because they are required to.
The members of staff are everything in a hotel, whilst the design of the hotel and the rooms should be compelling but should not impose. The reason guests come back time and time again is that they remember people, not things and because they are remembered.
Sustainability is such a big initiative across the world – how is The Beaumont helping lead this charge?
I feel that luxury hospitality needs to lead by example and take responsibility where the health of the planet is concerned. For many years, spoiling and material luxury was a large element of what hospitality was deemed to be all about, but it is up to us to demonstrate that excess is not luxury. As a business, we recognize we have a responsibility to care for the environment well beyond the legal and regulatory requirements. We are committed to reducing our environmental impact and are continually improving our environmental performance, to engage with our local environment and to be welcoming to all. This is an ongoing process, with constant updates.
We have a number of different initiatives in play: this year, we are pioneering an exciting new initiative to introduce a 95% plastic-free solution for our bath, body and hair care products, introducing an innovative collection of D. R. Harris toiletries & reducing our current consumption of 32,000 single-use plastic bottles of shampoo, shower gel, hair conditioner and body lotion per year to zero. T the hotel's new range by D. R. Harris will comprise a ground-breaking solid 45g shampoo bar and a solid 45g body wash bar, as well as a body cream and a hair conditioner in fully recycled and recyclable aluminum tubes, and a 70g soap, all lightly scented with rose geranium. These practically-packaged, top quality products will be air-travel friendly, last longer due to their concentrated formulations, reduce water wastage and eliminate plastic packaging, whilst giving guests a pleasurable bath time experience and a memento to take home.
This is in addition to our over-arching program to minimize the use of all single-use plastics throughout the hotel, including packaging materials from suppliers. We have a robust program in place to reduce waste throughout all the operations, whether food or operational items or energy & water. Our new head chef, Ben Boeynaems, is committed to using seasonal, local and ethically produced ingredients in his dishes and will be launching new menus to reflect his passion. We even have beehives on our roof, which produce enough honey to serve to guests at breakfast throughout the year!
We have an extensive recycling program in place and work with Clean Conscience, a UK charity that works to ensure the maximum amount of partially used hotel soap and toiletries are recovered, re-purposed and redistributed to women's refuges in the UK and women's development projects in Africa.
And, finally, our elegant chauffeur-driven house car – a hybrid BMW 7 Series iPerformance – is available on a complimentary basis for the use of hotel guests for all-electric, locally emission-free drop-offs in Mayfair.
How has the Covid-19 pandemic encouraged you to approach hospitality differently?
We will continue to deliver hospitality in the same way as before: by creating meaningful relationships with our guests, one at a time. In addition, we will work ever harder at making sure that our guests feel absolutely secure in our environment – which means having a robust hygiene and cleanliness protocol in place and adhering to all required social distancing guidelines. Whilst we cannot shake hands and have to keep our physical distance, we can continue to personalize all stay experiences and will remain emotionally close. What I am still pondering on is how we can ensure we can still provide convivial, comfortable, physical environments and not make the experience too clinical. Many are talking about "stripped-down" experiences, which is anathema to a luxury hotelier. We have to ensure the experience is not stripped down emotionally.
What do you predict the future of travel will look like once our world starts to return to normal again?
Unfortunately, I think that travel, by which I mean getting from A to B will, apart from for the very rich who can travel privately, become more onerous, with airports becoming even more unpleasant places to navigate. In the short-term, it is inevitable that we will travel less and do so more locally. As we have seen the environmentally positive impact of less travel – cleaner seas, lower air pollution – perhaps we will all reflect on how we travel and aim to do so more responsibly.
How are you encouraging guests to feel safe to travel again, whether it's encouraging more sanitization and hygiene practices by staff?
Prior to reopening the hotel, the staff will be fully trained on all our extensive hygiene practices. Every touchpoint has been analyzed to ensure they are safe and we will communicate extensively with guests via their travel agents, via our website and in confirmations on all the regimes we have in place to ensure their well-being. I do think that small, luxury boutique hotels such as The Beaumont are best placed in this new environment to continue providing personalized experiences to guests, even within the parameters of the new hygiene regimes. The very nature of our size and the layout of our hotel means that we never have queues at the front or concierge desks. We know the arrival and departure times of all our guests. All our meals are served a la carte; we do not have large conference facilities, with many people hanging about in the lobby or ante-rooms. Small hotels are flexible and easy to control. And with strong personal connections with the guests – most of the staff have been there for a long time and know our guests well – there is a trust and confidence that guests feel and we will do everything required to warrant that.
When do you think people will feel safe to travel again? What are your predictions for travel in 2020?
Clearly it requires a vaccine for people to feel entirely safe to travel again and backed up by instantaneous testing, all documented in a health passport, as mooted by some experts. I do think the perception of risk does differ from generation to generation, with those at the younger end of the spectrum feeling much more comfortable about venturing forth. Nevertheless, if I had to put a time on it, I would say that by the second or third quarter of 2021, we should be back to some form of 'normality'. I think the remainder of this year will only see a very cautious comeback although there is clearly pent-up demand and many are ruing the fact their vacation plans for 2020 have effectively been canceled. The industry has been through crises before and has always shown itself to be very adept at adapting: I have no doubt we will adjust to this new normal.
What initiatives is The Beaumont putting in place post-Covid-19?
We are thinking through the entire customer journey, from touch-down in the country to their room. What are their concerns at every point and how can we address them? How can we make them feel secure and comfortable? These initiatives are inevitably fluid at this stage, as scientific and government advice changes, but they will include the amenities we put in the limos that pick guests up at the airport, to the welcome packs they receive in their rooms, to the advice our concierge will give on the places we most trust in the city, to the arrangements we will have with key destinations in London for private visits.
What do you want our UHNW readers to know about the state of travel?
I would like them to know that travel as we knew it is not possible in the short-term but I have no doubt the travel industry has a great future and I am very excited about it.
What else important topics.
I sincerely hope that this pandemic is treated as a rehearsal for how to deal with the climate crisis. What we are seeing is that we need international cooperation and a global response to a global crisis and I am hopeful our leaders will learn from the way this pandemic was handled that, like Covid-19, climate change does not respect borders and affects us all. And lockdowns for some months won't reverse the damage this global warming crisis is causing. We need to act now.
We have only one planet and hotels must play a part in fighting climate change. Quite rightly, travelers are beginning to make their hotel choices based on the environmental footprint of a hotel. We have even seen this play a role in recruitment: staff are choosing to work in hotels that make a positive contribution. That gives me hope.