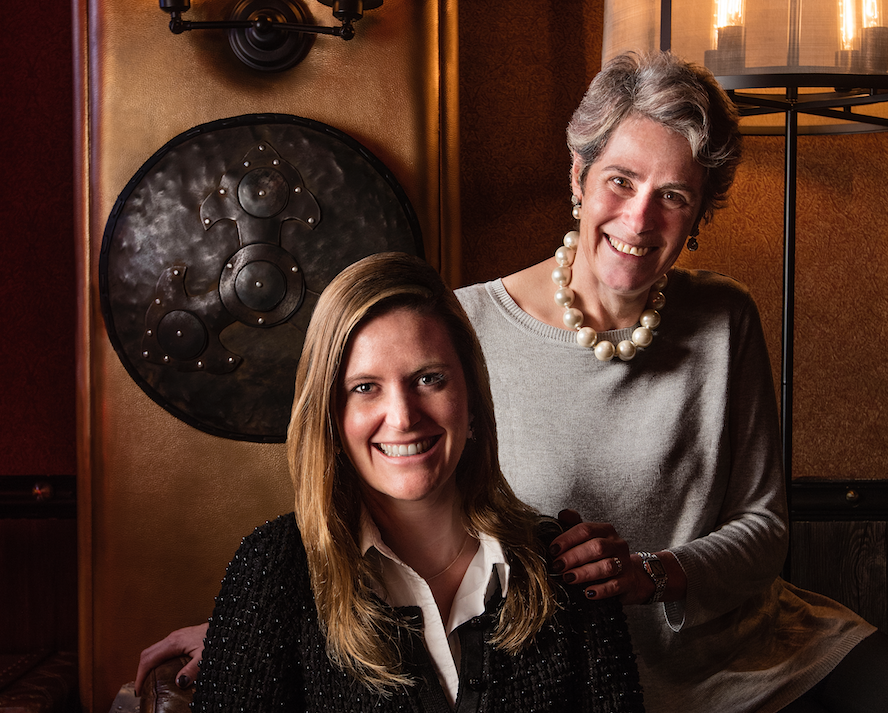 Scotch whisky company, The Last Drop Distillers, isn't your average whisky company. The UK-based brand specializes in finding rare casks in Scotland and around the world to tell the story of a spirit from another time. Not only are the casks they procure extremely old and rare, they're also extremely delicious and infused with The Last Drop's special touch.
We speak to two women behind the prized whisky brand, joint managing directors Rebecca Jago and Beanie Espey (their fathers, Tom Jago and James Espey OBE founded the company in 2008) on what makes The Last Drop so special and what it means to be a female in a male-dominated field.
[See also: The Extraordinary Whisky Decanter From Last Drop Distillers]
Tell me how you each got started in the whisky business
Rebecca: We knew that our fathers worked in a beautiful building and did something quite mysterious, but I suppose it wasn't until later that we developed a full appreciation of what that was. Our fathers — the founders of The Last Drop —  created some of the world's most well-known and best-loved spirits brands: Johnnie Walker Blue Label, Chivas Regal 18 Year Old, The Classic Malts and Baileys Irish Cream and Malibu, two of the most original and successful new drinks categories in the world. They were the ones to spark our passion for fine spirits, and — equally importantly — for this wonderful and unusual business. They have taught us so much, from how to taste and assess the spirits we come across, to how to run a thriving and principled business within the industry.
Beanie: After my first marketing internship with leading sherry brand Gonzalez Byass, I pursued a career in luxury brand Marketing at L'Oréal and then Chanel, before joining The Last Drop Distillers as sales and marketing director in 2014. My father, James, The Last Drop co-founder, undoubtedly played a significant role in my journey into the spirits world — as Rebecca mentioned we both grew up immersed in the drinks business and it seemed an entirely natural progression to join The Last Drop team, especially as Dad was looking to step back a bit.
Rebecca, how did your design background and Beanie, your luxury brand-marketing background, help you prepare for the world of whisky, and specifically, The Last Drop.
Beanie: I have always had a passion for brands that provide consumers with a particularly special product or emotional experience and where provenance is a key part of the story. My first wine and spirits love was sherry when I was a Spanish student back in 2003 in Spain; I got totally swept up in the land, passion, ethos and people behind sherry wines — and those same qualities are present in the whiskies, cognacs and fortified wines that we bottle for The Last Drop Distillers.
Rebecca: I think my background in design has given me a different approach to the running of a business. Beanie and I have spent many fruitful hours questioning our approach to different situations and looking for the creative and exciting answers that allow us to move the business forward — not necessarily in the most obvious direction, but in one that allows the brand to flourish. Our task is to seek out the rarest and most delicious spirits in the world: this is neither conventional nor straightforward. Taking a step back from the obvious allows us time to look at our quest in different ways, often leading to more interesting and sustainable solutions. I think that, together, we brought more structure and discipline to the business, alongside some creative improvements in our communications and packaging.
What are the challenges of being a woman in a male-dominated industry, and do you hope to change that notion by hiring other women to bring onto the team?
Beanie: The spirits world has traditionally been a more male-dominated industry but there is an ever-growing number of exceptional women doing incredible and groundbreaking things within the industry. Some people might have a stereotyped image in their mind of the people who work in the spirits world but the fact our office is now made up entirely of women shows that this stereotype couldn't be further from the truth
—
and a notion we, among others, are steadily changing. It can be a challenge to shift people's perspective on this subject, but it is something that we really enjoy doing and seeing the industry change and grow.
Do you have advice to those new to whisky on how to approach drinking it?
Rebecca: Whisky can be enjoyed in many different ways: It is an incredibly versatile spirit. There is no "right way" to drink whisky; it is very much a matter of personal taste. With a fine and rare whisky, it's always worth trying the spirit neat first, so that you can experience the nose and taste neat. Many whiskies will benefit from a drop of water to open them up, especially if they are high strength. My father, a lifelong devotee of blended Scotch whisky, used to pour himself a dram of a fine Scotch blend and add a little water, at 6pm every evening while he reflected on his day.
What are some of the trends you are seeing in the luxury spirits industry? The whisky world?
Rebecca: There has been a notable increase in the number of smaller, craft-based businesses in both the wider world of luxury and in the spirits industry. In Scotland, no fewer than 18 new distilleries have been started over the last five years, and many of these are independent businesses, alongside which, the giants are also taking a more "niche" approach to some of their distilleries, for example the re-opening of the Port Ellen Distillery on Islay by Diageo. In fact, more than 200 distilleries (mainly gin) have started in the UK since 2014, reflecting the interest in
—
and demand for
—
smaller brands with real provenance and stories to tell.
Beanie: It's likely that many of these small businesses will eventually be acquired by the big players, as happened to us at The Last Drop (we were acquired by Sazerac in 2016) or brands like Sipsmith (who were acquired by Beam Suntory, also in 2016). Clearly these larger businesses have understood there is a demand from the consumer for smaller niche or luxury brands which have a uniquely consumer-oriented approach.
Rebecca, tell us about some of your discoveries that have benefitted The Last Drop?
Rebecca: I think the most thrilling find for The Last Drop was the 1925 Cognac, which was discovered hidden behind a wall in a barn in the Grande Champagne region of Cognac, France. Distilled in 1925 by the current owner's grandfather, it was hidden away from the approaching Germans before WWII, and lay there forgotten until late 2018, when the owners were doing some renovation. I was lucky enough to taste it just after it was discovered, and we knew instantly that we were tasting something incredibly special. Added to which, it was distilled in 1925, the year my father was born, and bottled in 2018, the year he died.
What do wine and spirits mean to each of you?
Rebecca: We have grown up immersed in the world of spirits of wine, and we are fortunate enough to have not only worked in, but loved this industry alongside our families. We would like to honor the legacy our fathers have passed onto us and continue to find and bottle the world's finest, rarest and most exclusive spirits, for the delectation of friends and connoisseurs alike.
Beanie: Wines and spirits have taken us to lots of exciting and invariably beautiful places, and we've shared some really exceptional trips — both as a team and individually. We have been to all four corners of Scotland, wild regions of France, deep into the picturesque Portuguese valleys and into the blue grass of Kentucky. We have been inspired by the passion of our fathers and embraced the quest to hunt down caches of wonderful drink, which is something we take enormous pride in doing.
What is your favorite expression from The Last Drop?Rebecca: For me, it is undoubtedly the 1925 Cognac which we bottled at the beginning of 2019. This 93-year-old spirit yielded only 182 bottles, each one a tiny piece of history.
Beanie: This is always such a hard question to answer — it's like asking which is your favorite child! I take huge delight in the 48 Year Old; a delicious, creamy bourbon-aged blend and the first release after Rebecca and I joined the business, so it's momentous for me personally, too.
What's on the horizon for The Last Drop?
Beanie: Following its accolade of Scotch Grain of the Year in Jim Murray's Whisky Bible 2020, The Last Drop Distillers is looking forward to sharing further details regarding our forthcoming release No 17, The Last Drop 1977 Dumbarton Single Grain: with an outturn of only 150 bottles, this Extremely Rare bottling will be on sale before Christmas this year.
Rebecca: We are particularly excited for the future of The Last Drop as we explore new categories, including Indian and Japanese whisky, and others. In addition, we are building stocks of American whiskeys down in Kentucky, for cold-aging in the refrigerated Warehouse P at Buffalo Trace Distillery. Generally, it's not possible to age bourbon beyond around 23 years, due to the temperatures in Kentucky, and the use of virgin oak, but with the Warehouse P project we — and the team at Buffalo Trace — are aiming to create super-aged American whiskeys of 40 or more years old. Watch this space!
For more information, visit lastdropdistillers.com