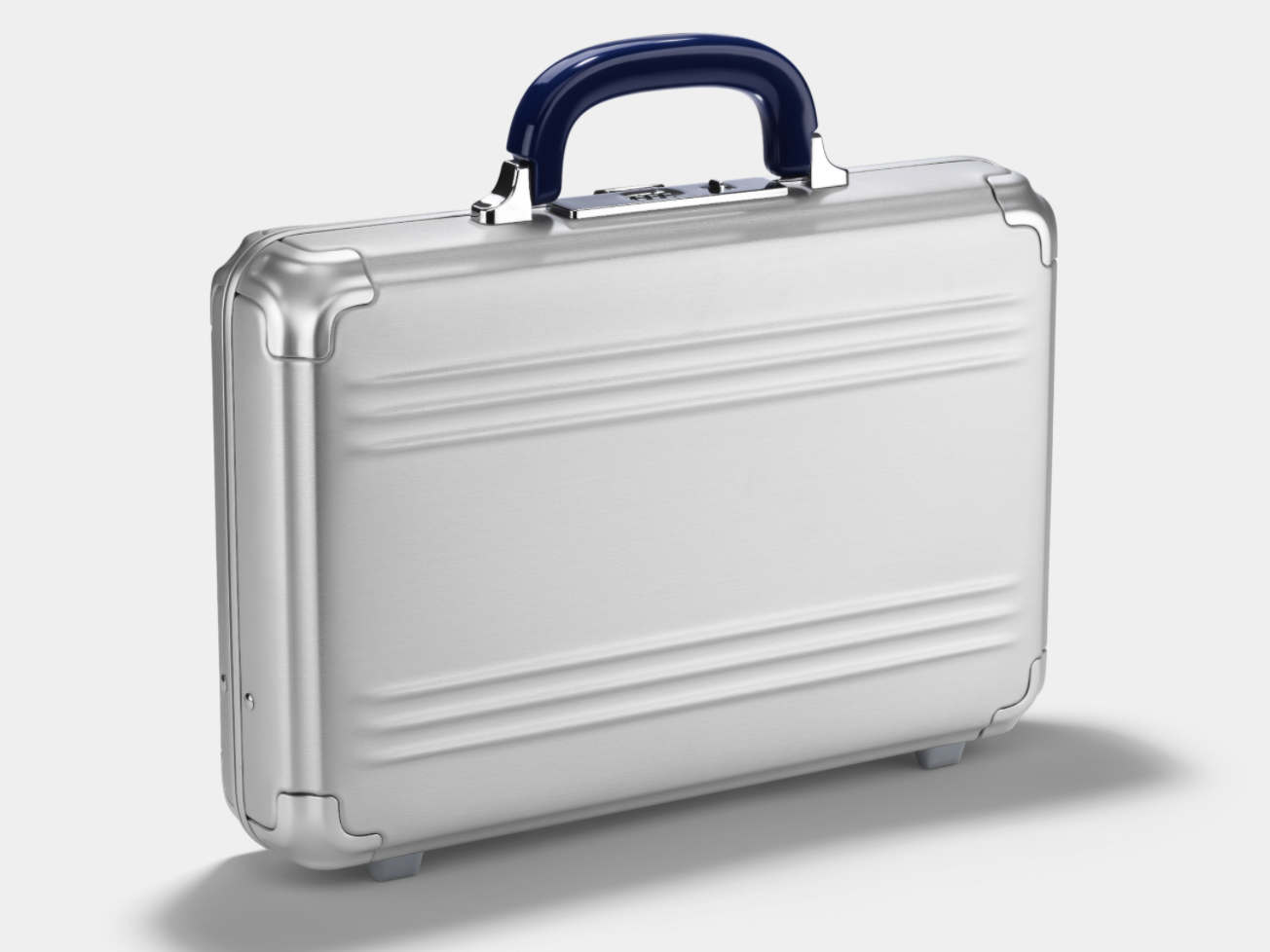 American travel brand Zero Halliburton first introduced the world to aluminum suitcases in 1938. Chances are, you've seen one of these suitcases in more than 200 Hollywood movies and TV shows (most notably James Bond movies). Even the president's 'nuclear football' (a briefcase whose contents include launch codes for nuclear weapons) is said to be housed in a Zero Halliburton suitcase, albeit covered in black leather.
Recently, the brand unveiled its complete redesign, which honors its decades-long heritage while appealing to today's modern traveler. CEO Tom Nelson (formerly with Tumi) speaks exclusively to Elite Traveler on the patented design elements that are shaping the future of the brand, what's to come and what makes Zero Halliburton so special.
How is Zero Halliburton keeping the brand fresh while still honoring its heritage?
Zero Halliburton's DNA is rooted in innovation and pushing boundaries. The greatest homage we could pay to our pioneering heritage was to make the bold decision to change everything. When we approached the project, we told our design team at PENSA that nothing was off limits, except the iconic Zero Halliburton double-rib — although we were open to modern reinterpretation. The result is a stunning, original design that is still recognizable as the heir-apparent of the original Halliburton Travel Case.
How is the company appealing to the modern traveler?
When we embarked on the new design project, we spent a lot of time studying travelers and how they used their luggage while in transit. We payed especially close attention to the so called 'pain points' associated with their journey. This anthropologic research combined with our 80-plus years' experience as a travel brand — and our personal experience as seasoned travelers (and design snobs) — led us to labor over every single detail and ultimately create new cases that are fully customizable to meet the high standards of design and durability that today's travelers demand. We think the new collections are breathtakingly beautiful, incredibly strong and a pleasure to travel with.
Tell me about your decision to bring on an industrial designer versus a product designer. How does this set the brand apart?
We knew we had to do something bold and monumental — to create a forward-thinking design that would set the course for innovation. We decided to work with industrial design firm PENSA because we felt they would bring a fresh, unique vision — which they ultimately did. We wanted to rebuild the brand in a way that pays homage to the past but is designed for the future and, in the process, create an incredibly resilient collection of premium travel cases.
Why did you personally decide to make the leap from Tumi, a brand with a household name, to develop Zero Halliburton? What have you brought to the brand to help give it new life?
The chance to reinvent a legendary brand from top to bottom is a once-in-a-career opportunity. It combines the excitement of a startup with the challenges of protecting an 80-year history and updating the legacy systems that come with it. ZH has reinvigorated me personally and professionally as much as we have worked to breathe new life into the brand.
What are your plans for the future of the brand?
True to our heritage of innovation, we'll continue to evolve our groundbreaking design and add new collections. We'll be launching seasonal colors for our Edge Lightweight cases beginning this Spring and are currently designing a soft-side travel collection that will be as distinctive and original as our new hard-side cases.
What are some of the innovative design elements or components of the luggage that sets it apart from other brands in the industry?
The result of two years of extensive research and testing were three entirely new features: our patented Concave Edging, our patented ZH Chassis and the textured brushed-aluminum exterior. Through the unique architecture of our Concave Edging, we've created a way to mitigate a lot of the damage that is often inflected upon aluminum luggage. 
Many other luggage brands are involved in collaborations — is this something we can expect from Zero Halliburton?
Absolutely! And we should have some news in the very near future. That said, it's important to us to be authentic in our approach to partners. The goal isn't to co-brand just for the sake of publicity. For Zero Halliburton, it's vital that any collaboration brings something beneficial to the customer and stays true to who we are.
What has feedback been from longtime Zero Halliburton customers when you relaunched the line?
We embarked on the reimagined Zero Halliburton design with the understanding that the consistency of our past brought comfort to many of our loyal customers. We took special care to directly communicate that an exciting change was coming for months in advance of the launch to make sure it didn't come as a shock. Because we stayed true — and improved — upon our legacy of strength and security in our contemporary interpretation, the reaction to the new generation of Zero Halliburton has been extremely positive. Our history is still here, but with a modern (concave) edge.
Do you have a personal favorite piece?
One of the best perks of my job is the access to all of our great collections. I'm not sure I'd ever be able to choose just one! I carry the Journal Collection backpack every day to work and love the look as much as its functionality. I'm also currently obsessed with our Edge Lightweight Trunks. Trunks are having a moment, and I can't wait to debut it on an upcoming ski trip. However, the Pursuit Aluminum Carry-On in silver is perhaps my true favorite. It is the hero of our entire redesign and truly makes an incredible statement with the blue handle. I've been approached by people several times already at the airport with my case. It's a showstopper.
To shop the collection, visit zerohalliburton.com