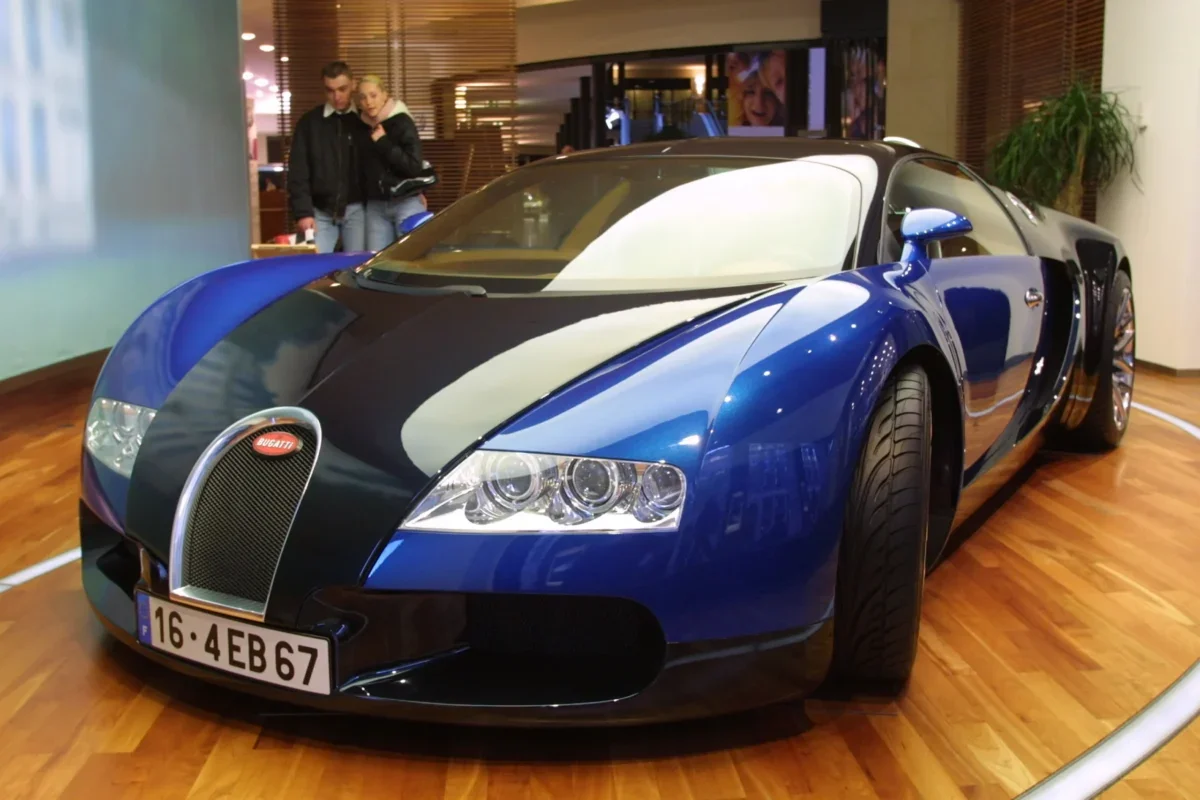 The market for beautifully crafted supercars is hardly undersubscribed, but for the last seven years Bugatti has attracted big names like no other. Reading like a who's who of sports, fashion and music, the list of Bugatti Veyron owners is a private members club that exudes extreme wealth as much as it does exclusivity.
Acclaimed by British motor magazine show Top Gear as the car of the decade, the Bugatti Veyron – built by Volkswagen – has set pulses racing ever since production was announced in 2005. And with a top speed of 431 kph, 1,001 horsepower and the ability to move from 0-60 in a scarcely believable 2.5 seconds, the one-time world's fastest car is understandably an object of desire.
Named after 1939 24 Hours of Le Mans winner, Pierre Veyron, who partnered with the tragic Jean Pierre Wimille to victory at the annual motor endurance event, this powerhouse will burn through a full tank of gas in 12 minutes. Unsurprisingly, maintenance isn't cheap, either; the car reportedly costs hundreds of thousands of dollars to maintain annually.
Naturally, Bugatti have other highly desirable and iconic models in their stable, including the new Bugatti Chiron, many of which are slightly more affordable than their enigmatic brand leader; yet the Veyron remains unavoidably in vogue.
Only 300 have been sold worldwide since the car's inception in 2005, which isn't necessarily a surprise considering the Veyron's base price of $1,700,000, with an extra million added on for the Bugatti Veyron Super Sport Gold and Diamond. And even if you have the cash, ownership of these supercars is not to be taken for granted; potential owners can wait upwards of a year to get their hands on one of the most exclusive prizes within the automobile world.
The elite list of prospective owners was originally led in 2005 by the wife of former VW chairman, Ferdinand Piëch, however the list has grown extensively since then. Some motoring personnel, such as former Bugatti chairman Thomas Bscher, have sacrificed their slot on the waiting list however majority have looked for any way possible to get their hands on the decade's most desired supercar.
In terms of look, many owners stick to the all black standard, however a number of more eccentric individuals have plumped for a variation on the Veyron's two-tone theme. Watch out for members of our list who have customized their models with red, chrome and even pink.
Floyd Mayweather Jr
As the world's highest paid boxer it comes as no surprise that Mayweather is the proud owner of one of the planet's most expensive cars.
The boxer recently sold his Bugatti Veyron Grand Sport for sale on eBay, at a huge $3.95 million. However since then he has gone on to buy a 2012 Bugatti Grand Sport Convertible.
Mayweather bought the car days before his fight with McGregor, sourcing it from car-salesman-to-the-stars Doctor Bugatti. Whether you're a fan of Mayweather or not, it is hard to deny that he is one of the most well known celebrity Buggati Veyron owners.
Richard Berry
Berry, grandson of the man labelled "Mr Yellow Pages", holds the dubious honour of being the first owner of the Veyron in glorious evergreen.
The 47-year-old is renowned for his enviable car collection and boasts a garage including supercars, formula Formula One racers and vintage vehicles too.
Berry's legendary grandfather, Loren M. Berry, built up the telephone directory industry to the extent that the family business, L.M. Berry & Company, was sold for roughly $1 billion in 1986.
That tidy sum will keep Mr Berry Jr in supercars for a little while yet.
Cristiano Ronaldo
The Real Madrid soccer star has had a patchy history with cars. When living in Manchester the Portuguese captain crashed his two day old red Ferrari 599 GTB Fiorano into a roadside barrier near the city's airport, leaving the vehicle a write off but emerging from the wreckage unscathed.
Thankfully, then team-mate Edwin van der Sar was driving just behind Ronaldo at the time of the crash and was able to whisk his stricken friend away from the scene in a stylish Bentley.
He is the only member of this countdown to not only possess a Bugatti but to have also engaged in a foot race with one. In 2008 the winger took on the high performance car as part of an advert for boot sponsors Nike.
Somehow, despite the eye-watering 0-60 speed of the Veyron and Ronaldo's own top speed (27 mph) the then 22-year-old still managed to emerge from the duel victorious.
Nevertheless, the Veyron obviously left an impression on the young Ronaldo as less than two years later he celebrated his move to Spanish giants Madrid with a black version of his own.
Simon Cowell
The music mogul behind such shows as American Idol and the X Factor is renowned for his eclectic choice in cars.
He was first spotted driving his all black Veyron around LA in 2008 as he and then girlfriend Terri Seymour monitored developments on his custom built $8 million dollar home in the fashionable Beverly Hills residential area.
In 2011 Cowell hit the headlines for leaving his $1 million Bugatti at home in the garage, plumping instead for an all-black Smart ForTwo Coupe and in 2012 he chose to scoot around his exclusive neighbourhood on a three wheeled Can-Am Spyder motorbike while he recovered from a chest infection.
The 52-year-old is also believed to own the keys to a Rolls Royce Phantom Drophead Coupe. In an interview with Top Gear he raved about his purchase, saying: "It's the most beautiful, most comfortable, best-engineered car ever built. I can hardly bring myself to say it but it's – oh, sod it! – perfect."
However, the record releasing entrepreneur, estimated to be worth well over $100 million, is often seen out in his Veyron when spending time in the US for filming shows from his American Idol franchise.
Jay- Z
In 2010 the rap artist received a $2 million Bugatti Veyron Grand Sport from his wife Beyonce to mark his 41st birthday.
It is understood that Ms Knowles-Carter, 31, ordered the car a year in advance to secure her beau the most exclusive of birthday gifts.
The pair, married since 2008, have recently produced their first child, Blue, in January 2012. Hopefully Jay-Z has found a way to fit his young daughter's car seat into the Veyron.
The highest earning couple in showbusiness, Beyonce and Jay-Z also have a Rolls Royce Phantom, Ferrari F430 Spider, Maybach 62S and a Pagani Zonda Roadster in amongst their motoring garage.
Tom Brady
The three-time Super Bowl champion still manages to find time to squeeze his 1.93 metre frame into a Veyron when not contributing to a career tally of over 40,000 throwing yards.
The 35-year-old is frequently seen behind the wheel of a fleet of Audis, however his recent fling with the Veyron has not gone unnoticed. The quarter back's red Audi R8 has long been synonymous with the future hall of famer, however Brady is understood to prefer his Bugatti in a more refined black.
Brady has also been seen in recent months out and about with model wife Gisele Bundchen in an all black Rolls-Royce Ghost. Perhaps black is the new red for the New England Patriots star?
Tom Cruise
Cruise, 50, turned up to the 2006 premiere of Mission Impossible III in his Veyron. The envy of the assembled crowds was dispersed somewhat when the Oscar -nominated actor struggled to open the passenger's door.
The Risky Business star once declared: "Porsche 911, there is no substitute" and indeed owns a special bulletproof version of the German manufacturer's flagship vehicle.
Nevertheless, the ageless action movie supremo cannot resist an eye-catching escort to various movie premieres. Last year, as part of the promotional circuit for his fourth outing as agent Ethan Hunt, he turned up at the Moscow premiere of Mission Impossible: Ghost Protocol in a $250,000 BMW Vision EfficientDynamics.
Away from movies, the Risky Business star would be forgiven for spending more time in his Bugatti after his marriage to actress Katie Holmes ended in 2012, although his six-year-old daughter Suri may have something to say on the matter.
Tim Cahill
Perhaps a slightly unlikely name to sit on this list but New York Red Bull's latest big-name signing has already proven himself more than able to compete in the expensive car stakes. During his time living in England, the Australian playmaker was spotted on more than one occasion cruising to and from the Everton training ground in his unusual blue model Veyron.
In 2008 Cahill's then girlfriend, now wife, Rebekah Greenhill, was snapped trying to park the luxury vehicle in central Manchester.
Since moving to the MLS, Cahill has not been seen out in his beloved Veyron. Has he been forced to leave it in England?
Ralph Lauren
The 73-year-old fashion designer is understood to have a portfolio of over 70 cars, although it is his black on black Veyron that has set tongues wagging on and off the catwalk. The car, black with orange accents, is rumoured to be one of only six Super Sport World Record Edition vehicles produced.
If this is the case Lauren, estimated by Forbes to be worth a cool $7.5 billion dollars in 2012, will be only the second American to own the keys to this most exclusive edition of the world's most exclusive car.
The clothing icon opened the doors to his vault of motoring wares as part of a feature in Vanity Fair in January 2011, and among the highlights of Mr Lauren's collection were a 1958 Ferrari Testa Rossa, a 1938 Alfa Romeo Mille Miglia Spyder, the 1957 Jaguar XKSS and a 2010 Lamborghini Murciélago Super Veloce.
Nigo
The Japanese music producer and owner of the 'A Bathing Ape' range of clothing, is the only individual on this list to be a pink Bugatti Veyron owner.
Never a man to follow the crowd, Nigo personalised his model of the iconic car with pink and purple camouflage. Clearly a fan of the military aesthetic, the Japanese 41-year-old has also been spotted with a more orthodox green camouflage Rolls-Royce Phantom.
Fans of Nigo's clothing line and music have been split on his taste in car styling- some labelling it devastatingly bold, others just devastating.
Lil'Wayne
Another black Veyron to add into the mix, this time courtesy of rap star Lil Wayne. Wayne reportedly inspired friend and colleague Birdman into purchasing the world's fastest car although whether or not he received a discount for the recommendation is unclear.
What is certain, however, is 'The Block is Hot' artist loves all things Bugatti and despite being the father to four kids, and releasing four albums between 2010 and 2012, still finds plenty of time to take his hottest wheels out for a spin.
Amongst his stable of other vehicles Lil'Wayne also owns a blue Rolls-Royce Phantom Drophead Coupé, which despite costing a cool $443,000- at the time the most expensive offering from Rolls-Royce on the market, the vehicle still comes in at nearly $1.3 million cheaper than the Veyron.
The rap star even chose to sing about the vehicle on his 2009 mixtape No Ceilings. On the record, originally penned by Fast Life Yungstaz, he talks about having a Bugatti in chrome. Can we expect a new addition to the Wayne Veyron stable in the near future?
Drake
Another day, another rapper, another black Veyron. Yet with Drake's Bugatti Veyron being the highly exclusive Sang Noir, don't expect to see another one of its kind appear on this list, if anywhere at all; only twelve were created, with Drake reportedly owning the only one in the whole of Canada.
Taking inspiration from the Bugatti Type 57S Atlantic first created in the mid-1930s, the Sang Noir was introduced to the luxury car market in 2010, selling for a cool $2.2million.
Yet with state of the art features including a 8.0-litre quad turbocharged W16 engine that created 987bhp, and was capable of hitting 62mph inside 2.5 seconds- with the ability to keep going to a top speed of 253mph- Drake is in good company with fellow Bugatti Veyron owner Tom Cruise, proving himself as, too, having a need for speed.
Flo Rida
The 32-year-old singer-songwriter has had an interesting relationship with his Bugatti fascination. He was banned from driving after being caught drinking driving in his red and black Veyron before being spotted in recent months behind the wheel of a white version of the same car.
The artist, winner of a 2009 People's Choice Award for his hit single 'Low,' has also been seen in a Ferrari 458 Italia and a red Ferrari California.
So is Flo falling out of love with the Bugatti? Not a chance. The artist has most recently been seen cruising in a new chrome version of his favourite supercar.
If all three cars remain in the American's garage, it would mean that Mr Rida owns 1% of the Veyrons sold worldwide.
On the other hand, it may be that the 'Whistle' artist has simply continually customised one of his previous models. Who knows?
Birdman
Another music star drawn to the charms of the Bugatti, Birdman has bucked one trend in straying away from the black Veyron enjoyed by so many on this list.
As part of a photoshoot for Dub Magazine, the 43-year-old showed off his all red Veyron at his home in Miami and revealed that the inspiration for his splurge was Lil Wayne- surrogate son and another member of the exclusive Buggati club.
The artist rubbished claims that the car typically required $300,000 in maintenance costs each year suggesting that because estimates that he has only topped 160 mph on one occasion, he doesn't go fast enough, often enough to test that theory to the full.
The industry veteran claimed that the music industry trend of investing in the Veyron was just "like an achievement."
Roberto Carlos
The former Brazilian soccer star is another big name Bugatti Veyron owner. The now retired left back has been seen out and about in his own black Veyron, having previously enjoyed the Ferrari 355 amongst his range of cars.
Carlos made over 120 appearances for the national side throughout his 12 year international career and his flair on the football pitch has clearly been transferred to his taste in cars.
The former Fifa 2003 cover star was given the supercar as a gift by the owner of Russian soccer team Anzhi Makhachkala, Suleyman Kerimov.
The downside? The 39-year-old is forced to combine his Bugatti driving activities with a role as Sporting Director at Kerimov's ultra-rich club.
Former team mate and Anzhi striker Samuel Eto'o was also quick to join the Veyron camp, however the highest paid footballer in the world- reportedly earning $30 million in 2012- probably managed to fund the vehicle out of his own pocket.
View the original full article via Spears Magazine