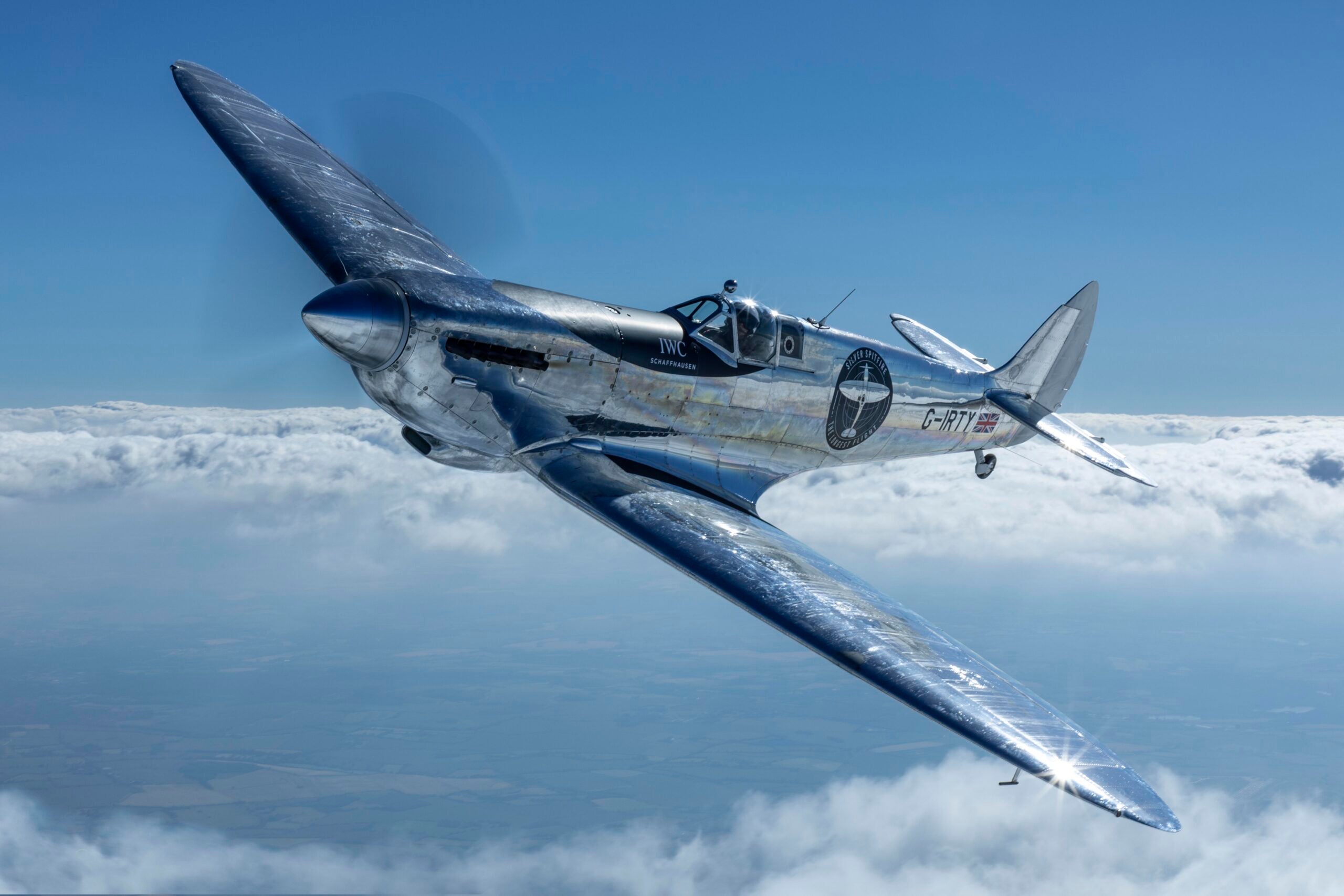 Swiss watch brand IWC Schaffhausen is making history with its Spitfire line in (what else) a silver Spitfire. The company enlisted pilots Steve Boultbee Brooks and Matt Jones of UK-based Boultbee Flight Academy to take "The Longest Flight" in a Silver Spitfire wearing the brand's limited-edition timepiece, Pilot's Watch TimeZoner Spitfire Edition "The Longest Flight," debuted at this year's SIHH.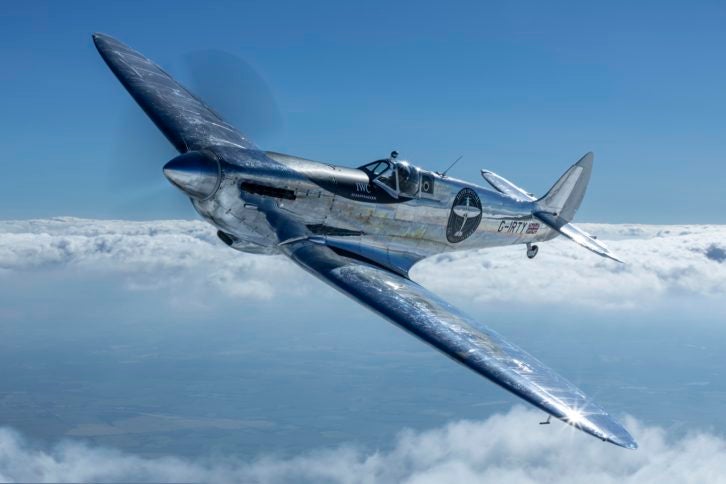 Elite Traveler sat down with both pilots at the end of August after nearly three weeks of flying. The pair took off from Goodwood, UK on August 5 and stopped in Scotland, Ireland, Greenland and Canada before arriving in New York City on August 20, where I got the chance to speak to both of them.
How did you both get started in flying?
Steve Boultbee Brooks: I spent most of my time flying helicopters. I was the first person to fly from the North Pole to the South Pole in a helicopter. Matt has been teaching me and I've gotten into training in the Spitfire quite recently, so it's a huge endeavor.
Matt Jones: I've been flying for 20 years, and professionally for 15 years. Steve and I set up a school together with a two-seater Spitfire 10 years ago [Boultbee Flight Academy], initially teaching people to fly and then giving experience rides as well. Out of that, it's grown a bit and that's how we got the opportunity to buy this airplane. It's a special Spitfire, so we thought, why not do something special with it? 
I'm sure it takes you back in time a little bit.
Brooks: The reason for doing this isn't to say "look at us." It's about the Spitfire. When we bought the first Spitfire, we thought, "What can we do with this?" And we wanted to inspire people. At the time, Spitfires were things kept behind red ropes in museums and you weren't allowed to touch them. We wanted to bring that forward so we got the first permission to fly passengers. We fly 600 people a year at the Boultbee Academy. The reaction of those people is astounding. We have people bursting into tears and crying with joy — the most extraordinary reactions. Afterwards, they go "We had no idea that would happen." It seems there is some emotional association with the Spitfire. And it's not just the UK that feels like that, it's the whole world because the Spitfire is a symbol of freedom for humanity and our desire is to take the Spitfire to the world and let the world see.
Jones: For the British particularly, it was the thing that stopped the Nazi advance throughout the whole of Europe and with this aircraft, they were able to create a wall which meant the Germans couldn't take over the UK. It became this incredible symbol of a generation who had to pay the ultimate price to stand up for what they believed in every time they got in and flew it. 
As a result, it's been an icon and an emblem of freedom. There are people coming through into the academy, we knew it was special but we soon realized just how special it is. And it means the same thing in countries around the world. In the 30 countries we are going to, the Spitfire fought in 26 of them, protecting these countries' borders and ultimately protecting the people and civilization and democracy.
Brooks: From its very outfit, it was built as a defender, not an aggressor. And somehow that comes through, especially with the aesthetic lines of the plane. It's just so beautiful.
Tell me about how the two of you got together with IWC Schaffhausen.
Jones: We started a relationship with Chris at IWC Schaffhausen about seven years ago. We met up and had a few ideas of things we'd like to do. It never quite worked but there was certainly a synergy there. Chris was promoted through the ranks and we had this idea. He happened to be at Goodwood [Motor Circuit in the UK] one day, at the point where the inception had happened. We said we're going to rebuild this incredible Spitfire, which had been in 51 combat missions and is almost completely original. We're going to polish it, and we don't want to make it too much about war, but more about the engineering and we're going to fly it around the world. He was in from the second we said that to him. It was easy coming together, and it was born out of a relationship that had been there for years prior.
How important is a watch as a pilot?
Brooks: It's very beautiful because it's the simplicity of the IWC Pilot's Watch. That is the thing with flying, we use the most basic instruments. It's still a 1943 machine: The dial and everything is updated, but it's the utter basic-ness you can rely on. With a watch and the sunshine, if everything else fails, you can work out where you are and where you're going. It's the simplicity of it that is quite beautiful.
Jones: It's the ultimate backup if you are navigating speed, distance and time. If you know the position of the sun and how long you've been flying for, you know where you are. Pilots even to this day are trained to use [these methods].
Brooks: Even if it's cloudy, you'll put your finger up and see a shadow so you're able to find the sun wherever it is just by the shadow. By pointing your hour hand at the sun you can work out where you are in the world.
When I went to the North Pole, our GPS failed. We had no GPS on the North Pole and we knew our fuel dump was in one direction. By using a simple watch, we were able to point our hour hand in one direction and make out, "That must be London. New York is five hours ahead so that must be New York. LA is nine hours ahead so that must be LA. And we knew our fuel was between New York and LA."
What are some challenges you've encountered during this flight?
Jones: Sorting out the planning phase. Getting permission is difficult because the airplane is old and it's certified in a different way than a modern airplane, so that's taken a long time to get every country to say, "Yes you can come in here." Weather has been more of a challenge than we thought, which is possibly a bit naive on our behalf. Getting through Scotland, Iceland and Greenland, particularly, were stressful. Unlike a modern airline where you can fly through clouds and you have weather radar, we don't have any of that. We always need to see where we're going. The airplane is quite quick; it covers a large distance in a short period of time, and up there, there is no weather information. You just have to fly and hope it'll be good when you get up there. Sometimes it is but sometimes it isn't. 
Brooks: That's the hardest part. We have a really strong team of people, there are six of us in all. We are a very capable, able people. The sheer amount of logistics and admin and work that goes into something like this is astounding. My phrase so far this trip is "Hurry up and wait." We're always rushed and then we have to wait.
It's no secret there is a global pilot shortage. How are you inspiring a younger generation to get into flying?
Brooks: I think we have a real problem. When we stopped young children from going into the cockpit at a young age – that's what you'd do, you'd go to the cockpit and sit with the pilot and see all the dials. I think that inspired so many people, and of course, you're not allowed to do that anymore. I think that has a big part of it — it's about inspiring a younger generation.
For some reason, the Spitfire shouldn't [inspire] because it's 80 years old now but for some reason, it absolutely inspires. That's a major part of what we're doing. We want to have people come up and touch it, sit in it and plant that seed so young people do go on to be pilots.
Do you have any personal aviation heroes?
Jones: Tom Cruise, obviously. [laughs] I don't think I necessarily had a hero that took me into flying but since I've been apart of it, certainly now a couple Battle of Britain pilots. It's been a great honor to have met a few and it's been unbelievable listening to their stories. You can't fly these aircraft without thinking of the men and women that flew them.
Brooks: We've flown about 20 people who flew them in the 1940s. Geoffrey Wellum comes to mind. When we flew him, he had a cane. He passed his cane over and he gets into the seat. As his bum hits the seat, it was like his face lit up. His hands went up to it, and he was on it. There were about 30 people watching and there wasn't a dry eye. Tears were rolling down their faces. It was just extraordinary to watch. You hear his stories of a typical day in his life. He said he'd get up in the morning at five and get a cup of tea, walk across the grass with dew on his boots. He'd look up at the dark sky and say "God just give me one last day." Then he'd take off and go to 30,000 ft and watch the sun rise. He said it was like being in heaven with his friends on his wings. He said, "Then, in the next 30 seconds, I would see more incident than you'd see in a lifetime." He'd come down and land and land in the dark. He'd sit in the Spitfire, and he'd say "God thank you." And watch the sun rise for the second day. You can't even imagine.
I'm sure it's such an honor to meet these heroes. What does The Longest Flight symbolize to you?
Jones: There's a huge commemorative aspect to it. The airplane symbolizes everyone who designed, built, flew, delivered, maintained and fought it in combat and who paid the ultimate price so we could live the lives we lead. We'd be in a different place without that aircraft, undoubtedly.
Brooks: It's about the world and taking the Spitfire to the world. We're really looking forward to going to all these different places and sharing it. It really is an astounding icon in humanity and to see that symbol of freedom flying over the Statue of Liberty yesterday. It was an amazing moments to see those two symbols of freedom, one next to the other. 
To follow their journey, visit silverspitfire.com and iwc.com