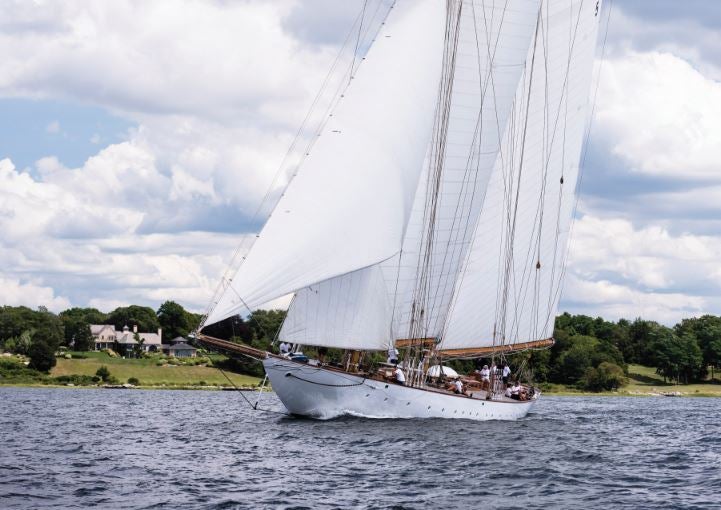 This story originally appeared in the November/December 2017 issue of Elite Traveler.
This year, majestic sails went up around the world as Officine Panerai once again sponsored the largest circuit of classic yacht regattas internationally: the Panerai Classic Yachts Challenge 2017.
The challenge began in Antigua in April and moved around the world before ending in Cannes in late September. On the North American circuit (NA PCYC), this marks the 13th year that the Swiss watch brand has been the title sponsor of some of the most beautiful sailing regattas ever raced in New England. For three consecutive weekends encompassing five races, the NA PCYC 2017 played host to races in Marblehead and Nantucket, MA, and in Bristol and Newport, RI—underlining America's status as a prime sailing destination.
In total, nearly 200 classic yachts participated in the five North American regattas. Easily one of the most spectacular regattas, the Opera House Cup (the oldest US wooden boat regatta) witnessed 65 classic wooden boats racing a 20.3nm course on the Nantucket Sound.
I had the opportunity that day to spend nine hours aboard the largest schooner in the competition − Eleonora, owned by Zbynek Zak. The 160ft schooner is a replica of the 1910 Westward, one of the world's most formidable schooners. Committed to upholding the golden age of sailing and respecting the grand dames of the sea during that era, Zak has continued to make changes on board based on his study of Westward—making Eleonora a near replica inside as well as outside. She seems to majestically rule the waves and has won many races during the past decade.
While Zak is not a sailor and previously had no sailing experience, he says he bought the boat because he enjoyed the spirit of sailing, a sentiment shared by the exuberant owners and sailors competing in the Opera House Cup on a beautiful weekend in Nantucket.