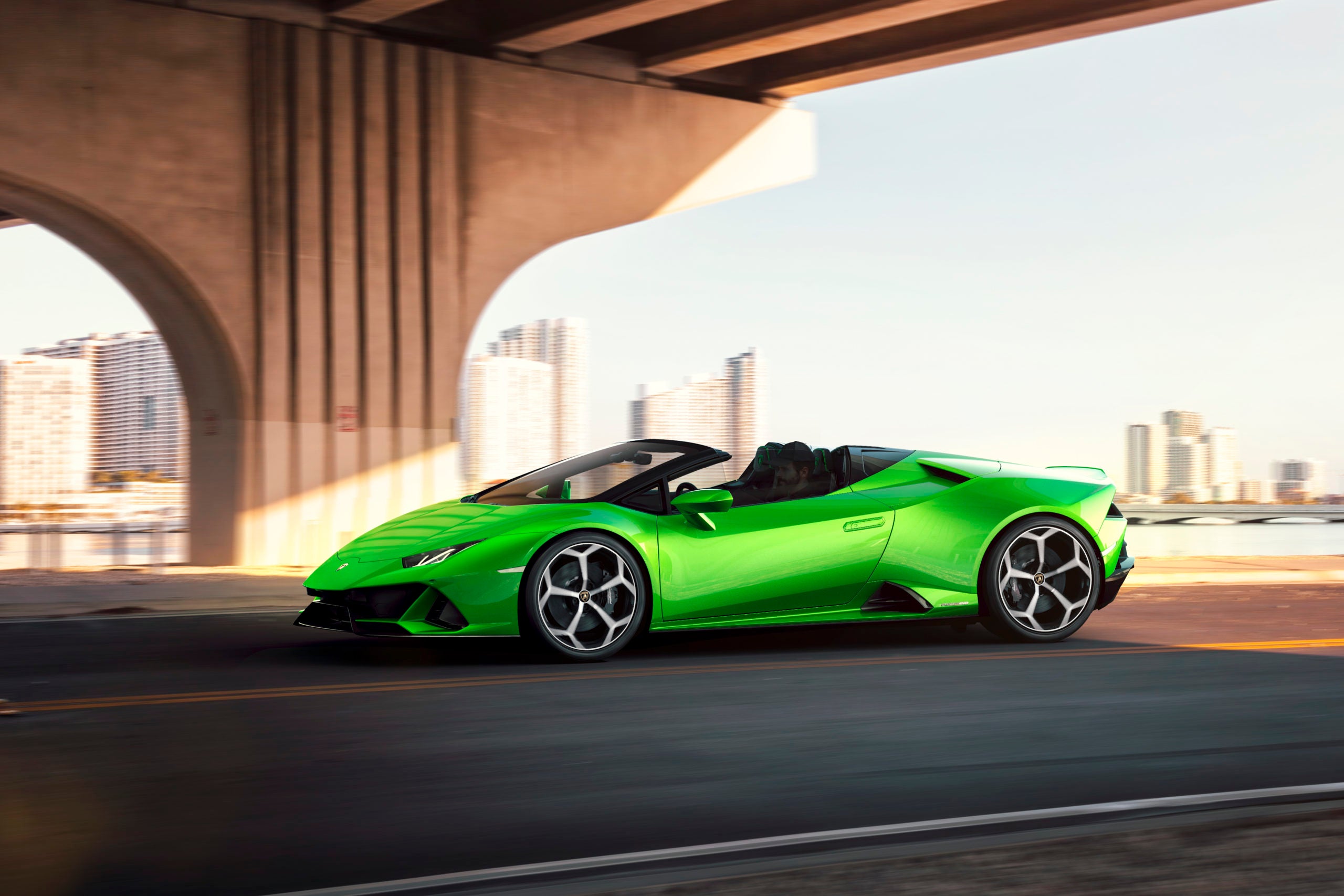 As bespoke vehicle possibilities and additional model options reached a fever pitch, automakers aptly switched lanes. Implementing in-house design aesthetics and technology on objects beyond the garage, manufacturers seek to capitalize on a new class of lifestyle collaborations. To achieve true customer loyalty, car companies are utilizing their proprietary research and development to fully immerse clients in their curated universe with alternative yet stylish branded items that are a far cry from gear with a wearable logo.
Those blessed with height advantages have long known the ubiquitous disadvantages of driving a supercar: never enough legroom (or trunk space, but that's a separate issue). Sacrifice a bit of comfort for the aural, heart-pumping satisfaction of the 2020 Huracán EVO Spyder, and the reward is handsome.
The 5.2-liter V10 reminds humankind of the Raging Bull's raison d'être. It may not be the fastest (0-60 mph in a healthy 3.1 seconds), or the lightest (at 3,750 lbs it's 250 lbs heavier than its coupe counterpart), but it's pure drama. Cars, especially those of the super variety, are supposed to be fun. The unadulterated joy and deep vibrato generated by a Huracán EVO Spyder for both driver and passenger creates a kind of open-air theater in motion.
More than sufficient, the Huracán EVO Spyder's 631 horsepower plays in Strada, pushes in Sport and positively roars in Corsa — there's a mode for every occasion. The Lamborghini Dinamica Veicolo Integrata (LDVI) is an intelligent system that optimizes the vehicle via its adaptive dampers, rear-wheel steering and torque vectoring by recording and reporting handling, braking and acceleration, to name a few. Impossible to grasp in a day or two of driving, it's a promising tech feature that proves Lamborghini's commitment to its five-year-old nameplate.
Once the driving is done, have a stretch and sink into the full-body cockpit of the LBF-750. Deemed the world's first-ever Lamborghini massage chair, it's produced by South Korea-based Bodyfriend, which claims to be the highest-grossing company of its kind in the world.
An accessory that could appear in both the Tron and Transformers universes, LBF-750 offers a binaural beat-giving, stress-sensing set of intuitive programming. Its four eye-catching hues denote Lamborghini — an intentional color-matching process and textbook visual cue.
The exacting exterior design, and the L-shaped lights of the LBF-750 clearly reflect those same elements in the Huracán's composition. The multi-interface controller would be at home in the car's center console, while the 'supercar massage' setting relies on the chair's eight speakers to reproduce the sound experience of a Lamborghini chassis.
"The lines of a Lamborghini must be recognized," Stefano Domenicali, president and CEO of Automobili Lamborghini, tells Elite Traveler. Partnering with an Asian healthcare giant is a small but mighty entrée into a burgeoning market that's not entirely familiar with the Italian automaker. "We are a small company but we are growing. We need to execute the right steps with the right legs."
Lamborghini Huracán EVO Spyder from $287,400, lamborghini.com; Bodyfriend LBF-750 massage chair from $30,000, bodyfriend.com
Images: Dejan Sokolovski, Daniel Kraus