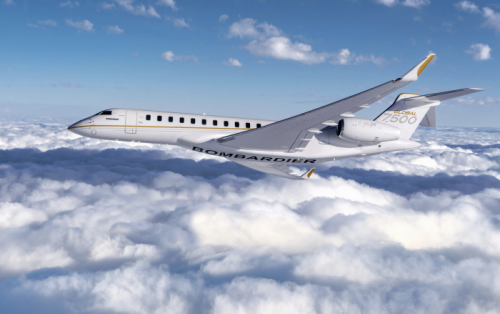 VistaJet has become the first private aviation company to introduce a commercial fleet of Bombardier Global 7500 aircraft, the largest and longest-range business jet in the world.
The state-of-the-art jet has set new industry standards in a number of different areas since its official launch earlier this year. It is the longest in its class at just over 54ft; it is also the only purpose-built jet with four living spaces; and it's the fastest, reaching speeds up to 710mph.
In March, it broke speed records between Los Angeles and New York, hitting Mach 0.925 and sustaining that speed for more than two hours to complete the coast-to-coast flight in three hours and 54 minutes. Later that same month, it broke the New York to London record with a flight time of five hours and 26 minutes under seasonal winds.
Finally, and perhaps most impressively, it already owns the title of the longest-range business-jet flight in history by traveling 8,152nm nonstop from Singapore to Tucson, Arizona.
Thomas Flohr, VistaJet's founder and chairman, said: "Today's announcement is yet another gamechanger for our current fliers and the many additional customers we continue attracting from our competitors. The 7500's speed, range, space and technology will have a significant impact on aviation, and I am so pleased VistaJet is the first and only company to offer it.
"We have had an incredible response from fliers interested in experiencing the 7500 which is reflected by the fact we are already planning the introduction of five additional jets to arrive throughout 2020."
Each of the jet's four living spaces is customizable and VistaJet has decided to include a permanent private stateroom suite and the largest gallery in business aviation from which Michelin-inspired cuisine will be served. The living area includes a six-seat table and introduces the first new seat architecture in business aviation for 30 years, with a patented comfort and deep recline.
VistaJet, which already has an impressive worldwide fleet of 115 aircraft, will offer members the chance to fly the 7500 to 187 countries, and 96 percent of the world. Notoriously arduous journeys such as New York to Hong Kong and San Francisco to Singapore will also be offered as a single flight for the first time in private aviation.
VistaJet members will have the opportunity to request Global 7500 immediately for flight services commencing in January 2020. Throughout the year, the company will be building its portfolio of 7500s and will operate a fleet of up to six by the end of 2020.
The news was swiftly followed by another big announcement from another Vista Global company, XO, which has launched its "Know What You Fly" service to bring transparency and truth to the private aviation industry. The new promise allows members to know exactly what aircraft they are flying on before they book.
The company has categorized its fleet of 115 aircraft into three service classes: Classic, Premium and Luxe. Classic represents the most affordable jets while Luxe guarantees a journey on the company's newest jets. Every jet will go through the same vetting a verification process.
"We are thrilled to be able to offer our members the much-needed 'Know What You Fly' promise," said Flohr. "We believe that the combination of innovative membership options, and the breadth and diversity of the aircraft in our network – more than 1,600 across all our Service Classes – will extend our leadership role.
"We are committed to meeting the needs of every flyer who seeks new alternatives that go beyond the travails of commercial flying, the over-priced and inflexible model of fractional ownership, and the inherent inefficiencies of traditional brokers and jet cards."