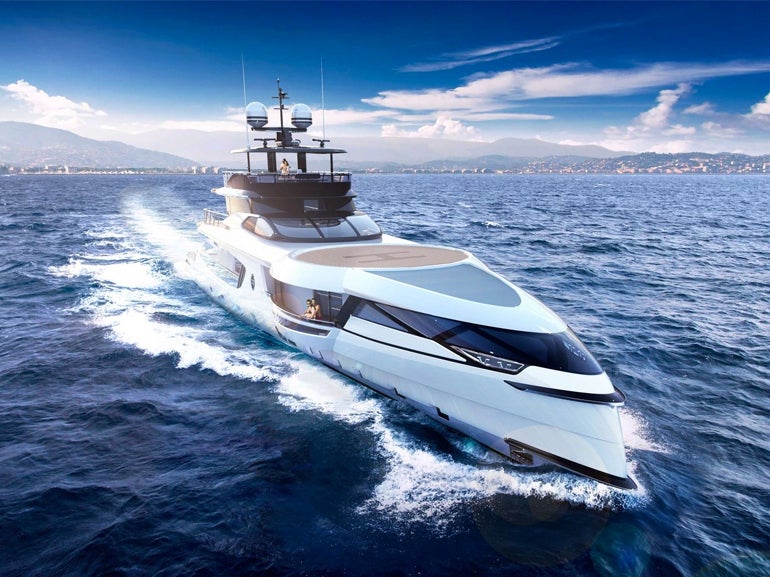 Dynamiq Yachts is aiming to redefine the 160ft superyacht category with the unveiling of its all-new Dynamiq GTT 160.
The Monaco-based shipyard is offering the full-aluminum, 54.5-meter (162ft) superyacht for approximately $21.5m with a build time of 24 months, granting a new level of accessibility to ownership.
The Dynamiq GTT 160 has been designed with a focus on creating the perfect superyacht for the modern-day owner, one hungry for adventure. The yacht offers the performance and accessibility of one far larger but in a more manageable and economical package.
"The idea was to create the most attractive proposal for a superyacht of just under 50 meters," says Sergei Dobroserdov, Dynamiq founder and CEO. "There are so many 50-meter yachts below 500GT available, but they all look very similar with pretty much the same functionality.
"We asked ourselves 'What can we bring to the market that makes more sense for our clients?' The answer was to focus on modern owners' priorities and leave the less important things aside. So we decided to design the GTT 160 with the accent on the key factors: well-being, efficiency and price.
"In terms of naval architecture, we selected a slender hull with a long waterline that is much more efficient and comfortable than a short, wide one. So rather than maximizing the interior volume we analyzed everything an owner wants or needs in terms of general arrangement and features. We then arrived at a concept that provides the motion comfort of a 55-meter yacht with a conventional flared bow."
It offers luxurious accommodation for 12 guests in six cabins and crew quarters for up to eight staff. The master stateroom enjoys pride of place on the main deck forward and features two large fixed side balconies.
There is also a big focus on entertainment. The vast galley has a breakfast bar that can be used by both a professional chef or for cooking in the company of friends. There is also a cinema lounge, a bar area on the upper deck and a sundeck offering ample room for sunbathing.
Most impressively, the main deck aft is dedicated to a massive beach club with a hot tub for 12 people and enclosed Spa area with sauna, hammam and a convertible gymnasium with space for a massage table. These features are more typical of vessels twice her size. There is a helipad with a maximum take-off weight of 3.3 tons.
As well as looking the part, the Dynamiq GTT 160 also benefits from state-of-the-art onboard technology. Hydrodynamic specialist Van Oossanen Naval Architects designed the fast displacement hull that decreases drag and improves fuel efficiency.
The yacht can achieve a top speed of 17 knots with a cruising speed of 14 knots and a range of 4,000 nm. An S version can reach 23 knots. Dynamiq are also offering an optional hybrid system with zero-emission electric mode, which can provide silent cruising at up to eight knots.
The Dynamiq GTT 160 can be configured at bedynamiq.com with an almost endless amount of options.