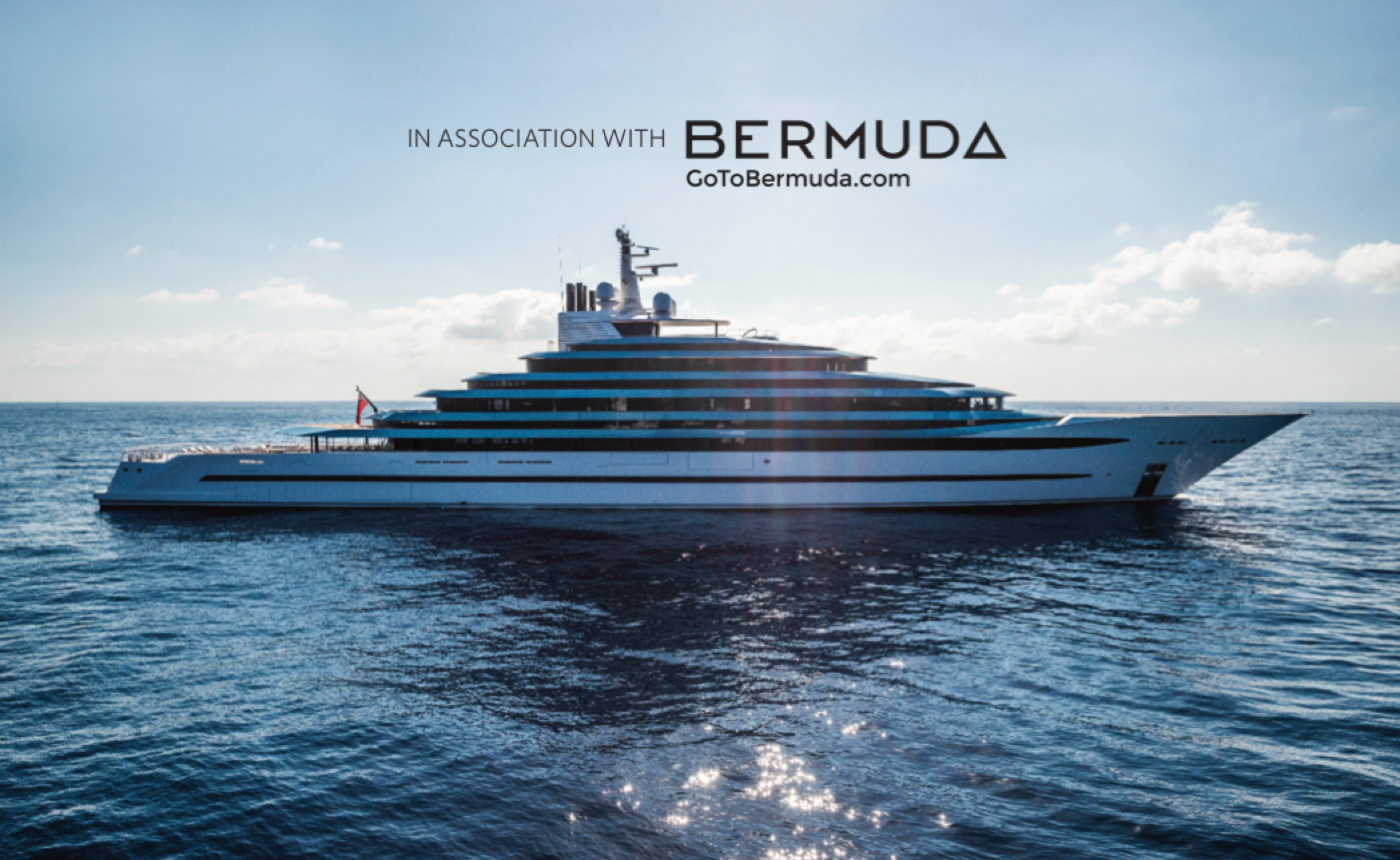 Presented by Bermuda Tourism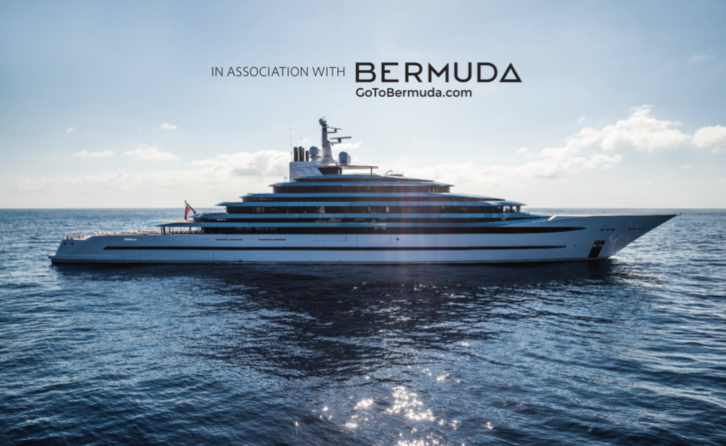 Building a custom superyacht is a one-of-a-kind experience but, like all good things, one that takes time. At the higher end of the yacht-building spectrum, you could be waiting for more than three years for your dream yacht to become a reality, and that is once you've managed to secure a build slot in one of the top shipyards. For those wanting to quickly get on the water with a brand-new yacht there are plenty of options for a fast-track custom build. Read on for our ultimate shopper's guide and get inspired by some of the latest and greatest superyacht launches and concepts for sale at the moment, through the brokerage market.
Presented by Bermuda Tourism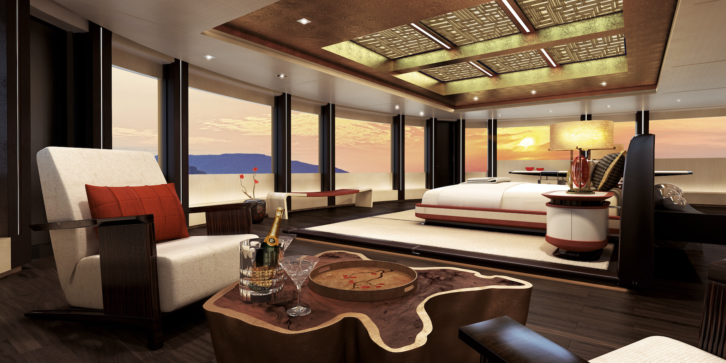 ILLUSION PLUS
With huge amounts of onboard space and an incredible 50-ft beam, Illusion Plus is one of the biggest yachts to hit the water this year. In a showcase of true luxury, multiple spaces over her six decks ensure you'll never be bored when cruising thanks to no fewer than four interior lounges to relax in, two formal dining setups for entertaining, and extensive outdoor decks to soak up the sun. The standout space is the 861-sq-ft owner's suite which is situated on its own deck, offering complete privacy. Her Rolls-Royce diesel-electric propulsion package promises peaceful and efficient cruising.
LOA 290.3 ft Guests 16 in eight cabins Builder Pride Mega Yachts Designer Azure/Rainsford Saunders Design Price $145m Available Q3 2018 Contact Y.CO sales team, experience@y.co, +377 935 012 12, y.co
Presented by Bermuda Tourism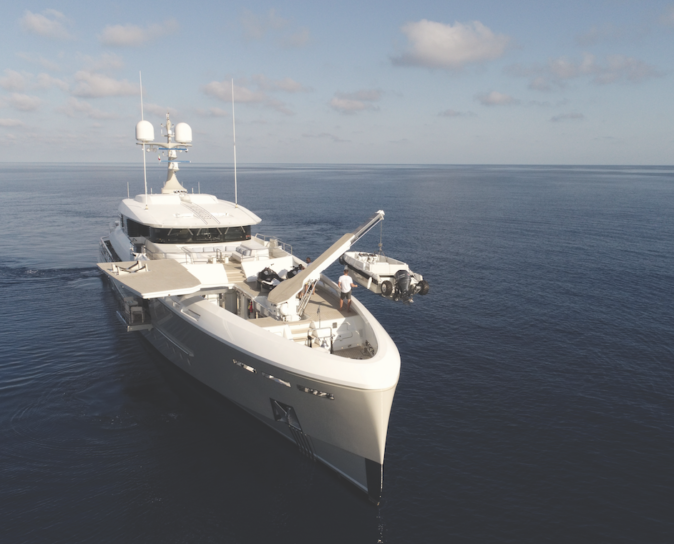 ENDEAVOUR 2
Endeavour 2 is the latest yacht from award-winning yard Rossinavi. Boasting chic Italian design and construction, this tri-deck explorer with contemporary interior styling is the perfect luxury vessel to travel the globe. With an impressive range of more than 5,000 nautical miles, the world truly is your oyster. Highlights include a full-beam owner's suite with panoramic views and a private balcony, alongside an array of versatile outdoor spaces for lounging and entertaining. Her design uses expansive windows ensuring the minimalist interior is flooded with natural light, leaving you connected to the stunning backdrop of your surroundings.
LOA 163.7 ft Guests 10 in five cabins Builder Rossinavi Designer Enrico Gobbi, T4 — Team for Design (exterior), Achille Salvagni Architetti (interior) Price from $34m Available immediately, launched 2017 Contact Peter Hürzeler, managing partner, peter@ocyachts.com, +41 443 902 575, ocyachts.com
Presented by Bermuda Tourism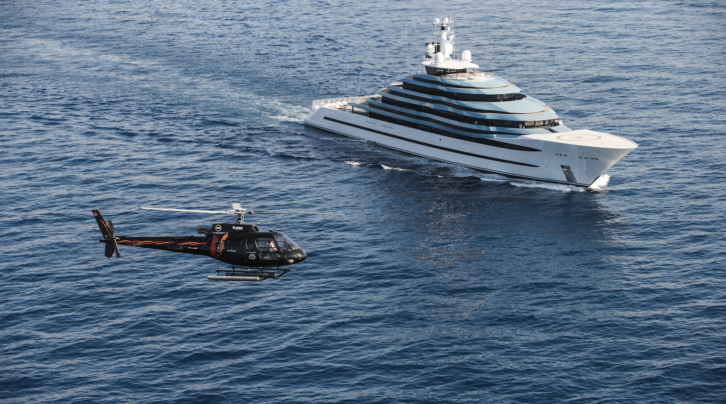 JUBILEE
The biggest yacht ever built in the Netherlands, Jubilee is set apart thanks to her sheer size, award-winning design and countless features, such as an entirely private owner's deck which commands show-stopping, far-reaching views and offers a secluded space away from the rest of the yacht. Her aft-deck pool is over 27 ft long, and has a built-in aquarium and generous beach club below, ideal for days spent relaxing in the sun. She has two balconies on the main deck and a certified helipad for glamorous arrivals. She can accommodate large groups and families, and her striking profile certainly stands out from the crowd.
LOA 361.2 ft Guests 31 in 16 cabins Builder Oceanco Designer Igor Lobanov (exterior), Sam Sorgiovanni (interior) Price on application Available immediately, launched 2017 Contact Rupert Nelson, director & sales broker, enquiries@burgessyachts.com, +377 979 781 21, burgessyachts.com
Presented by Bermuda Tourism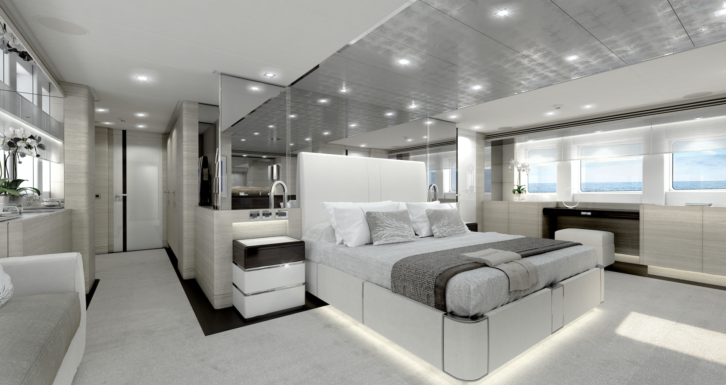 PROJECT ASTER
The latest in Dutch yard Heesen's 50m 5000 Aluminium line, Project Aster combines space and performance in a sleek package. Drawing on the best elements of her six older sister ships, her elegant Italian interior — a quiet and serene haven — uses high-end materials such as woven brocade Foglizzo leathers (a favorite style of Coco Chanel), brushed spruce and steel inserts. A versatile layout with massive internal volumes makes her well suited for the charter market. Build work is well progressed and her new owner can enjoy her as early as next summer.
LOA 164.1 ft Guests 12 in six cabins Builder Heesen Designer Frank Laupman, Omega Architects (exterior), Cristiano Gatto (interior) Price from $39m Available June 2019 Contact Michael Mahan, founder, michael@worthavenueyachts.com or Brian Tansey, founder, brian@worthavenueyachts.com, +1 954 703 5737, worthavenueyachts.com
Presented by Bermuda Tourism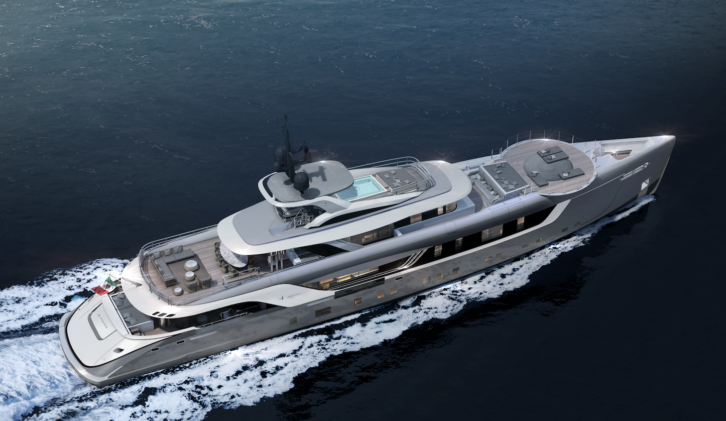 S-FORCE 53
A rare chance to secure a brand-new yacht of this size in an 18-month build time, S-Force 53 packs a vast amount of yacht for her length with features including a roomy beach club, oversized Jacuzzi with sweeping sundeck views, touch-and-go helipad and a giant garage ready to pack full of all the toys and tenders you can imagine. Modern and stylish, with sharp lines and extensive use of glass windows, her generous indoor and outdoor spaces make her the perfect yacht if you enjoy hosting parties and entertaining friends and family. Her interior is entirely customizable at this stage, so future owners can put their own stamp on the design aesthetic.
LOA 173.5 ft Guests 14 in seven cabins Builder Admiral Designer Admiral Price from $30m Available 2019 (18 months from contract) Contact Y.CO sales team, experience@y.co, +377 935 012 12, y.co
Presented by Bermuda Tourism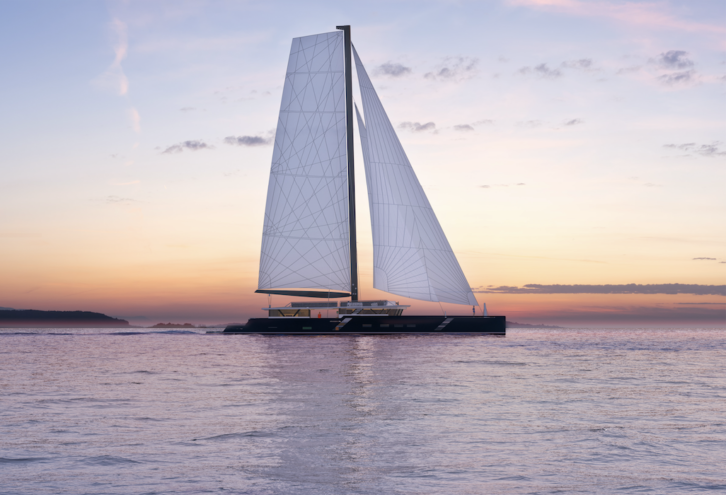 SEA VOYAGER 143
Boasting a light-filled interior with a sweeping glass superstructure, Sea Voyager 143 channels the vibe of a New York glass-walled apartment but under sail. With a large main living space and two master cabins, she is designed for families and groups, or as a charter investment. Naval architecture is by Marc Van Peteghem, of America's Cup fame, with a slick exterior design and high stability. This is a yacht for a new-generation owner with vision. Designed to allow guests to live on and be at one with the sea, her new owner can kick back, take in the views and enjoy the very best of life on the water.
LOA 143 ft Guests 12 in six cabins Builder Magic Yachts Designer Marc Van Peteghem/VPLP Price from $23m (dependent on aluminum or carbon-fiber composite) Available 2020 (20 months' build time) Contact James Munn, sales and charter broker, james.munn@northropandjohnson.com, +33 493 348 401, northropandjohnson.com
Presented by Bermuda Tourism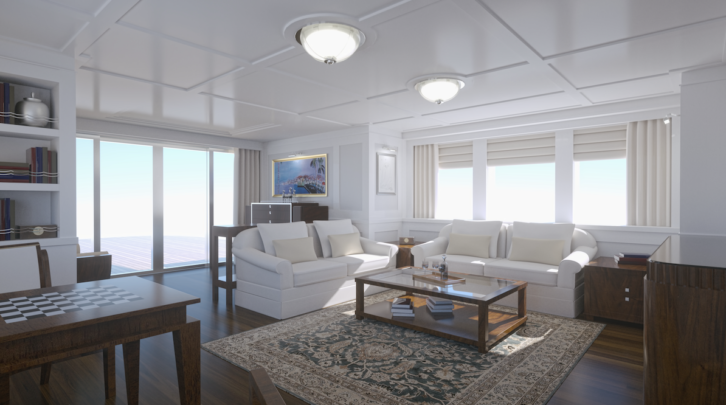 PROJECT MARLIN
Harking back to the roaring 20s — the golden era of yachting — Project Marlin is a retro-classic design from powerhouses Royal Huisman, Frers Naval Architecture and Stirling & Company interior design. Blending the best of old and new, with a traditional exterior and the latest technologies, she has been designed for synergy between indoors and outdoors. An opulent interior awaits with three different styling options to choose from. Guests can unwind on one of the many alfresco spaces including the sprawling sundeck. Sit back, relax and enjoy the heady glamour of the yachting lifestyle, exactly how it is meant to be done.
LOA 161.7 ft Guests 10 in five cabins Builder Royal Huisman Designer Frers Naval Architecture (exterior), Stirling & Company (interior) Price from $47.7m Available 2020 Contact Andrew Bond, sales broker, andrew.bond@fraseryachts.com, +44 207 016 4480, fraseryachts.com
Presented by Bermuda Tourism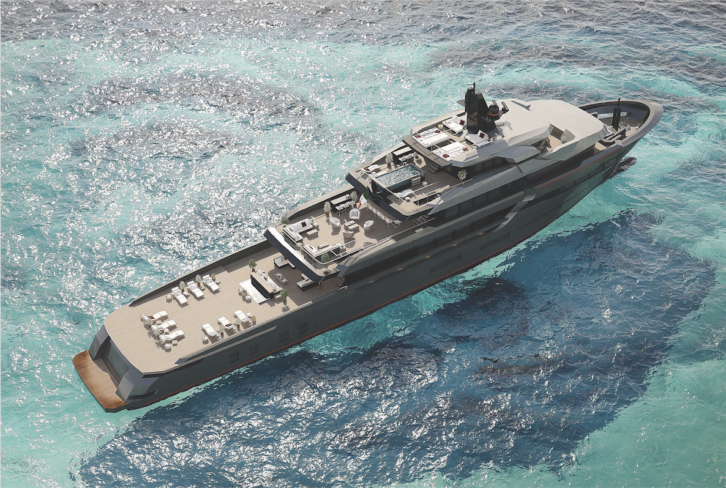 HOT LAB 67m EXPLORER BY VSY
The trend for explorer yachts endures, with traveling off the beaten path becoming a priority for a growing number of superyacht owners and charterers. Pairing chic Italian design with a hardy yet stylish exterior, Hot Lab 67 M Explorer by VSY is a forward-thinking yacht unlike any of her peers. Characterized by her masculine design, maximized spaces and clever use of natural light, she is able to effortlessly cruise in all conditions with a range of over 5,000 nautical miles. Enjoy the impressive owner's suite which offers stunning 180-degree views without leaving the comfort of the king-sized bed.
LOA 218.4 ft Guests 12 in six or seven cabins Builder VSY Designer Hot Lab Price from $64m Available 2021 Contact Richard Gray, sales & charter consultant, rgray@iyc.com, +1 954 988 0847 or Michel Chryssicopoulos, managing partner, mc@iyc.com, +30 6937 098787, iyc.com
Presented by Bermuda Tourism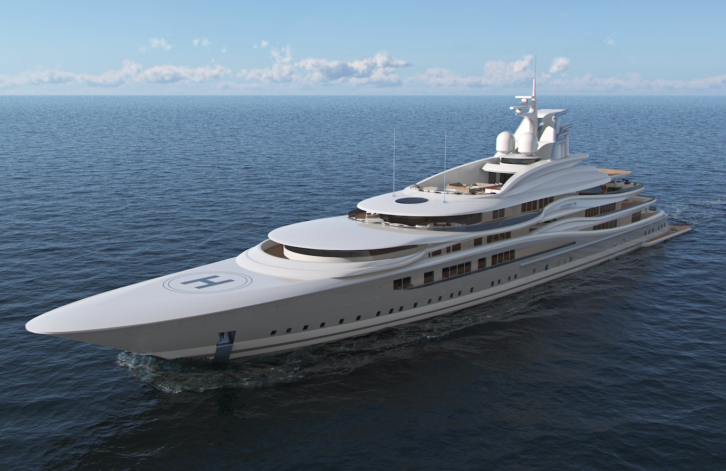 RAPTOR 120
Designed for families, big groups or simply those looking for more space, Raptor 120 boasts incredible volumes, a timeless exterior and excellent charter potential. Highlights include a large aft-deck pool, an on-water beach club space, helipad, numerous side balconies and a multitude of exterior and interior spaces. Her new owner will be able to fully customize the interior to match their aesthetic preference. This is a great chance to secure a fully custom yacht of this size in just three years.
LOA 393.7 ft Guests 13-36 guests depending on customization Builder dependent on buyer preference Designer McFarlane Ship Design (naval architecture), Diana Scott (exterior) Price from $232.9m Available 36 months from contract Contact Christian Ekeberg, yacht sales & charter consultant, +33 683 479 288 and Kevin Bonnie, managing partner, kbonnie@iyc.com, +377 979 824 24, iyc.com
Presented by Bermuda Tourism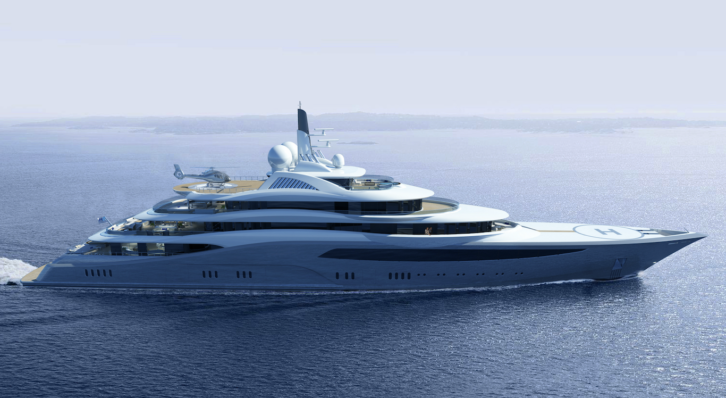 PROJECT INFINITY
The combination of a stunning signature design by H2 Yacht Design and pedigree Northern European engineering, Project Infinity is a true head-turner with elegant lines complemented by a light-filled, contemporary interior. Her design features countless amenities including a glass elevator, helipad and both her indoor and outdoor cinemas will keep the kids entertained. For total relaxation onboard there is a spacious beach club with sea-level Jacuzzi, spa and a wellness hub with hammam, steam room, sauna and massage room. Designed with alfresco living in mind, indoor and outdoor spaces link seamlessly together.
LOA 341.02 ft Guests 16 in eight cabins Builder Dorries Yachts Designer H2 Yacht Design Price from $216m Available 2020 Contact Andrew Bond, sales broker, andrew.bond@fraseryachts.com, +44 207 016 4480, fraseryachts.com