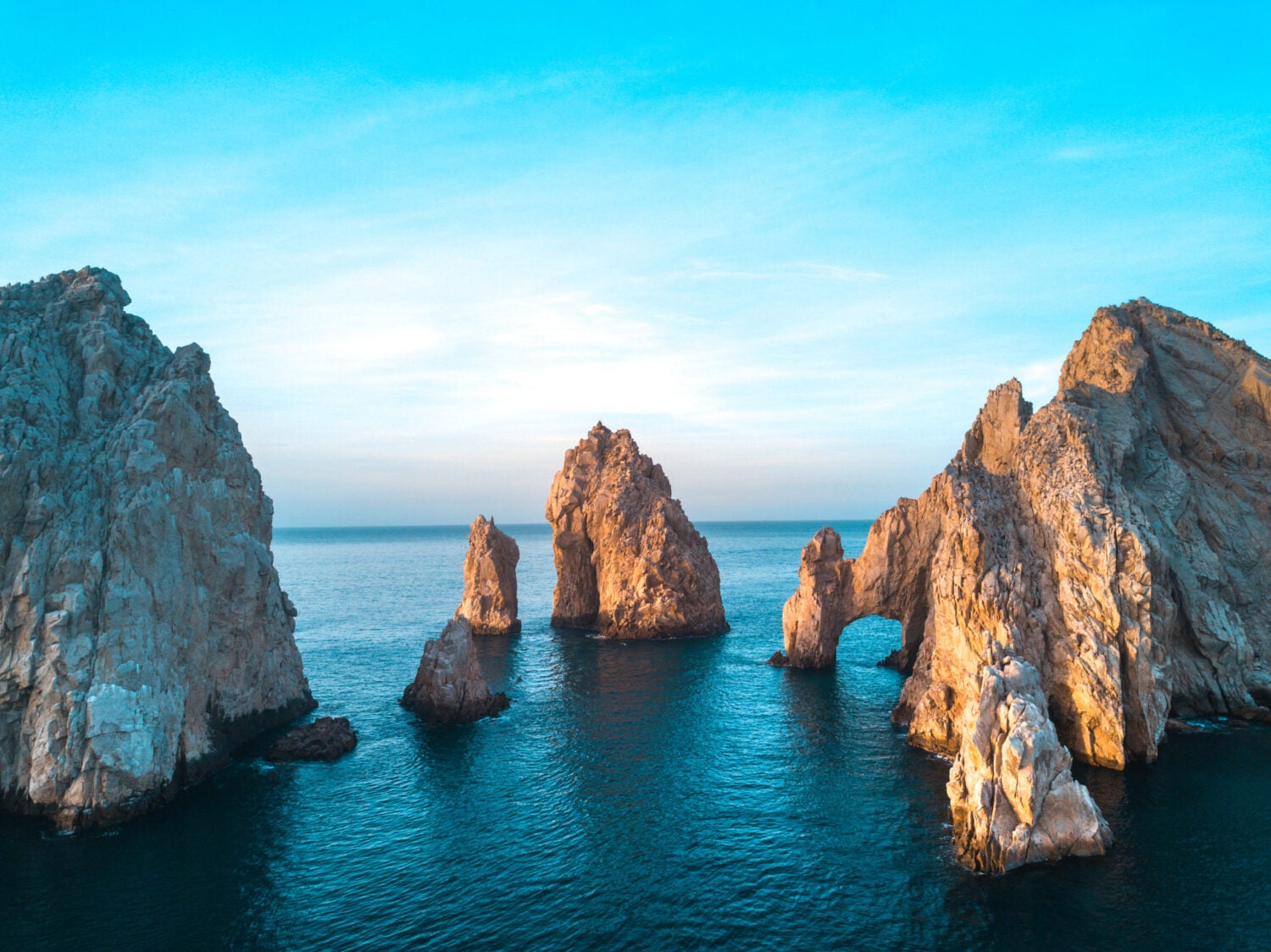 As of January 26, 2021, all travelers flying to the US from Mexico, including from the picturesque destination of Los Cabos, will be required to present proof of a negative Covid-19 test administered within three days prior to their departure. 
Los Cabos and its iconic resorts remain open to visitors, and the Los Cabos Tourism Board has issued guidance on how you can receive a Covid-19 test if you are currently vacationing in the region or planning a trip while the restrictions are in place. The tourism board has also preemptively answered a number of questions on how you can get your Covid-19 test in Los Cabos, which you can find below. 
Two types of test are available to visitors: the antigen test and the PCR test. The tourism board advises that the PCR test be administered at specific locations, including hospitals and laboratories, while the antigen test is readily available at hotels across Los Cabos. Those taking the test will be provided with medical certification that is accepted by the Centers for Disease Control and Prevention.
The antigen test is the most recommended option for US travelers, as results can be ready in just 40 minutes. 
Canadian travelers must present PCR test results, which usually take two to three days. 
You can find a list of Covid-19 testing facilities in Los Cabos here. Further information can be found on the Los Cabos Tourism Board website. Rodrigo Esponda, director of the Los Cabos Tourism Board, recently gave an interview underlining the important steps being taken to ensure Covid-19 test procedures are implemented properly. Take a look at the interview below.
[See also: The Best Luxury Hotels in Los Cabos]
Los Cabos Tourism Board Covid-19 Test Q&A
Who is required to show proof of a negative test prior to departure from Los Cabos? 
Travelers returning to Canada and the US are required to show proof of a negative test prior to their departure from Los Cabos: 
Canada, effective January 7, 2021.

US, effective January 26, 2021.
What type of test/proof do I need to show the CDC upon my return? 
According to the CDC announcement, all air passengers returning to the US will be required to get a test within the three days (72 hours) before their flight to the US departs and provide written documentation of their laboratory test result (paper or an electronic copy) to the airline or provide documentation of having recovered from COVID-19. 
Travelers to the US can opt for either a PCR or antigen test – valid with a medical certificate from the doctor. We recommend the antigen test, as it can be taken simply in many locations, including hotels, and results can be received in as little as 40 minutes, depending on the testing location.
What types of tests are offered? 
PCR and antigen tests are available in Los Cabos. More information can be found here. 
Will tests be available at the hotels? 
Yes. All hotels in Los Cabos are equipped with the antigen test and medical staff to administer it and can provide the medical certificate required by the CDC. 
What is the cost of the test? 
The cost of the test varies depending on the testing facility and the type of test. The antigen tests start at approximately $60. Some hotels may offer their guests a courtesy test or at a reduced cost. 
Do children need to get tested as well? 
Yes. According to the CDC, anyone above the age of two must get tested before departure.
How do travelers receive their test results? 
Results may be given in paper or electronic format as required by the CDC.
Can the airline deny boarding if a Covid-19 negative test is not presented? 
Yes. For flights departing to destinations that require a negative test, airlines must confirm the negative test result for all passengers (or documentation of recovery) before they board.
Are there enough tests available in Los Cabos? 
Yes. Los Cabos's tourism authorities are working in partnership with the hotels and local and state authorities to ensure testing is widely available and offered to all travelers visiting the destination. Additionally, all hotels there are equipped with the antigen test, medical staff to provide the test and are able to provide the medical certificate required by the CDC. 
What happens if I test positive? 
Travelers who test positive are required to maintain a 14-day quarantine until they obtain proof of a negative test result. Travelers with a positive Covid-19 test will be allowed to quarantine in Los Cabos at their hotel or preferred accommodation. Hotels and resorts will offer special accommodations and discounted rates to facilitate this. You can contact your hotel for specific information and health and safety protocols. 
What if I have had a Covid-19 vaccine? 
If you have received a Covid-19 vaccination, you will still require a negative Covid-19 test or documentation of recovery from Covid-19 for air travel to the US. 
What measures are luxury resorts taking?
Many luxury resorts across Los Cabos have their own protocols to ensure guests stay safe, and provide easy access to a Covid-19 test prior to departure to the US. Here is what a couple of Elite Traveler's favorite luxury Los Cabos resorts are doing to put their guests' minds at rest.
Grand Velas Los Cabos
To ensure its visitors' vacation is as relaxing as possible, the award-winning Grand Velas Los Cabos will cover the cost of its guests' antigen tests. A certified laboratory will perform the test within the property, and the hotel says results will be ready in a maximum of 24 hours and sent to guests via email. 
It will also arrange for a certified medical professional to attend the hotel if a guest requests a PCR test. 
If a Grand Velas guest receives a positive test, they will be given a 75% discount to extend their reservation to quarantine. An extra suite will be offered, and this will be located in a reserved area of the hotel, with services for them and their entire family. More information can be found on the Grand Velas Los Cabos website. 
One&Only Palmilla
Beginning January 25, all One&Only Palmilla guests will have access to on-site testing throughout their stay. Both antigen and PCR tests will be available and administered by local health professionals in the privacy of the beachside resort.
Antigen tests will cost $30, and results will be available within 24 hours, while PCR test results are available within 48 to 72 hours and cost $350. More information can be found on the One&Only Palmilla website.
Montage Los Cabos 
The 39-acre resort of Montage Los Cabos will facilitate on-site rapid Antigen testing with a two hour turnaround period on a complimentary basis for resort guests. Tests will be administered by medical personnel and guests can contact the concierge to schedule their appointment directly.