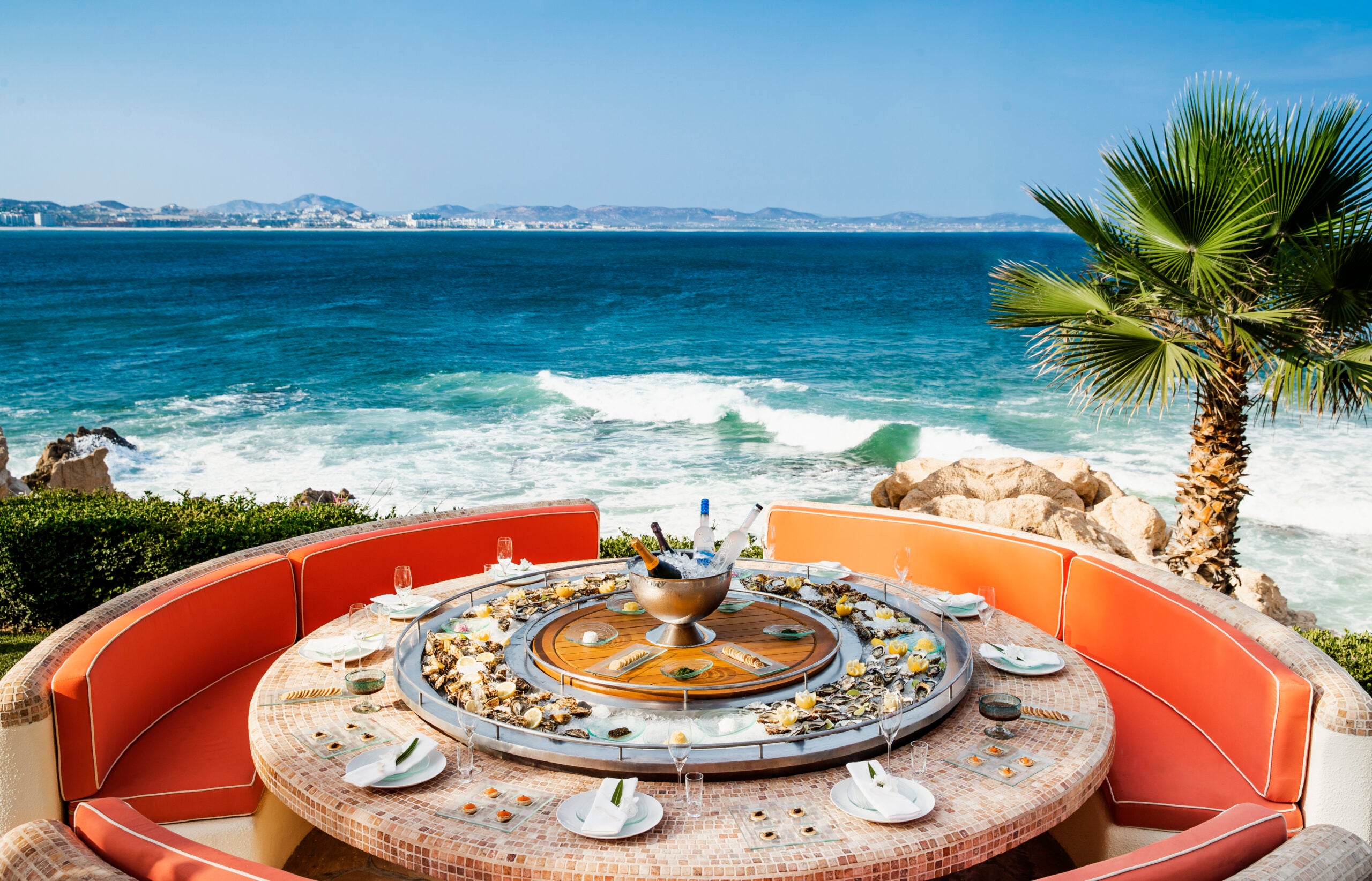 One&Only Palmilla, the ultra-luxury Los Cabos resort perched on the edge of the stunning Baja Peninsula recently welcomed guests back to the iconic property. A legendary retreat immersed amongst blues skies and turquoise waters – where the marvels of Mexico come to life in ultimate style – One&Only Palmilla sets the standard for warm, authentic service and captivating experiences.  
Occupying a secluded setting, One&Only Palmilla offers extraordinary views of the Los Cabos landscape and beachfront access to one of the few swimmable beaches in the entire region. When not basking in the warm sun, guests can enjoy exceptional dining and bespoke wellness rituals, created exclusively for the resort drawing inspiration from the indigenous Mayan tribe of Sonora. Meanwhile, young guests are invited to explore and be entertained at the world-renowned KidsOnly with activities that educate and inspire. One&Only Palmilla's team of highly trained, dedicated butlers provide unobtrusive, around-the-clock, heartfelt service. 
With thoughtful and exciting new guest experiences and tailored offerings, One&Only Palmilla reopens and welcomes guests with a firm commitment that their health, safety and well-being is the utmost priority.  
Sun-Soaked and 
Secluded
 Activities
Where the Sea of Cortez meets the golden sand beach of One&Only Palmilla, the tropical climate and blissful weather create ideal days full of outdoor adventure.  
An oasis of escape, One&Only Spa offers cultural healing rituals, therapeutic podiatry practices by Bastien Gonzalez, and an extensive menu of holistic renewals and signature treatments. Guests can now experience The Ultimate Wellness Sanctuary with a Shaman-led spiritual journey at sunrise. A guided meditation that infuses copal incense and medicinal herbs to cleanse aura and mind is paired with the sounds of light drums and ocean waves to bring inner peace and harmony. One&Only Palmilla also offers an assortment of grooming services created exclusively for men at Barber & Blade. 
Guests of One&Only Palmilla have the exclusive opportunity to experience The Art of Luxury Surfing with TropicSurf, leading provider of exclusive, luxury surfing vacations. Guests depart the resort in the newly-introduced iconic Land Rover Defender – the ultimate surf truck – headed to the sandy shores in search of consistent, quality waves for all levels. Personalised one-on-one beginner instruction is offered, while more experienced surf enthusiasts can hunt down waves worthy of hosting the Los Cabos Open, the destination's World Surf League competition, with Champion Pro Surfers. Once the waves have been mastered, guests head back to the shore for refreshments, before returning to the resort for ice cold beer or handcrafted cocktails on the beach.  
For a completely private beach escape, the resort's exclusive beach coves by Turtle Beach are tucked into a secluded shore with natural rock formations as barrier, inviting guests to retreat for the day. Guests can spend a leisurely day on the sands of Pelican Beach in the comfort of a private cabana, overwater hammock or floating bed, complete with a dedicated service team of chefs and mixologists and a spa team providing pampering foot massages. 
The epitome of glamour and intimacy, One&Only Palmilla's Villas offer exceptional levels of privacy featuring generous outdoor and indoor spaces. The specially designed cinema rooms can recreate the theatre experience, allowing guests to enjoy a private big screen experience with their inner circle. One&Only Hollywood Nights features state-of-the-art theatre-quality projectors, complete with themed cocktails and menu items inspired by the feature film of choice.  
Flavorsome
Mexican Cuisine & Gourmet Offerings
One&Only Palmilla guests can experience the ultimate in private dining across a variety of intimate spaces enveloped in vibrant home-grown flavors. The dining experiences feature expertly curated multi-course menus enhanced through fireworks shows, bespoke florals, and live entertainment such as guitarists, violinists, saxophonists, and mariachi trios. 
In the Bahia Courtyard, guests can enjoy a decadent four-course meal next to a bubbling fountain at a secluded table accompanied by a live music set. Meanwhile at the Herb Garden, private dinners are scented by the abundant fresh basil, rosemary, sage, mint, cilantro, chives, chamomile, and hoja santa surrounding the table. Intimate meals can also take place at the iconic white-washed chapel, a one-of-a-kind, four-course dining experience enhanced with atmospheric live music. Overlooking the tranquil Sea of Cortez, a beachside dining experience is complemented by a dug-in firepit and an expert astronomer, with telescope in hand, to lead guests on a tour of the night's sky.  
The expert mixologists at One&Only Palmilla lead Mixology with a Twist, an elevated cocktail lesson in distillation. After picking fragrant herbs from the Herb Garden designed to incorporate "the four elements of Chi" – water, fire, earth and wind – guests learn how to distill the harvest into an aromatic elixir infused with essential oils. The tincture is bottled for easy transport home, where it can be mixed with a favorite spirit for a completely custom-blended cocktail creation. 
As day turns into night, Pelican Beach transforms into a chic social setting, inviting resort guests and visitors to lounge with toes in the sand while enjoying the open-air setting complemented by sounds of the resort's resident DJ. After an energizing beach day, specialty handcrafted cocktails, bottle service, and beachside bites inspired by the diverse cuisine and flavours of the destination await at the new Sunset Sessions.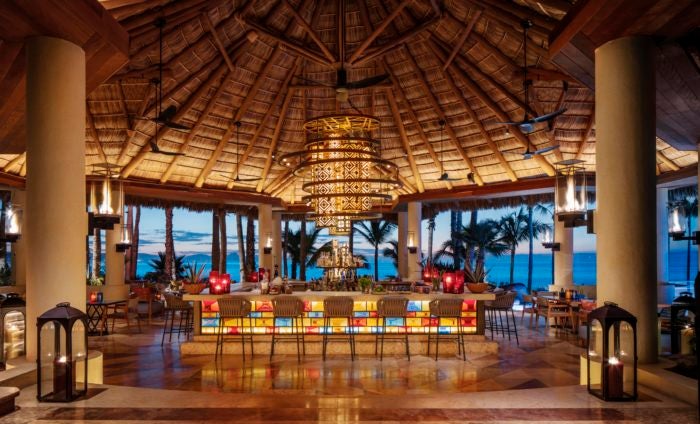 One&Only Palmilla World Academy
In partnership with luxury travel advisory EMBARK Beyond, One&Only Palmilla introduces a remotely accessible series of Culinary Classes, a one-of-a-kind master classes for American students K-12, with Executive Chef Sandro Falbo. The perfect extracurricular experience, Chef Falbo and his masterfully trained team will lead culinary courses and workshops, presenting classic recipes acquired through Chef's extensive travels around the world, as well as Mexican classics and regional dishes. From pizza, guacamole and fish tacos to churros, tres leches cake and crepes, each 60-minute weekly course, lasting for eight weeks, will focus on a different dish.  
Design Inspired by Destination
In celebration of the art of travel, One&Only Palmilla is home to a limited-edition, custom-designed vintage Louis Vuitton Keepall by renowned global artist Jay Ahr. As part of the brand's One&Only Heritage Collection, the bespoke design is inspired by the local heritage and destination of Mexico, celebrating pride in national identity through an intricately embroidered Passport design. The exclusive bag, originally sourced from Mexico City, is available for purchase at the resort's Neo Boutique.  
Enticing New Offers
In celebration of the re-opening, One&Only Palmilla introduces the Discover Palmilla offer with complimentary daily breakfast for two and a nightly resort credit of $100 for stays until December 18, 2021. Guests can enjoy the new resort experiences, spa, in-room dining and more. Reservations must be booked by December 31, 2020.  
Guests of One&Only Palmilla are invited to extend their stay with Long-Stay Offer offering 30% off rates for stays of 20+ nights. Fill the days with rejuvenating bliss and sun-soaked adventure, made that much more spectacular with a $500 weekly resort credit and complimentary daily breakfast for two. Valid on stays until December 18, 2021 and must be booked by December 31, 2020. 
Guests can also take advantage of Stay A Little Longer offering complimentary nights and daily breakfast for two when booking a three-night stay, with a fourth night free, or a five-night stay, with sixth and seventh nights free. Valid on stays until December 18, 2021. 
For reservations or more information, please visit oneandonlyresorts.com/palmilla.