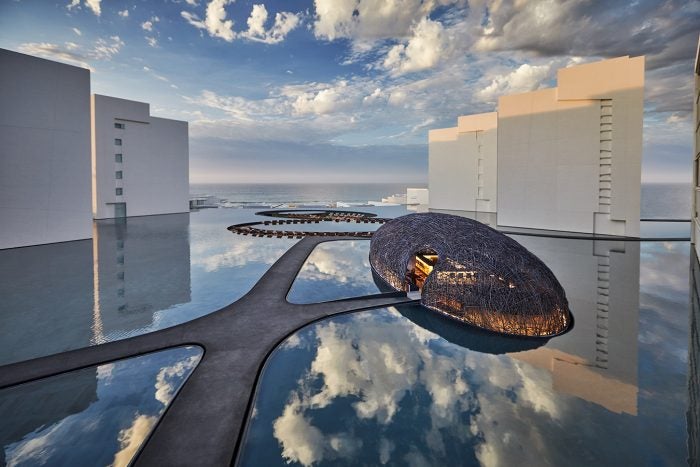 The luxurious, five-star Viceroy Los Cabos is the ideal retreat for individuals visiting Mexico's beautiful Los Cabos. Situated on the stunning coastline of Baja California, the 194-room resort faces the Sea of Cortez – in fact, its modern design has been inspired by the water, with clean lines, a bright, neutral color palette and large, open-plan spaces that overlook the ocean.
Viceroy Los Cabos has recently announced the opening of two new spaces within the hotel: an experimental retail concept called The Bazaar and an on-site art gallery with its own program of artistic events and workshops. Both these new spaces will give resort guests the opportunity to unwind further while at the resort, helping them get creative and discover new brands or activities to fall in love with.
[See also: Los Cabos: The Renaissance of Mexico's Hottest Destination]
The Bazaar will feature a rotating collection of luxury brands from around the world, including statement fashion pieces, homeware and travel essentials, as well as products for bathing, beauty and skincare.  The Bazaar will run as a complement to a fashion outpost that already has a home at Viceroy Los Cabos' spa – the Latina American boutique, KM33, which has been created by Mexican fashion icon Sara Galindo.
Meanwhile, the new art gallery will help to promote creativity and artistic experimentation for the resort's guests, furthering Viceroy Los Cabos' celebrations of the arts. Within the gallery, guests will find a collection of site-specific works that have been created by independent local artists including sculptures and painters. Guests will have the opportunity to purchase works of art during their stay or take part in an art workshop, trying their hand at everything from sand sculpting to watercolors.
Discussing the new openings, Viceroy Los Cabos' regional managing director Peter Bowling said: "The collective languages of art and fashion bypass borders and forge connections. Whether it's the Bazaar or art gallery, we are proud to empower our local artists and designers with a platform to exhibit their works, but simultaneously introduce an opportunity to provide educational guest programming that resonates."