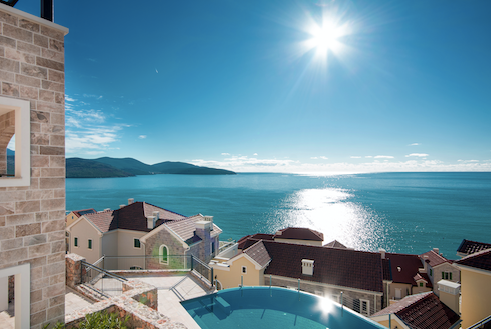 Luštica Bay, found within Montenegro's Luštica Peninsula, is a large-scale development home to seven hotels, including the five-star Chedi Luštica Bay hotel, villas, apartments, two marinas, shops and restaurants, a spa and an 18-hole, Gary Player-designed championship golf course.
Though the development is planned to be completed by 2030, there are currently a handful of villas on the market. Villa Azara 5 is tucked into a hillside with three bedrooms (the master has its own terrace), a dining room, gourmet kitchen and outdoor space to rival any warm-weather home. There's an infinity pool, sun loungers on the spacious deck, outdoor dining and an expansive garden with vibrant flora.
The villa's design (with arched doors and windows, wooden verandas and stone facades) recalls traditional Mediterranean-style homes and gives owners a sense of place. The villa is spread out across three floors and has a two-car garage. Hotel amenities are just steps away.
Price: $2.43m
Contact: Damir Moskov, marketing executive, damir.moskov@lusticadevelopment.com, +382 77 200 100, lusticabay.com