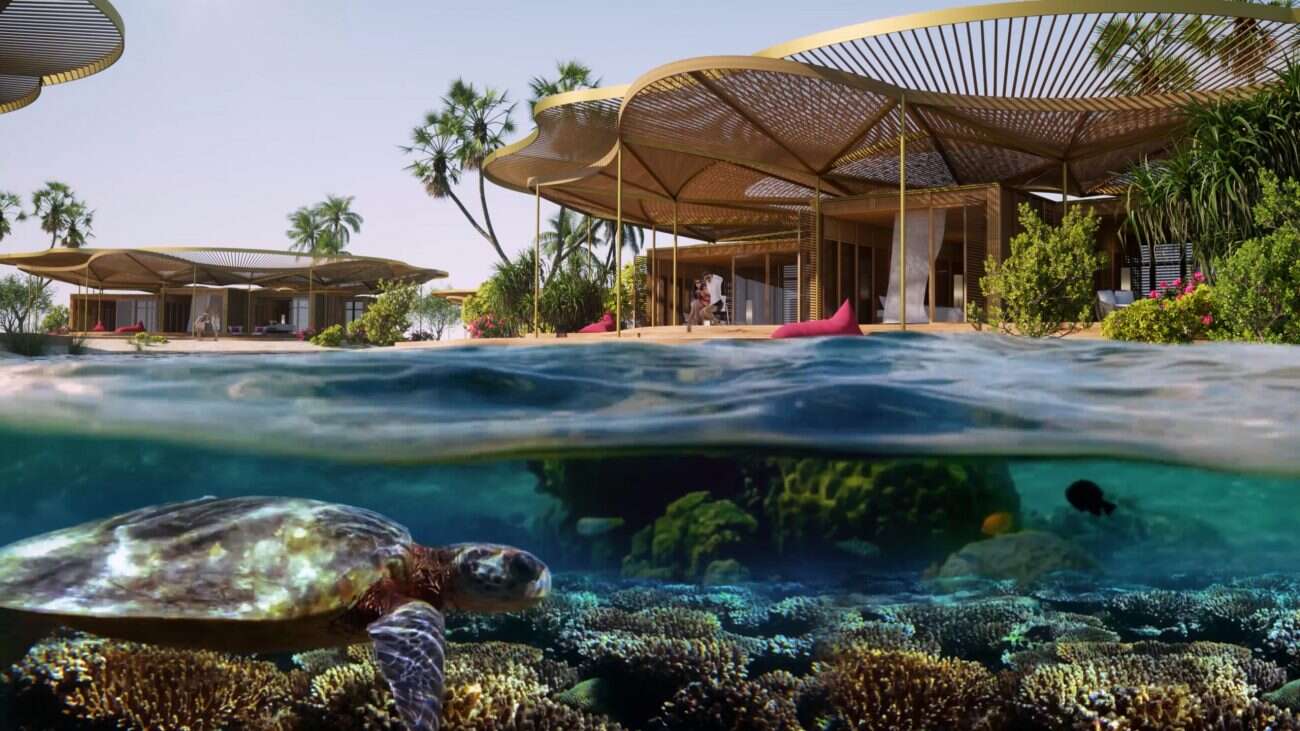 The Red Sea Project is showcasing the beneficial impact of luxury eco-tourism across an unprecedented scale. Aradhana Khowala, chair of the advisory board, head of operations Anton Bawab, and CFO Jay Rosen discuss the importance of moving beyond surface-level change and just how ready travelers are for luxury travel underpinned by purpose.
Picture the scene. It's 2023. You're lying on a plumped-up sun lounger on the deck of your luxury overwater villa, designed by one of the world's most celebrated architects. On the horizon, you can just about make out a handful of the more-than-90 islands that make up the rest of the archipelago. You made the tough choice between 16 luxury hotels surrounded by picturesque canyons, volcanoes and some of the world's most pristine and productive coral reefs.
But it wasn't the design, the dramatic landscapes above and below the water line, or even the exclusivity – visitors are capped at one million per year – that brought you here. It's the mission of the site's custodians; the care for nature; and the redefinition of luxury that makes this destination entirely unique.
"Historically, luxury was about price and what that stands for – status and wealth. But now it's evolving, unraveling and being reimagined," says Aradhana Khowala, chair of the advisory board at The Red Sea Development Company (TRSDC). "What we're seeing with the younger generation is that the paradigm is shifting and it's about more than what you're buying, it's about what you're buying into.
"People want to know what you stand for. They're seeking out meaning and they want to be co-creators of positive change in the world."
The Red Sea Project unequivocally ticks that box. Where sustainability has historically equated to preserving and protecting the environment as it is, this scheme aims to have a 30% net positive impact over the next two decades. "Forget about minimizing the negative impact; that's not good enough," Khowala says. "If we can enhance the environment and add to biodiversity, that will eventually give people a lot more reason to come to the destination."
Doing right feels good
Long before laying the first brick on the 10,800-sq-mile site, TRSDC brought together a multinational team of leading scientists to undertake a marine spatial planning exercise. Often, they would come across one of the most beautiful islands they had ever seen but discover it was a nesting ground for hawksbill turtles, say. In this way, 75% of the area's islands were left completely untouched and nine were designated special conservation zones to focus, Khowala says, on doing the right thing.
"Millennials are actively seeking out eco-tourism and wellness destinations, which is not only good for their health but also for the health of the local community, the destination and the economy," she says. "If you're in the business of luxury, the expectation is that you will be trustworthy and transparent. In the next 10-20 years, this is going to become non-negotiable."
As part of their mandate, TRSDC will restore and expand existing coral reefs, establish permanently resilient ones from scratch, and nurture sea grass meadows and mangrove forests that can sequester carbon. There is already a fully operational landscape nursery on-site, the largest in the Middle East, that will grow more than 15 million plants.
It's not just guest numbers that are being limited; hotel executive offices are being centralized and 80% of construction is modular and off-site, including the overwater villas, although Bawab anticipates guests may not be spending too much time inside them. "Luxury is no longer just a big room, a fancy chef, fluffy towels; it's becoming exclusivity of experiences," he says. "At TRSDC the hotel outdoor areas are just as important as the indoors – the green spaces, the open spaces. It's all about what the guest does outside of the room."
The intention is for sea planes that ferry guests to and from the destination to run on sustainable fuel; everything that comes into and leaves the destination is carbon sequestered, including the guests. "We decided to press Ctrl, Alt, Delete on the current understanding of what it means to be sustainable and figure out how we can do a 360-degree overhaul on how we think about tourism, economy and success," Khowala says.
Beyond surface-level
Once complete in 2030, The Red Sea Project will be home to 50 luxury hotels. 16 are set to be in operation by 2023, 11 of which will form part of the Coral Bloom resort, designed by Foster + Partners and located on the dolphin-shaped island of Shurayrah.
CFO Jay Rosen, who has been heavily involved in partnership discussions with leading hospitality brands, says TRSDC's focus on enhancing rather than just preserving the vast site has set The Red Sea Project apart from other large-scale developments involved in Saudi Arabia's Vision 2030, a strategic framework for diversifying the country's economy.
"People want to travel more responsibly, they want to have more meaningful experiences and Covid has only accelerated this trend, making destinations like ours much more relevant. We have had many partners emerge who love our messaging and want to figure out a way to be a part of that," he says.
"It's a market that hasn't really been open to tourism so it's a great opportunity for hotel brands to establish a presence here. But they need to figure out the projects they want to participate in and that's where we have resonated. We've been able to demonstrate credibility – our project is feasible, it makes sense – but we're also pioneers and we're pushing sustainability to the next level."
For Khowala, it's about time for the hospitality industry to move beyond surface-level changes, such as eliminating single-use plastic. "People have always voted with their wallets, but now they're voting with their values too," she says. "The old paradigm of sun and sand has become passe. Tourism has not always acted as a good corporate citizen but now it's time to make decisions knowing it's going to shape societies, nature and economies for decades to come."
Of course, no one will pass judgment on those who do decide to spend their Red Sea holiday largely on those comfy, ocean-facing sunbeds. It will only feel sweeter knowing you've made the conscious decision to support sustainable, positive change.
To learn more, visit theredsea.sa
[Visit The Red Sea Development Project Hub Page Here]